TACO TUESDAY
at REVOLVER
(6502 Washington Ave)
6PM - 12AM
Live Interaction with
93.7 The Beat's
DJ SHANTE
Full Kitchen | Hookah | Drink Specials
$2 Tacos | $5 Margaritas | $15 Pitchers 
$3 Dos XX | $5 Crown | $15 Hookah
Free Parking | Free Admission All Night


---

TODAY JUNE 11th ‼️‼️ 
@frozen_paradise_houston + @powerhouseenterprise 
Presents 
#Tequila&Tacos  
#FrozenParadise @frozen_paradise_houston 
Happy Hour 3pm-7pm Late Night 8pm-12am
"Return Of The Party On The Patio" 
Tables Reservations 832.371.4753 
$5 Patron $10hookahs $5-3Street Tacos 
$3 Chips & Salsa $2Tequila Wells 
#dj4thescrilla x @godjhiceo x @los_the_dj indmix
JOIN US ON THE PATIO! 
Good Food
Beautiful People
Dope Vibes
4pm-12am
#FrozenParadise #brunch #houston #sociallife #drinks
#happyhour #hookah #cigar #hookahsession #networking 
#business #plugworknetworkmixer #coolvibes #houstonevents 
#music #proffesional #entrepreneurlife #goodvibesalways
#bossmoves #sexy ladies #food #3rdward #collegegirls #adultsonlyplease


---

ISLAND TUESDAYS at The Address
Rockets/Warriors Watch Party
No Cover All Night
3333 Raleigh St
$4 Red Strip | $5 Frozens | $7 Premiums
$10 Pineapple Mojitos | $10 Hookahs til 10p
Doors Open at 4pm
Free Parking AVAILABLE


---

$2 Tuesdays at UPTOWN LOUNGE
#uptownhookahtuesdays
$2 Titos
$2 Margaritas 
$2 Wells
$11 6-8pm!
5706 Richmond Ave, Houston TX 77057  


---

@facesultralounge Crawfish Cocktails Hookahs!
2 lbs crawfish $10. $5 Frose' margaritas. 
$20 Hookahs 
5104 Almeda RD 
713-522-3223


---
WEDNESDAY EVENTS
| SUN | | MON | TUE | WED | THUR | FRI | SAT | Coming Attractions |

Click Here For Info


History In The Making!!
Join Us June 26th @6pm For Our Future Council Member Mr Brad Jordan's
Fundraiser Kick Off At 5 Central In The River Oaks District.
We Are Excited & Delighted For This Wonderful Occasion
We Look Forward To You All Joining & Supporting
Future Council Member Brad Jordan's.
We Thank You All In Advance For Your Wonderful Support.
For Additional Information Please Contact Below
Ashley D. Wyatt
Vice President/ Chief Operations Officer
ELITE Change, Inc.
832.426.4776


---

All New "Forbidden Wednesdays" 
@EveHtx (4617 Nett St.) 
NO COVER ALL NIGHT 
@djmrrogers @djceewatts inDmix 
#EveOnWednesdays @eveonwednesdays
Enter at your own Risk


---

Click Here For Info


The Return of Wing Night!
$2 Hurricanes b4 7
$2 Appetizers 
$3 Any Drinks 7-10pm
50 Cent Wings 7-10pm & No Cover All Night!


---

H2O WOW WEDNESDAYS 
( We Own Wednesdays) on the  PATIO 
Sounds by @djmekzy @officialdjoreo
Free Parking, Free Entry, Full Kitchen
Happy Hour 4-8 $5 Premiums. 
$150 Hennessy bottles before 12. 
$120 Vueve Cliquot all night. 
9277 Richmond Ave. 


---

@powerhouseenterprise + @bossladyjaye713 
presents 
#HumpWednesdays #DBarOnWednesdays 
@dbarhouston 4409 Emancipation 
@djjque Live InDmix 
No Cover Sections 832.371.4753


---

Oasis Wednesdays at Uptown Hookah Lounge
$4 Domestics
$5 Vodkas
$6 Jose Cuervo
$7 Cirocs
Live DJ
5706 Richmond Ave Houston Tx 77057


---

Wing Night Wednesdays
$0.50 Cent Wings Till 10p
No Cover All Night
3100 Fountain View


---
THURSDAY EVENTS
| SUN | | MON | TUE | WED | THUR | FRI | SAT | Coming Attractions |

Click Here For Info


The hottest Thursday Night Party PERIOD!!!
THERAPY AT ROSE GOLD GUEST LIST
THIS WEEKS FEATURES
MIAMI DOLPHINS HOST THE ALL NEW THERAPY THURSDAYS
AT ROSE GOLD
JOIN THE CITYS TOP INFLUENCERS + MOVERS & SHAKERS 
AT THE ALL NEW #THERAPYTHURSDAYS 
@ ROSE GOLD BIGGER VIBES BETTER EXPERIENCE
BOOK YOUR TABLES WITH US NOW 832 236 1800
ALL NEW BOTTLE PACKAGES & BIGGER SECTIONS FOR OUR VIP GUEST
CALL US NOW TO RESERVE YOUR SPOT!!!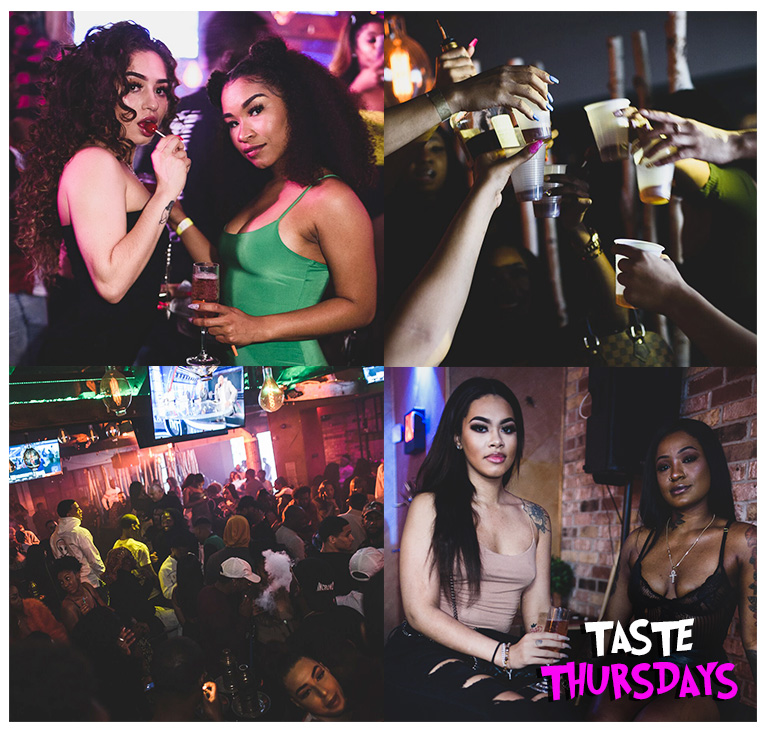 Click Here For Info

---

#Let's go NBA draft party Sederia Bradford Nick Strong Birthday.  
Celebrations Tacky Thursday @ King Court TackyThursdays 
at Kings Court 903 Hutchins St. Houston TX 77003
Right next to the BBVA Compass Soccer Stadium 
@iamdjsupastar indmix
@andre_stelly + @powerhouseenterprise + @jankyjoe + @robinsh69 
BRINGING YOU THE A @kingscourthtx 
Reverse Happy Hour 6pm-8pm Late Night 8pm-12am 
"Return Of The Party On The Patio" 
Tables Reservations 832.259.9988 
$4 draft beer $25 hookahs 
.60cent wings all night long 
JOIN US ON THE PATIO! 
Good Food, Beautiful People, Dope Vibes
6pm-2am 


---

Click Here For Info


Diablo Thursdays - Tonight
$3.50 drinks from 7-11PM
$4 Hennessy and $4 Frozens from 12AM-Close
DJ A-Plus and 'Radio Boss' Kiotti in the mix & MC Cut on the mic
Ladies no cover all night
For party reservations, call/text Joey at 713-471-1896 
or email reservations@diablolocotexas.com


---

Waxaholic THURSDAYS
at Alley Kat
No Cover
3718 Main St


---

Click Here For Info


VANITY FRIDAYS
A Brand New Houston Nightlife Experience
202 Tuam St
Guest List and Comp Tables Text/Call 713.459.9019


---

Click Here For Info


BGE Empire x Live House
It's LIT...Aura Friday Nights!
Houstons #1 Friday Nightlife Destination
DJ Mr Rogers
Mc Beezy, JBoss, A-Plus indmix
For VIP/Table Reservations, Bottle Service, 
Groups or Large Parties...
Call/Text 713.259.5725
AURA NIGHTCLUB
Bottle Service Recommended: Call 713.259.5725


---

Click Here For Info


THE PREMIERE OF THE ALL NEW SPIRE FRIDAYS
Club Spire | 1720 Main Street Street
BRINGING SEXY BACK TO FRIDAY NIGHTS
5$ Happy Hour 10-11pm
Sounds Provided By DR. McDaniels & MC KANE
Dress Code Strictly Enforced
Bottle Service & Celebration Info: 832-265-8192



Click Here For Info

---

Click Here For Info


THE ALL NEW SoHO FRIDAYS @ MERCY NIGHT CLUB
1505 ST EMANUEL STREET HOUSTON, TX 77003
DOORS OPEN @ 10PM - DOORS CLOSE @ 2AM
FREE ENTRY & COMPLEMENTARY HENNESSY COCKTAILS W/RSVP
LIVE MIX 97.9 THE BOX DJ YOUNG STREETZ x DJ A PLUS x MEL G
SECTIONS & INFO CALL 832.713.8404
http://privacyhouston.eventbrite.com
FOR THE SOPHISTICATED, STYLISH, ENERGETIC AND STRICTLY 
FOR SOCIAL JET SETTERS AND EXCEPTIONAL TASTE MAKERS. INFLUENCERS.


---

Everyone FREE No Cover
Houstons #1 Friday Happy Hour 
at THE ADDRESS
50 Cent Wings & $7 Henn From 4-9pm
Everyone FREE All Night
832.330.6800 To Reserve Your Table


---

Click Here For Info


The Friday Exchange at Henke & Pillot
Nostalgia | Ambiance | Grooves
Best of 90's Hip Hop | R&B | The Hits 
Music by Donnie Houston & Michele McKnight 
Visit TheFridayExchange.eventbrite.com for Free Tickets
Table Reservations or text 281.995.3311



Click Here For Info

---

Hennessy & Hookah Fridays. 
All chill vibes on a Friday
Dj Alo McMoSwagg Spencer Drummer 
Free entry, free parking, free section
Happy Hour 4-8 $5 Premiums
$150 Hennessy before 12
$120 Vueve Cliquot all night
9277 Richmond Ave. 


---

TASTE FRIDAYs
at Taste Bar + Kitchen
DJ Donnie inDmix
Kitchen Open till 11pm
3015 Bagby


---
---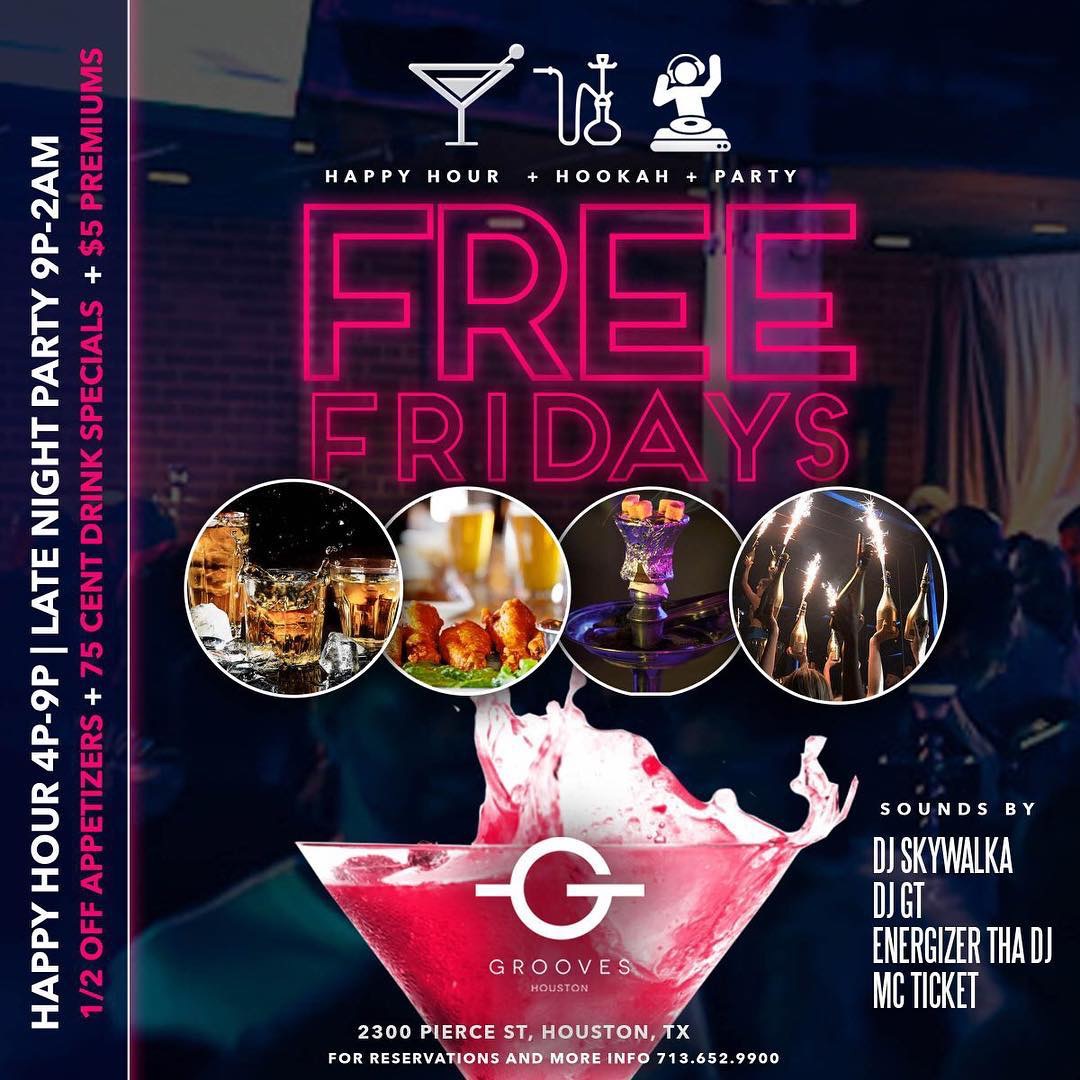 FREE FRIDAYS at GROOVES 
(2300 PIERCE ST.)
EVERYONE FREE ALL NIGHT
HOUSTON'S BEST HAPPY HOUR
.75c DRINK SPECIALS
$5 PREMIUMS
1/2 OFF APPETIZERS
W/ DJ GT, ENERGIZER THA DJ, 
STARR SKYWALKA & MORE INDMIX
FOR TABLES/INFO 713.652.9900


---

Click Here For Info


GILT FRIDAYS
@
ENGINE ROOM
(1515 PEASE ST.)
DJ KIOTTI | MC HOLLYWOOD
& BLACK CARD STEVE O INDMIX
EVERYONE FREE ALL NIGHT W/ RSVP
giltfridays.com


---
---

Click Here For Info


DIOR SATURDAYS
FREE ENTRY TILL MIDNIGHT 
(Guest List see number below)
DOORS OPEN: 10:00 PM
CLICK HERE FOR FREE TICKETS NOW!
For Section Reservations / Bottle Service
TEXT/CALL 713.459.9019
For the sophisticated, stylish, energetic 
and strictly for social jet setters 
and exceptional taste makers. Influencers.



Click Here For Info

---

Click Here For Info


NO SLEEP MUSIC GROUP PRESENTS
XO CELEBRITY BIRTHDAY POOL PARTY
HOSTED BY ALEXIS SKYY 
4pm - 9pm
DJ HI-C and MC BEEZY Indmix 
EVERYBODY ABSOLUTELY  FREE 
YES YOU HEARD CORRECTLY 
FREE!!!! EVERYBODY ABOSULTELY FREE!!!!!
Hosted By DJ Eric & Crazy Bull
EARLY ARRIVAL MANADATORY 
DRESS CODE: SWIM WEAR


---

Click Here For Info


6.22 | DOORS OPEN 3P
3rd Annual "HENNY & RIBS" 
3rd ANNUAL DAY PARTY w/ DJ MR ROGERS 
@ THE ADDRESS PRESENTS
FREE ENTRY TIL 11P 
[HENNY HOUR] FOOD & DRINK SPECIALS 3-7P
$5 WELLS | $5 FROZENS | $7 PREMIUMS (henny) 
$10 HENNESSY BABY BACK RIB BASKETS
$10 HENNESSY WINGS BASKETS 
1/2 OFF BAR BITES(selected items) 
$8 HENNY RITAS ALL DAY
S200 HENNY BOTTLE SPECIALS (MUST BUY 2 $400 all inclusive)
DJ MR ROGERS | DJ BOBBY BANDZ | DJ D WELLS 
GO MC MAJOR | DJ YOUNG STREETZ | DJ JQUE
FULL KITCHEN MENU (try the grilled wings & shrimp) 
HOOKAH ON THE PATIO 
VIP TABLES & INFO:
Text or Call - 281.915.8536 or 832.722.5482


---

Click Here For Info


Join us as we embrace the *NEW crown jewel 
of Upscale Saturday Nights 
at the beautiful SET Lounge in Midtown! 
High Def Audio By Houston's overall Top DJ's 
Feat. DJ Mr Rogers inDmix
For VIP/Table Reservations, Birthdays, Bottle Service, 
Groups or Large Party Packages...
Please Arrive Early and Have Proper ID
2900 Travis Street
Houston, TX 77006
Call/Text 713.259.5725 for SECTIONS



Click Here For Info

---

Story on Saturdays RELOADED 
Dj GT, Dj Michele, Dj Hefna LIVE
NO COVER
2 Parties in 1
NO COVER ALL D*MN NIGHT 
Story on Saturdays Reloaded
Celebration Central 
No Cover | House Party Vibes | Patio Cuisine
$200 bottles Til 12
Section Reservations Text line | 281.995.3311 
 

---
---

BRAVE BOLD BEAUTIFUL BADDIES & BALLERS
BOUT: BRUNCH BADDIES BALLERS BEATS BOOZE BOND BREEZE
Baddie Champagne Brunch & Day Party
12-3/3-9 DJ'S From 12 Noon
DJ MAIYA PAPAYA, DJ YOUNGSTREET, DJ TOXIQ, DJ DR MCDANIELS
Brunch Menu 12-5
Complimentary champagne & Mimosa till 1pm
Happy Hour 12noon-4pm $5 frozen, $5 Premiums 
$150 Hennessy, Ciroc, Moet, Patron, Don Julio Bottles till 8pm
$120 Vueve Cliquot Special
Brunch Reservation, Bottle Service & Celebration Info: 346-401-8632
@planbhtx #planbhtx #planbsaturdays


---

Click Here For Info


EADO BIG BOY TOY RENTALS
TRIKES for RENT by The Hour
(2 Wheelers or 3 Wheelers)
1401 Hutchins Street Houston Texas 77003
Ask for INDMIX discount
CALL 281.851.2044
Day Tours | Day Parties | Night Tours | Historic Art Tours | City Sightseeing


---

Click Here For Info


Privacy Saturdays At Rose Gold Cocktail Den
1005 Hadley Street Houston, Tx 77002
Doors Open @ 10pm - Doors Close @ 2am
No Cover + Complementary Hennessy Cocktails 
+ All You Can Eat Wings Til 11pm W/Rsvp
Live Mix By 97.9 The Box Dj Young Streetz X Dj A-Plus
Sections & Info Call 832.713.8404
Www.Influencershouston.Com
For The Sophisticated, Stylish, Energetic And Strictly 
For Social Jet Setters And Exceptional Taste Makers. Influencers.
www.INFLUENCERSHOUSTON.com



Click Here For Info

---

@powerhouseenterprise 
Presents Saturdays @dbarhouston @dbarsaturdays 
#onlyforthegrownandsexy
#WelcomeToTheJungle #FreeEntry #DBar #SaturdayNightLive 
#HoustonNightlife #EndedUpAtDBar #DBarSaturdays #houston
#sociallife #drinks #happyhour #hookah #cigar
#hookahsession #networking #business #plugworknetworkmixer 
#coolvibes #houstonevents #music #proffesional
#entrepreneurlife #goodvibesalways #bossmoves 
#sexy ladies #northside #southside #3rdward


---

Click Here For Info


SUITE 2300 Saturdays
No Cover w/ RSVP
Grooves of Houston
2300 Pierce Street
Houston, TX 77003


---

|||| S I G N A T U R E  S A T U R D A Y S ||||
@ UPTOWN HOOKAH LOUNGE
|| NO COVER ALL NIGHT ||
DRINK HH 6-8PM
$3 WELLS 
$3 DOMESTICS
$4 IMPORTS
$5 CALLS
$7 PREMIUMS
$11 HOOKAH 6-8 PM
Sounds By: DJ KKIN and MR WILSON
5706 Richmond Ave Houston, TX 77057


---

Click Here For Info


Join us every weekend for the
#1 Celebrity & Birthday Celebration Experience 
at 
ENGINE ROOM SATURDAYS 
1515 Pease St | Houston Texas | 77002 
Strong Drinks + Dope Music + Flavored Hookahs + Great People
No Cover Til 11:30P w/RSVP 
Doors Open at 9PM-2AM 
$5 BMF $5 L.I.T $5 151 punch Till 11:30pm 
Info on Bottles, Sections, Reservations Call 832-265-8192


---

Click Here For Info

---
---