WEDNESDAY EVENTS
| SUN | | MON | TUE | WED | THUR | FRI | SAT | Coming Attractions |

>

Each and Every Wednesday  WCW AKA  
WOMAN CRUSH WEDNESDAY  
@ Dbar #FREECRAWFISH  HAPPY HOUR 4P-9P 
5DOLLAR CRUSHED PINEAPPLES ,BOTTLE SPECIALS , NO COVER
FREE PARKING  DJJQUE 
INFO AND BOTTLE SERVICE 832-259-9988
832-973-0110 OR 832-567-0317



---

Click Here for more info

---

Steve Rogers | Rob Wright | Lisa Rogers | No Egos Movement
Present:
Wednesday Night Live 
at Sugarhill Bar & Lounge
2533 Southmore @ Live Oak | Houston TX 77004
Happy Hour & Late Night
Open Mic Starts at 11pm
Extended Happy Hour 5pm-10:30pm
$4 Wells | $5 Frozens | $5 Wine | $5 Premium U Call Its
DJ B Love InDmix
Complimentary Admission All Night 


---

LAX WEDNESDAY
PERFORMING LIVE KEN RANDALE
@ EPIC 22 BAR & LOUNGE
3000 Bloggett @ Ennis
Live music+Art+Excellent Individuals
Come be apart of this ground breaking event!
Where you come Mix and Mingle
Your Midweek ChilLaxing spot in the Mecca of 
the Historic Third Ward Redesign Entertainment District
Where we have Live music, art and excellent Upscale Individuals
Happy Hour | Complementary Food | 6pm-9pm
EMPIRE Watch Party | 8pm -9pm
Showtime 9pm-til
Live Music w/ Houston Hottest Dj
Free Valet for Unescorted Ladies
To Reserve Section or Bottle Service
Call 832.316.6121 or 713.522.3742


---

Click Here for more info


The New Wednesday Night HotSpot 
I Love Wendesdays At Dreams Houston
2626 Crossview 
For All Those Who Can't Wait Till The Weekend 
Your Official Turn Up Spot Is Hear
Over 40 Exotic Entertainers , Great Food And Music And Bottle Service
Everyone free till 12 with rsvp on DreamsHou.Com
For The Ultimate Vip Experience Or Birthday Party Call 832-577-7501


---

Click Here for more info


Bar3Wednesday at Zanzibar 
EVERY WEDNESDAY NIGHT
9003 Westheimer Rd, Houston, TX
Happy Hour, Comedy, Open Mic, Music,
$3 Mimosa,
$.50 wings.
Drink Specials
7pm -2pm.
EVERYONE FREE till 11pm.
#bar3wednesdays 
281.380.5910|713.321.6731


---
---

Click Here

---

Click Here


97.9 THE BOX | LIL KEITH | URBAN NITES | CELEB CED | MIKE WEST | DUPE | BAR GUARANTEE
present
PURE FRIDAYS at PURE NIGHT CLUB
(505 MAIN ST | DOWNTOWN HOUSTON)
FRIDAY FEB. 27TH
BIRTHDAY CELEBRATION FOR NFL STARS
MARCUS HARRIS of THE NEW YORK GIANTS
& RONNIE WINGO OF THE ATLANTA FALCONS
+
SHOW MAGAZINE BLACK LINGERIE 24 RELEASE PARTY
HOSTED BY OVER 20 SUPER SEXY SHOWGIRLZ
EVERYONE NO COVER TIL 11:30PM WITH RSVP
www.PureFridays.com
97 CENT DRINKS FROM 9-11PM
GO DJ HI-C IN THE MIX
FOR MORE INFO, BOTTLES, SECTIONS
CALL 832.330.6800 or 832.722.5482



Click Here

---

Free Fridays & Houston Best HH
Free All Night
4-9pm
$5 U Call Its
75 cents drink special
1/2 off appetizers
DJ Skywalker, DJ GT, MC Ticket inDmix


---

Click Here

---

Click Here For Info


NEYO LISTENING PARTY LOVE AND HAPPINESS 
HAPPY HOUR 4P-9P AND AFTER PARTY  9P-2AM  
@ DBAR EACH AND EVERY FRIDAY 
SEXY GROWN GREAT SOCIAL NIGHTLIFE PARTY WITH A PURPOSE
GREAT FOOD , NO COVER , FREE PARKING MUSIC BY DJ FIFE  
AND DJ BRASKO , HOST  DAVE MOSBY.  JANKYJOE. DAVE PETERSON. 
REG OF I10MEDIA .COM SECTION CALL 832 259 9988


---

BUPPIES FRIDAY'S presents
"Final  Friday's 
@ EPIC 22 BAR & LOUNGE
3000 Blodgett @ Ennis ( across from TSU) 
TGIF HAPPY HOUR 4-9PM $2 WELLS, $2 BEERS  $5 U-CALL-ITS 
DJ SWAG SUPREME PLAYING NEO-SOUL, R&B, CLASSIC HIP-HOP 
LATE NIGHT FRESH FRIDAY DJ D-NICE 
VALET PARKING FOR ALL UNESCORTED LADIES 
FREE ADMISSION, FREE FRIED FISH FRIDAY 
BOOK FREE FRIDAY PARTY CALL 832.533.1117 OR 713.522.3742


---

The All New Sugarhill Social Hour: 
Each & Every Friday
Sophisticated Vibe. Decadent Decor. Temptous Libations.
Sugarhill Lounge
2533 Southmoore
Houston, TX 77004
Houston's Premier Upscale Bar & Lounge nestled in the heart 
of the newly renovated 3rd Ward Area. 
Its alluring style and captivating ambiance will provide 
and ideal haven for socializing with specially curated 
live music and DJs


---

Click Here For Info


Erick Vonn | Miss Jay | Andre White Presents
Vanity Friday's
at 8 Lounge 
 8111 North Sam Houston Pkwy West @ N. Gessner | Houston 77064
(Near Sam Houston Race Park)
A New Age In Upscale Nightlife
Music Provided By
DJ Pierre Ushay and  Sam I Am
Dress Code Enforced
Doors Open 9PM-2AM
Ladies RSVP For No Cover Before 10PM
http://Vanityfridaysat8lounge.eventbrite.com
For Info and Reservations 832.368.8043, 832.551.9886, 832.665.8371


---

Click Here For Info


D.h! | Shades Simplicated Mktg | Nkem of Emagine That Ent | Mr. TC
Present
++THE INT'L AFFAIR++
EACH & EVERY FRIDAY NIGHT!
10PM-2AM
BELVEDERE PREMIUM LOUNGE
1131-01 UPTOWN PARK BLVD
UPSCALE EVENT FOR HOUSTON'S CULTURAL ELITE!
DJ SHINSKI + DJ OCEAN ON THE PATIO + MC MIKOLO on the mic
SPINNING THE BEST IN AN INTERNATIONAL ARRANGEMENT OF ELECTRIFYING SOUNDS
RSVP HERE FOR COMPLIMENTARY ADMISSION TILL 11PM
http://intlbelve.eventbrite.com/
OR TEXT "BELVE" TO 281.804.2597 
WINGS & FRIES ON THE PATIO!
STRICT DRESS CODE
NO SHORTS . NO BALL CAPS . NO TENNIS SHOES
ENTRY PROVIDED AT DOORMANíS discretion
FREE PARKING + VALET PARKING AVAILABLE
FOR MORE INFO / TABLE RESERVATION / BOTTLE SERVICES PLEASE CALL
281.804.2597 OR 281.312.9175


INT'L Affair at Belvedere aka #BelveFridays the movie! from Dh Muoneke on Vimeo.
---

Click Here For Info


Show & Happy Hour from 7PM to 10PM
MUSIC BY  SHOLA IYIOLA & BAND
FRIDAY NIGHT  Party from 10PM to 2AM
MUSIC POWERED BY DJ OLAPUNCH
FREE & VALET PARKING
TICKETS  ONLINE www.zanzibarhouston.com
Reservations 832 767 0040 OR 832 452 4620
LATE NIGHT KITCHEN, serving wings, suya, shrimp + more
Hookah & Suya on The Patio
9003 Westheimer Rd, 77063


---

Click Here For Info


Come relax for Happy Hour 5-9 Than Party from 9-2 
at the best spot in the Heights with 
Dj Shant_u_stay 
@
Social Junkie Bar & Lounge
Upscale Environment 
Relaxed/Classy/Adult
Playground
Heated Patio, valet, Private rooms, Drink specials all night 
Socialjunkiefriday.eventbrite.com
#uniquemrkgrp more info: 713-364-9472


---
---

Good Crowd | Great Music | Strong Drinks | Sexy People
Never a Cover - Always a Party
Mature Audiences Only
Full Food Menu
$125 Presale Bottles
25 Flavors of Hookah
No Athletic Wear, Plain Colored Tees or Baggy Clothes
Hats and Sneakers OK
Ladies: - Sexy Chic
Early Arrival Highly Suggested
Doors Open at 7pm
For Birthday Celebrations / Bottle Service,
Contact: 832-894-6673


---


BIG CHAD CHIZZLE | C.A.F | THE ENTIRE SOUTHWEST 
presents:
CHEERS Fridays
**WHERE EVERYBODY KNOWS YOUR NAME** 
EVERYONE FREE TIL 8pm
WITH DJ GOOD GRIEF 


---
---

Click Here


Venue Reloaded  
The New Saturday Night Experience at Venue
(719 Main @ Rusk)
Dj Mr Rogers inDmix  
For Bottle Service/Info: 832.512.6515 
 

---

Click Here


ELAN Saturdays @ DEKAN
Reverse Happy Hour
w/$5 U Call Its Before 11:30p
All Flavors Of Hookah Available
Please consider Bottle Service & Early Arrival As A Means
To Guarantee A Great Experience
Dress Code Strictly Enforce
VIP Table: 832.379.9194


---

Click here


Introduction To Monroe Saturdays
526 Waugh Drive | Houston Tx, 77019
The New Saturday Night Destination
For The Professionals of Houston
REVERSE HAPPY HR 10-11:30pm
Complimentary Entry before 12PM with RSVP
Dress code Strictly Enforced
For Celebrations & Reservation Info:
832-265-8192


---

Click Here


CELEBRATION SATURDAYS at GROOVES OF HOUSTON
2300 Pierce St., Houston, TX 77003
EVERYONE FREE ALL NIGHT
DOORS OPEN AT 8PM
YOUR CELEBRATION DESTINATION FOR:
BIRTHDAYS, ANNIVERSARIES, BACHELORETTE PARTIES AND MORE.... 
WE'LL MAKE YOUR CELEBRATION SPECIAL!
HAPPY HOUR 8-11PM: 75 CENT DRINK SPECIALS, 
$5 PREMIUMS & COMPLIMENTARY GROOVY PUNCH FOR LADIES
GREAT FOOD WITH FULL KITCHEN OPEN TIL 2AM
LATE NIGHT PARTY WITH DJ A1 IN THE MIX
CALL NOW TO BOOK YOUR FREE PARTY TABLE!
NO COVER ALL NIGHT!
713-652-9900


---

Each and Every Saturday
SOHO Saturday @ Libra Lounge  
9880 buffalo speedway 
No Cover
Free Parking 
Great drinks
$100 bottle Specials & FOOD By SUTTONS BBQ
Hookahs  and Cigars On The Patio
Bday Party and All your Events 
call for Section  832 259 9988 or 832-6066-4592 
Hosted by Andre Stelly, Jay Lang and Jankyjoe 


---

IT'S YOUR BIRTHDAY SATURDAY'S presents 
We Celebrate Black History Everyday Not Ma Just A Month! @
EPIC 22 BAR & LOUNGE
3000 Blodgett @ Ennis ( across from TSU )
Come Celebrate Your History Making Birthday with Us! We Guarantee to make it EPIC Event! 
Call now to Book Your FREE Birthday Party 832.533.1117 or 713.522.3742 and Receive a
FREE SECTION and FREE Bottle of CHAMPAGNE!


---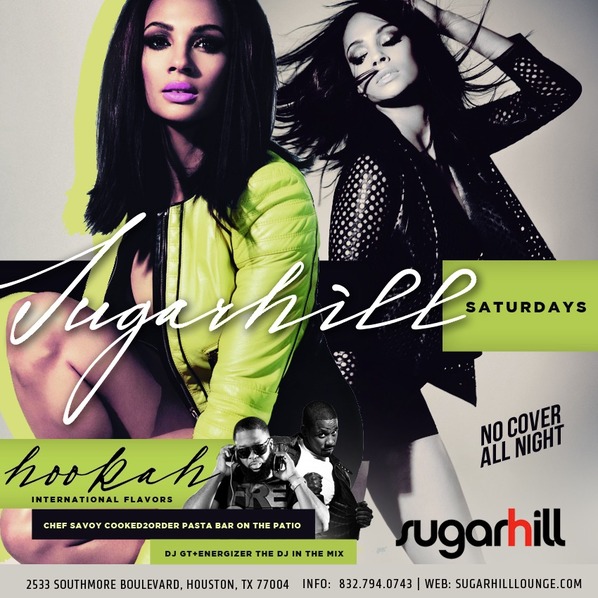 SugarHill Saturdays
Doors Open 9pm - 2am
Ladies No Cover All Night 
Featuring GT InDmix
Dress Code In Force:
No Caps, Shorts, Sneakers Etc.


---

Click Here


Live House | Project Zero Ent Present:
Hudson Saturdays  
at Hudson Lounge
2506 RobinHood
A New Era in Upscale Nightlife
Music by 
DJ Aggravated | DJ Def Jam Blaster
Dress Code Enforced
Doors Open 9pm - 2am
Rsvp for No Cover b4 11pm:
www.HudsonSaturdays.com
For Info & Reservations, Call 713.259.5725


---

Click Here

---

SEXY/UPSCALE/DIVERSE/EXPLOSIVE
SAT Feb 28th
9pm
Zanzibar
 EMAGINETHAT ENT AND ISLAND VIBEZ
presents
CARIFA
Join us as we celebrate Ghana's Independence
DRESS TO IMPRESS
 ZANZIBAR
9003 WESTHEIMER RD(@JANNETA) HOUSTON,TX
 LADIES FREE BEFORE 11PM WITH RSVP
http://carifa.eventbrite.com/
 PISCES FREE ALL NIGHT
COME PARTY TO THE BEST OF AFRICAN/CARIBBEAN/AMERICAN TOP 40 MUSIC!
FOR VIP SECTIONS & BIRTHDAY CELEBRATIONS CALL 281.380.5910 / 347.614.7582


---
---

Tonight @eric_spivey & @mcqua Presents #socialsaturdays 
"These Promoters Made My Party" 
↪️🆙 @ Dreams Bar & Lounge 3321 Dixie Dr. 
Doors Open @ 2pm @sylvia_d_a @mrsceodreams @Blackkstallionnn 
@london_taylor @houstonhonee @bosschick3814
@carmen_electra @justone_meshine No Cover @djfitty & @mcqua Indmix 
$125 Bottles of  Belaire Rose tbls 713-235-0156 💯🎥 #wedemboys


---

Click Here


ALL NEW #EMPIRESATURDAYS @ THE PLAE
25 DIFFERENT HOOKAH FLAVORS 
FULL KITCHEN ON THE PATIO
AQUARIUS FREE ALL NIGHT W/RSVP 
$3 DRINKS UNTIL 11PM | 
FREE ENTRY W/RSVP
www.THEPLAE.com 
Dress code:
FELLAS: NO BALL CAPS, TSHIRTS,BASKETBALL SHOES BAGGY CLOTHING 
LADIES: NO FLATS OR SNEAKERS 
FOR SECTIONS BELL - 832-715-0192


---