Click Here For Info


THE FRIDAY EXCHANGE 
Everyone Free All Night w/ Rsvp thefridayexchange.eventbrite.com 
@imdonniehouston | @micheleonair | 2 LEVELS 
TACOS & STEAK NIGHT | BEST OF 90'S vs. TODAY'S HIP HOP 
R&B | THE HITS. 
Doors open 9pm | 809 Congress St. 
@henkeandpillot #theFRIDAYexchange



Click Here For Info

---

Click Here For Info


ARISTOCRAT LIFE + GOODFELLAS presents
STADIUM FRIDAYS
at
SPIRE NIGHTCLUB
1720 Main St | Houston Texas | 77002
Houstons #1 Nightlife Destination
RSVP for Free Entry and Free Hennessy
Dresscode Strictly Enforced This Is Not Your Typically Friday Night
Dress Up or Miss Out
Bottle Service Is Highly Recommended
For Tables & Info Call/Text 713.459.9019
RSVP FOR FREE ENTRY at
http://www.stadiumfridays.com/


---

Click Here For Info


EAT. DRINK. DANCE. SOCILAIZE. HOOKAH
10.11 | 4-2A | LATE NIGHT PARTY 9-2A
THE RETURN OF "THE OAK ON FRIDAYS" 
@ THE ALL NEW RENOVATED LIVE OAK LOUNGE & BAR

+ TSU ALUMNI 2k19 HOMECOMING KICKOFF MIXER 
+ ROSS STERLING ALUMNI 10yr HOMECOMING AFTER PARTY
FREE ENTRY ALL DAY & NIGHT!!!!
4-9P FOOD & DRINKS HAPPY HOUR
1/2 OfF Apps

Eggrolls
Onion Rings | Boudin Balls | $10 Cheese Burger Basket w/Fries 
$20 Wing Party Pack

DRINKS
$5 U Calls | $7 Premiums | $5 Frozen Ritas ALL NIGHT
$15 Hookahs**


SOUNDS BY
DJ CEE WATTS | GO DJ BOBBY BANDZ | MC HOLLYWOOD MED
BEST OF THE 90s & EARLY 2000s HAPPY HOUR MIX 
w/ DJ CEE WATTS + LATE NIGHT PARTY w/ GO DJ BOBBY BANDZ & MC HOLLYWOOD MED

DINING TABLES ARE FREE, FIRST COME FIRST SERVE.
VIP SECTION BOTTLE SERVICE SPECIAL: 
RECEIVE ONE FREE BOTTLE OF CHAMPAGNE 
with THE PURCHASE OF A LIQUOR BOTTLE & ALL GUEST ARE FREE.

VIP BIRTHDAY SECTION CELEBRATION SPECIAL: 
RECEIVE ONE FREE BOTTLE OF CHAMPAGNE with THE PURCHASE OF A LIQUOR BOTTLE
1 FREE BIRTHDAY FLYER | 1 FREE BIRTHDAY CAKE
SPECIAL BOTTLE PRESENTATION & ALL GUEST ARE FREE.

VIP TABLES & INFO: 281.915.8536



Click Here For Info

---

Houstons #1 Friday Happy Hour 
at THE ADDRESS
50 Cent Wings & $7 Henn From 4-9pm
832.330.6800 To Reserve Your Table


---
---

Click Here For Info


10th Erotic Ball 2 Day Sextravaganza
Katz Stores, The Network, Clé & Spire Present...

The 10th Annual EROTIC BALL!

DAY 1: Clé Houston
The Official 10 Year Anniversary
9pm-2am @ 2301 Main St.

DAY 2: Spire Houston
Official Themed Party Kick-Off
Cirque du Erotic
10pm-2am @ 1720 Main St.

RECOMMENDED:
BUY FOR BOTH DAYS!
Any Questions Email theeroticball@gmail.com
713/320/8122 ask for Albert


---

NO WORK, ALL PLAY!!!
DITCH WORK DAY PARTY 
Kick off your homecoming weekend by ditching work!
3 Floors, 3 Patios, Cigar Lounge & Beer Garden.
For Section Reservations & Bottle Service:
281.808.8426 OR 832.338.7302


---

Click Here For Info


BGE Empire x Live House
It's LIT...Aura Friday Nights!
Houstons #1 Friday Nightlife Destination
DJ Mr Rogers
Mc Beezy, JBoss, A-Plus indmix
For VIP/Table Reservations, Bottle Service, 
Groups or Large Parties...
AURA NIGHTCLUB
For Tables & Info Call/Text 713.459.9019


---

THE PREGAME CRUE PRESENTS
SEASIDE FRIDAY NIGHT 
FOR SECTIONS CALL 713.259.5725
You're invited to 
Seaside Friday Night
$5 Happy Hour & Dinner 4-10pm
Full Seafood Menu, Hookah, Late Night Kitchen & More
Never a Cover
Free All Night


---

Hennessy & Hookah Fridays. 
All chill vibes on a Friday 
With @chukkyp Official Birthday Fireworks Party
Dj Alo, Dj Take0va, LarryGBeats, McMoSwagg 
Free entry, free parking, free section
Happy Hour 4-8 $5 Premiums
$150 Hennessy before 12
$120 Vueve Cliquot all night

Reservations:Text 346-401-8632 
https://hennyhookah.com OR   https://bookh2o.com  
www.h2osportsbar.com @h2osportsbar  


---

Click Here For Info


PLAYING THE BEST HIP HOP/R&B/AFRO BEATS
For VIP/Table Reservations, Bottle Service, 
Groups or Large Parties...
Call/Text 832-577-7501
Belvedere Ultra Lounge
Doors open promptly at the scheduled start time .
Sexy and Fashionable Attire at Must!
Absolutely NO joggers, sweat pants, jogging suits, shorts,


---

Carros On Fridays 
Ladies $5 after 9pm
Men $10 after 9pm
Dj Oakcliff713 on the 1's & 2's 
️832-291-8915
9585 S. Main St
Powered by @RonnieJ98 @Mr_Janice


---

FRIDAY NIGHT VIBES
at o2 Lounge
LADIES TEXT "FNV" to 555999 TO RSVP
(EARLY ARRIVAL AND/OR VIP BOOKING HIGHLY ADVISED)
3003 Fondren Rd 
Sections/Info: 281.804.2597


---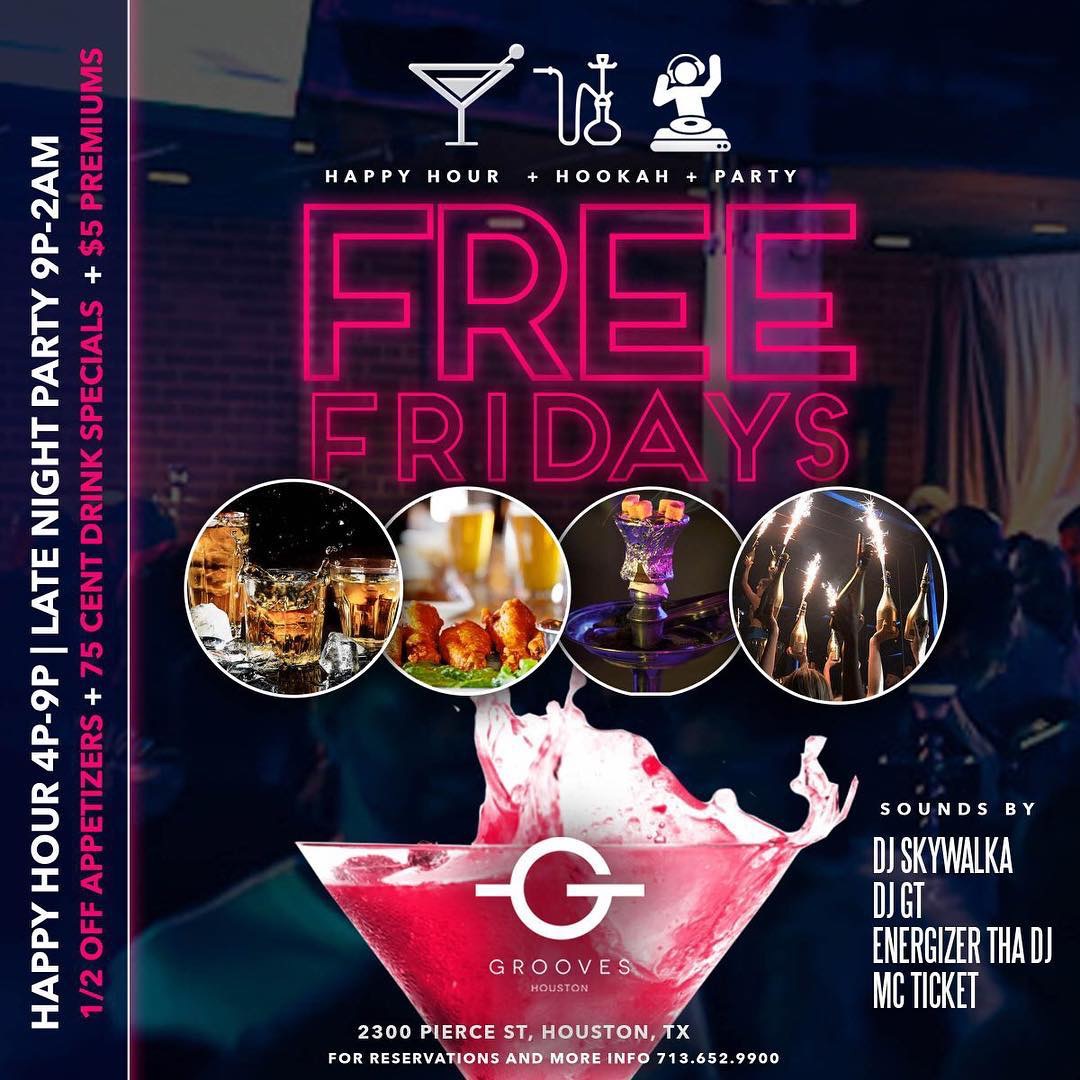 FREE FRIDAYS at GROOVES 
(2300 PIERCE ST.)
EVERYONE FREE ALL NIGHT
HOUSTON'S BEST HAPPY HOUR
.75c DRINK SPECIALS
$5 PREMIUMS
1/2 OFF APPETIZERS
W/ DJ GT, ENERGIZER THA DJ, 
STARR SKYWALKA & MORE INDMIX
FOR TABLES/INFO 713.652.9900


---

Click Here For Info


DIOR SATURDAYS
FREE ENTRY TILL 11pm
(Guest List see number below)
DOORS OPEN: 10:00 PM
CLICK HERE FOR FREE TICKETS NOW!
For Section Reservations / Bottle Service
TEXT/CALL 713.459.9019 For sections or to get on my guestlist till 11:30pm
For the sophisticated, stylish, energetic 
and strictly for social jet setters 
and exceptional taste makers. Influencers.


---

Click Here For Info


THE RETURN OF SATURDAY NIGHT LIVE 
AT SEASIDE LOUNGE
GOOD VIBES + SIGNATURE DRINKS + ARCADES + PATIO BAR
DJ J Que & DJ Hefna inDmix
NO Cover All Night
702 W Dallas St
For Tables & Info Call/Text 713.459.9019


---

Click Here For Info


LOVE/HATE Saturdays
Spinning The Best of Classic Hip Hop & R&B
Classy Adult Playground for Houston's discerning socialites
at Belvedere Uptown Park
1131-01 Uptown Park Blvd #310, Houston, TX 77056
DJ GT inDmix
No Cover | Free Parking | Hookah 
Discounted Bottle Service till 11:30
Food On The Patio
Mature Audience
For Info/Table Reservation >> 713.459.9019 or 281.995.3311
RSVP & Book Tables >> http://lovehatehtx.eventbrite.com
$260 Bottles before 11:30pm [Crown, Vodkas, Rose Moet, Hennessy]
$320 Bottles After 11:30p [Crown, Vodkas, Rose Moet, Hennessy]
$360 Bottles All Night VSOP, Patron, Don Julio
$180 Moet White Star



Click Here For Info

---

Click Here For Info


VIBE SATURDAYS
EARLY ARRIVAL HIGHLY SUGGESTED !!!!!!
HOOKAH
GO DJ HI C AND MJ MAJOR PROVIDING THE SOUNDS
SECTION RESERVATIONS CALL/TXT 832-577-7501

VENUE INFORMATION
VIP Accommodations
Hottest DJs In The Country
Valet Service
Strong Drinks
Great People

VIBE SATURDAYS DRESS CODE
Kapri Ultra Lounge
VIBE Saturdays Ladies Night
5718 Fairdale


---

Click Here For Info


Greater Houston Black Chamber of Commerce
presents 
The 25th Annual PINNACLE Awards Gala
Saturday October 19th
at Marriott Marquis 
1777 Walker St
7p - 10p



Click Here For Info

---

Click Here For Info


www.DaytoxPresents.com
3P UNTIL | DAYTOX PRESENTS
SATurDAZED DAY PARTY w/ DJ MR ROGERS 
@ THE ADDRESS 
FREE ENTRY EVENT TIL 10P
HAPPY HOUR FOOD & DRINK SPECIALS 3-8P
$5 WELLS | $5 FROZEN RITAS | $7 PREMIUMS | $8 HENNY RITAS
1/2 OFF BAR BITES (selected items)
HOOKAH
SOUNDS BY DJ MR ROGERS | BOBBY BANDZ | D WELLS | MC MAJOR

___ 

10-2A | UPTOWN SATURDAY NIGHTS PRESENTS
PVU OFFICIAL HOMECOMING ALUMNI 2k19 AFTERPARTY 
+
THE SHOW PROVIDED BY DJ JQUE | MC BEEZY | DJ YOUNG STREETZ
LADIES FREE TIL MIDNIGHT
MEN FREE TIL 10P
FULL KITCHEN MENU (try the grilled wings & shrimp)
HOOKAH
VIP TABLES & INFO:
Text or Call - 832.379.9194


---

Click Here For Info


The All New Exchange Saturdays
Doors Open at 8pm-2am
NO COVER ALL NIGHT + GOOD VIBES +
FULL KITCHEN + SIGNATURE DRINKS + PATIO
@ Live Oak
2533 Southmore Blvd, Houston, TX 77004
Bottle Service Call: 346.404.5060


---

Click Here For Info


Brunch & Bullshit is the all new Saturday Brunch series 
in Houston at The Seaside Lounge featuring your favorite beats 
in an environment with a crazy vibe. 
Enjoy brunch from 11am -5pm and a Day Party from 5pm-9pm.

Come enjoy some of our signature dishes including: 
Shrimp & Grits, grilled salmon & cheese grits, 
chicken and waffles anong many other amazing seafood based options.

Be one of the first to try one of our unique spins 
on mimosas or one of our other signature cocktails.

Seaside Lounge
702 W Dallas St
Houston, TX 77019
11am-5pm
http://www.gotbrunch.com


---

Click Here For Info


Baddie Champagne Brunch & Day Party
12-3/3-9 DJ'S From 12 Noon
DJ MAIYA PAPAYA, DJ YOUNGSTREET, DJ TOXIQ, DJ DR MCDANIELS
Brunch Menu 12-3PM
Complimentary Mimosa till 1pm
Happy Hour 12noon-9pm $5 frozen, $5 Premiums, $2 
$150 Hennessy, Ciroc, Moet, Patron, Don Julio Bottles till 8pm
$120 Vueve Cliquot Special
Brunch Reservation, Bottle Service & Celebration Info: 346-401-8632
@planbhtx #planbhtx #planbsaturdays
Full H2O Kitchen Menu Available | Kurbside Tacos truck
9277 Richmond Ave

-----------------------------

SOLD OUT SIGNATURE SATURDAYS
Vibes by DJ COOK, MC DMOSWAGG
$150 Hennessy Bottles before Midnight
Free Parking, No Cover.
Reservations: CALL 832-298-6529,  TEXT 346-401-8632



Click Here For Info

---
---

Click Here For Info


GHOSTSATURDAYS.EVENTBRITE.COM
ARISTOCRAT LIFE + BGE + GOODFELLAS presents
GHOSTBAR SATURDAYS
3105 Main St | Houston Texas | 77002
Houstons Newest Nightlife Destination
RSVP for Free Entry
Dresscode: FLY SH*T ONLY
Bottle Service Is Highly Recommended
For Tables & Info Call/Text 713.459.9019
RSVP FOR FREE ENTRY
GHOSTSATURDAYS.EVENTBRITE.COM


---

Click Here


SUITE 2300 SATURDAYS
at GROOVES
$5 Premiums All Night Long
UH vs PVAMU Alumni After Party
No Cover All Night w/RSVP 
Book Your Free Party Section


---

Click Here For Info

---

The All New Exchange Saturdays
Doors Open at 8pm-2am
NO COVER ALL NIGHT + GOOD VIBES + 
FULL KITCHEN + SIGNATURE DRINKS + PATIO
@ Live Oak
2533 Southmore Blvd, Houston, TX 77004
Bottle Service Call: 346.404.5060


---

Saturday October 19th
#liveonstage #pornstar @tha_ambitiousbooty
#PaidinFull
#birthdaycelebration for Charlie Hustle @hustlenco
#SaturdayPassion @passionscabaret
7928 N Shepherd Dr
Info: 2818203333 or 4243754149
hosted by @e_sokul @thelegendaryYeti @loumuzik @marco_bandss @1nicramsey
@ghostbossmusic @canaandamere @jamaicadouglas @mc_coreymo

feature dancers:
@Thabeautiful1periodt_ @bonniebrinx
#indmix @dj_bonafied
#dresscode Styles From '85
$125 Bottle Specials
#poweredby @bachataboy85 @hustlenco @stevie.sr12 @urmomzold

#saturday #nightlife #stripclubtrappin #passionscabaret #stripclubs #houston 
#entertainers #kitchen #bar #food #mlb #nba #nfl #dj #stripper #dapperdan #MCM


---
---