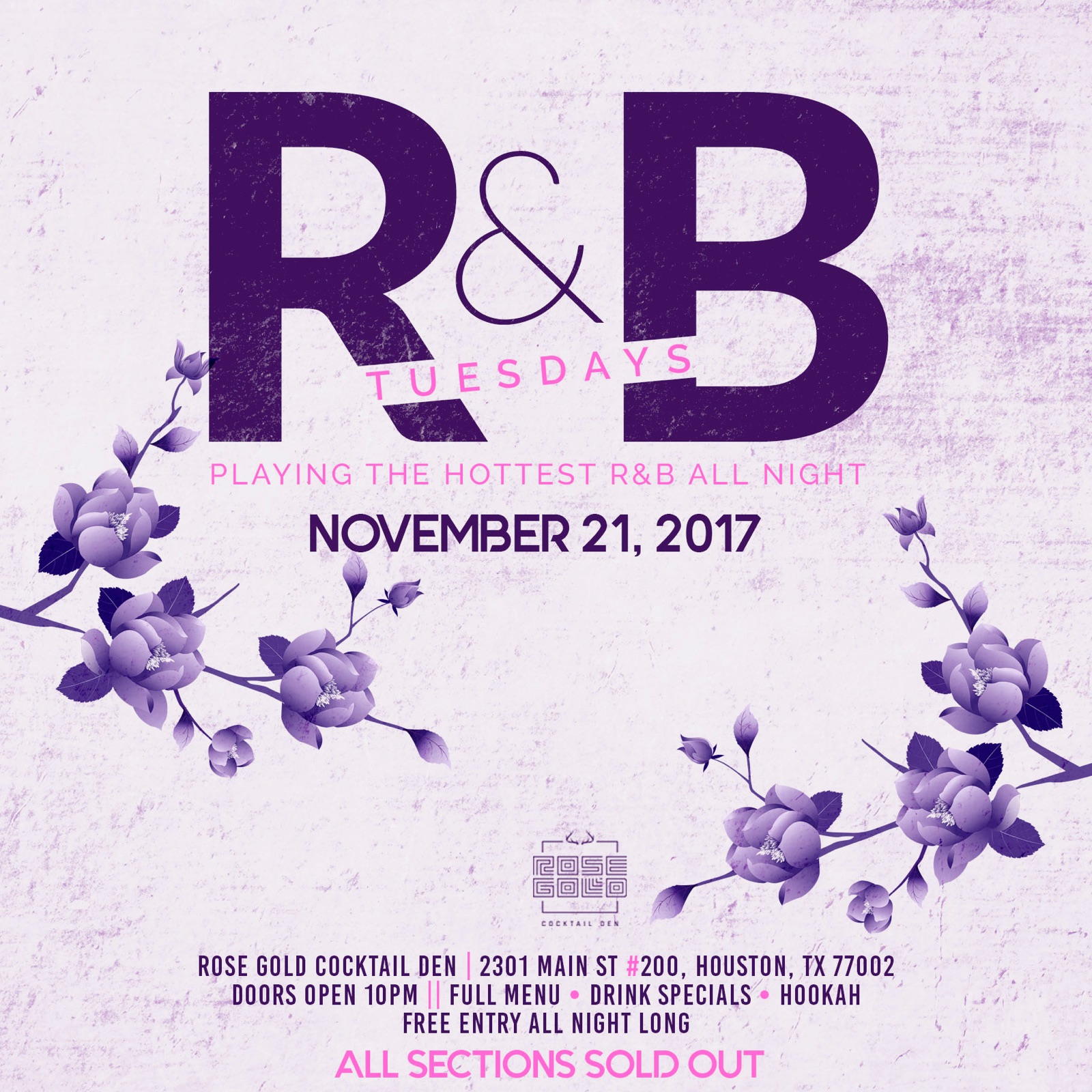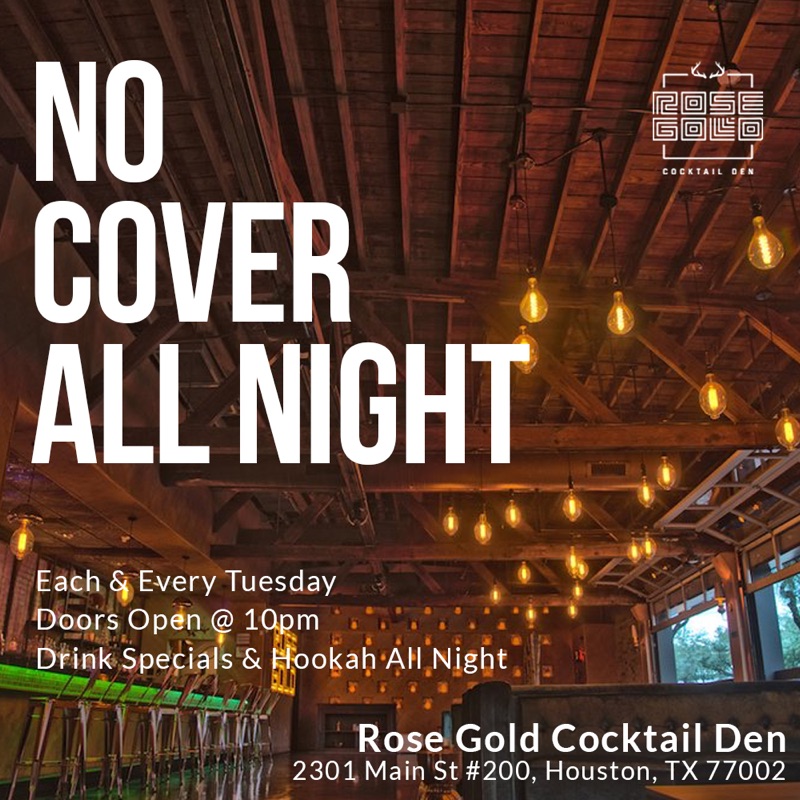 R&B TUESDAYS
@
ROSE GOLD
(2301 MAIN ST)
W/ DJ MR. ROGERS INDMIX
HOUSTON'S NEWEST, HOTTEST NIGHT AT ROSE GOLD DEN 
DRINK SPECIALS, HOOKAH, GREAT FOOD & MORE
NO COVER | FOR INFO 832.296.4672


---

UPTOWN TUESDAY's @ UPTOWN HOOKAH LOUNGE
$10 HOOKAH + 2 for $5 TACOS & $5 CROWN & HENNY 
+ FREE ENTRY ALL NIGHT 
+ GO DJ BOBBY BANDZ & MC KUT 
+ THEO & DJ MOON E. LOVE
LOCATED 5607 Richmond Ave (near Onyx)
RSVP FOR TABLE 281-460-6187


---

Miss Pocahontas Contest        
at Lumen Lounge 
$1,000 Cash Prize    
Music By:
Tony Styles + Tal Tager + DJ Pollo    
Date: Tuesday, Nov. 21
Doors: 10:00 p.m.   
Lumen Lounge 
5020 Kirby Dr., Houston, TX 77098 


---

Come out and enjoy #kulturetuesdays 
for open mic night, live performances, 
talent showcase, comedy and more 
@postloungehouston doors open at 8pm 
with drink specials all night 
sounds by DJ Nana | hookah | food | Patio


---

Houston's Favorite Industry Night 
Each & Every Tuesday
Everyone Free All Night
Faces Ultra Lounge 
832.330.6800


---
---
---
WEDNESDAY EVENTS
| SUN | | MON | TUE | WED | THUR | FRI | SAT | Coming Attractions |

Click Here For Info


Rob Wright + inDmix.com + A Few Good Men 
+ Project Zero Ent + Steve Rogers 
+ Lisa Rogers + Marcus Johnson
present
Thanksgiving Eve Holiday Affair
Wednesday November 22nd 2017
at HENKE & PILLOT
809 Congress
9p-2a
DJ ROB G & DJ SUPASTAR inDmix
Dress Code
Tables & Info Call 832.794.0743
RSVP at http://henkethanksgiving.eventbrite.com


---
---

Click Here For Info


K & K Events presents
The 11th Annual NAUGHTY or NICE
Black & White Affair
@ Open Bar Houston - 
2655 Winrock Blvd, Houston TX 77057

Wear BLACK if u r Naughty!! 
Wear WHITE if u r Nice!!

FEATURING 2 CARIBBEAN DJ LEGENDS!!
DJ PRIVATE RYAN & DR JAY aka DE SOCA PRINCE
Hosted by MC FIRE KYLE
Special Guest DJ SILENT KILLA

ONLINE SALES ONLY!
Tickets - $20 
VIP Sections - $200
Presale Bottles - $150
Presale Champagne - $180
Hookah Sections - $60

HERE IS THE LINK - www.nnbwa2017.eventbrite.com

For MORE INFO call 347.614.7582 / 832.775.3655


---

Click Here For Info

---
---

Wing Night Wednesdays
$0.50 Cent Wings Till 10p
No Cover All Night
3100 Fountain View


---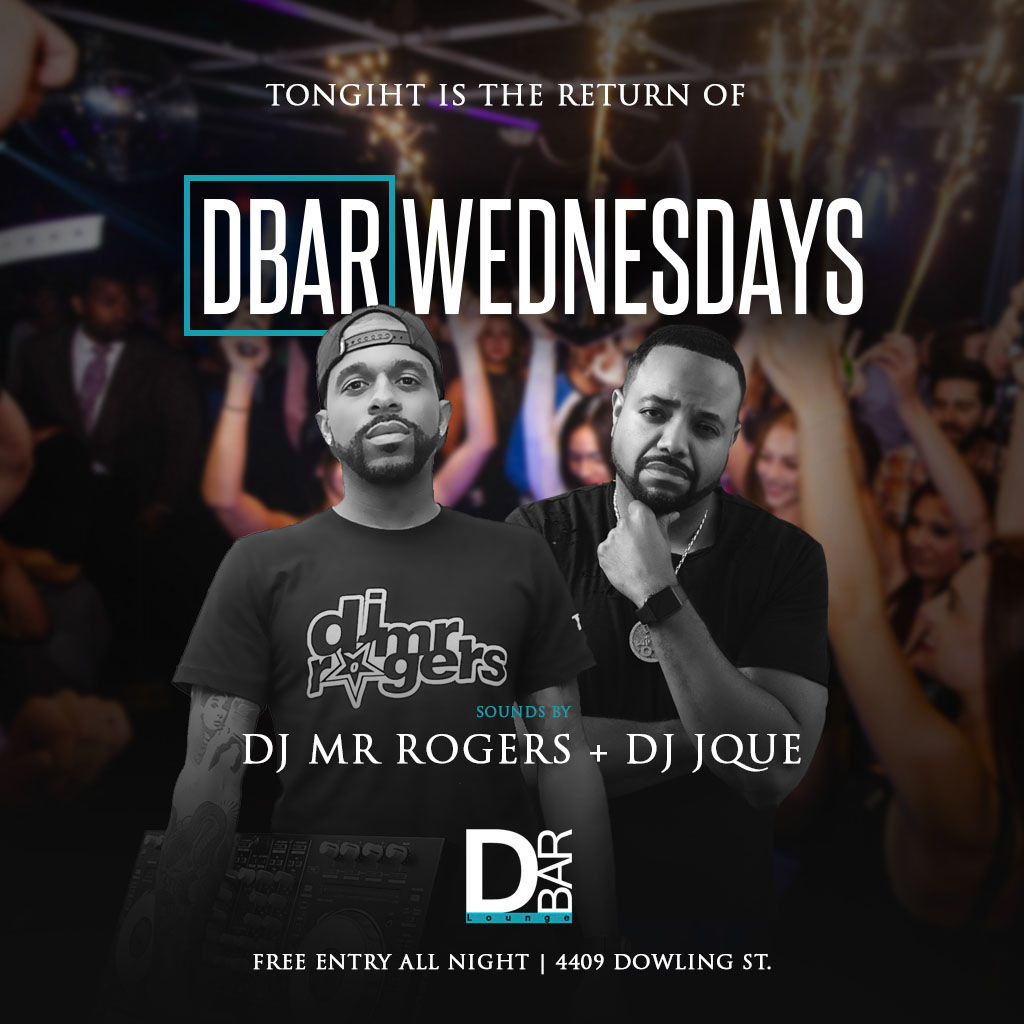 DBAR WEDNESDAYS 
RELOADED
@
DBAR
(4409 Dowling)
W/ DJ MR. ROGERS & J-QUE INDMIX
Happy Hour 9-10p
Late Night Party 9p-2a
$10 Hookahs
Doors Open at 7p


---
---
---
THURSDAY EVENTS
| SUN | | MON | TUE | WED | THUR | FRI | SAT | Coming Attractions |

Click Here For Info


Thanksgiving Night Gala Soiree

The BIGGEST NIGHT OF THE YEAR
Thursday November 23rd
Bar Bleu
2506 Robinhood
DRESS TO IMPRESS

Come party the night away in the sexiest 
club in rice village. With 3 beautiful rooms 
playing Hip-Hop, R & B, Afro Beats/African Music ...
Music 🎶 🎶 provided by

DJ G.T Mayne
DJ Alo
MC Kut
DJ Towii
DJ Omu

Valet Parking, Sections and bottles, and 
drink specials and hookahs will be available. 
Purchase your tickets now to guarantee your entry
www.thanksgivingsoiree2017.eventbrite.com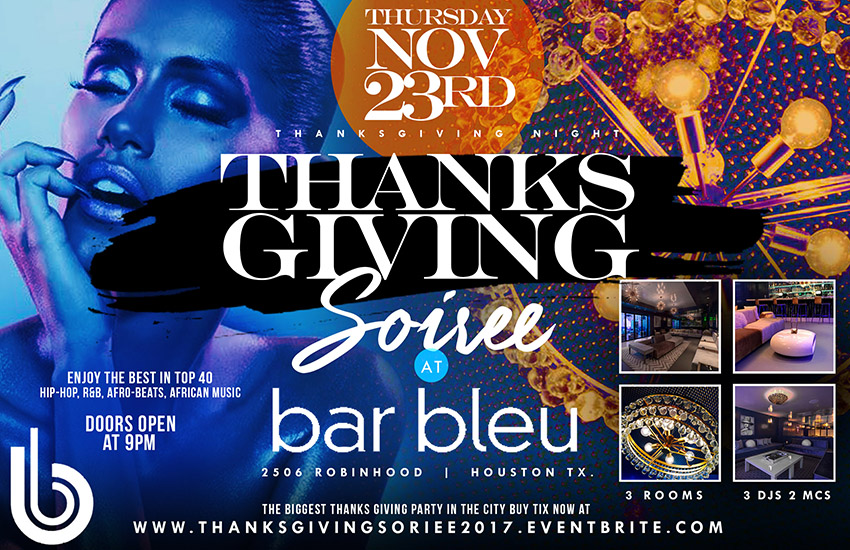 Click Here For Info

---

NOV23RD #THANKSGIVING Night 
with Slim Thug @HOGGLIFE101 
at HOUSTON'S HOTTEST NEW ULTRA LOUNGE!!  
@district1960 
PREMIUM HOOKAH... VIP PARKING AVAILABLE... 
W/ @godjJ-Boss indmix.. 
3337 Cypress Creek Pkwy Houston Tx 77069.
Reserve your Section, Table 
or Presale Bottles Today!! 
832.877.9542832.877.9542
・・・
T H A N K S G I V I N G 🦃 N I G H T

Nov. 23rd #ThugsGiving with @hogglife101 
LIVE Indmix with @godjjboss
Reserve your Section, Table 
or Presale Bottles Today!! 832.877.9542


---

Click Here For Info


-QMEVENTS PRESENTS-
LIVE AT FOX
THANKSGIVING NIGHT SPECAL EVENT
THURSDAY, NOV, 23RDTH
HOSTED BY
ERIKAH AND THE NOCTURNAL BAND
SPECIAL PERFORMANCE BY
SIX MIMUTES 'TIL SUNRISE, PATRICE DOMINIQUE, 
KILAND LEE, JWALK AND MORE
SOUNDS BY
DJ STARR SKYWALKA
SPINNING THE BEST OF HIP-HOP AND R&B
HAPPY HOUR FROM 5-8PM
SHOWTIME STARTS AT 9PM - UNTIL
$5 DRINK SPECIALS + $150 BOTTLES + $20 HOOKAH +
RSVP FOR FREE ENTRY BEFORE 9PM AT LIVEATFOX.COM
FOR TABLES OR INFO: TEXT/CALL: 832.377.1548
FOX HOLLOW 4617 NETT ST


---

Click Here For Info


Join us this and every Thursday 
for DIABLO THURSDAYS 
hosted by Kiotti 'Radio Boss' of 97.9 The Box
LADIES! NO COVER ALL NIGHT!
EVERYONE! $3.50 ANY DRINK FROM 7-11PM
Sounds by DJ Mei, DJ chose and 
Kiotti 'Radio Boss' of 97.9 The Box
Plus special invited guests
Houston Rockets and Thursday Night 
Football on the screens!
A great 4-7PM Happy Hour menu!
Kitchen open till 1AM
Party doesn't stop till 2AM
FOR TABLE/PARTY RESERVATIONS, 
CALL OR TEXT JOEY AT 713-471-1896 
OR RESERVATIONS@DIABLOLOCOTEXAS.COM


---

Waxaholic THURSDAYS
at Alley Kat
No Cover
3718 Main St


---

Thursdays at JET
JET LOUNGE
(1515 PEASE ST.)
W/ DJ MR. ROGERS + DJ ALO INDMIX


---

Click Here For Info


–QMEVENTS PRESENTS –
LIVE @ FOX THURSDAYS
LIVE MUSIC SHOWCASE FEATURING
FLATLINE MUSIC AND AMAZING VOCALISTS
ALONGSIDE DJ STARRSKYWALKA IN THE MIX
REVERSE HAPPY HOUR FORM 8-10PM
$150 Bottles, $6 Wells, $6 Wines
SHOWTIME STARTS AT 10PM – 2AM
WINGS, PIZZA AND SPECIAL PLAT DU JOUR
RSVP FOR FREE ENTRY BEFORE 10PM
FOX HOLLOW 4617 NETT STREET
FOR MORE INFO OR TABLE RESERVATIONS 
CALL/TEXT: 832.377.1548


---
---
---

Click Here For Info


MERCY NIGHTCLUB 
1505 Saint Emmanuel St 
Houston Texas | 77002
Houstons #1 Nightlife Destination
RSVP for Free Entry
Dresscode Strictly Enforced This Is Not Your 
Typically Friday Night Dress Up or Miss Out
Bottle Service Is Highly Recommended
832.512.6515
mercyfriday.eventbrite.com
@AristocratLife


---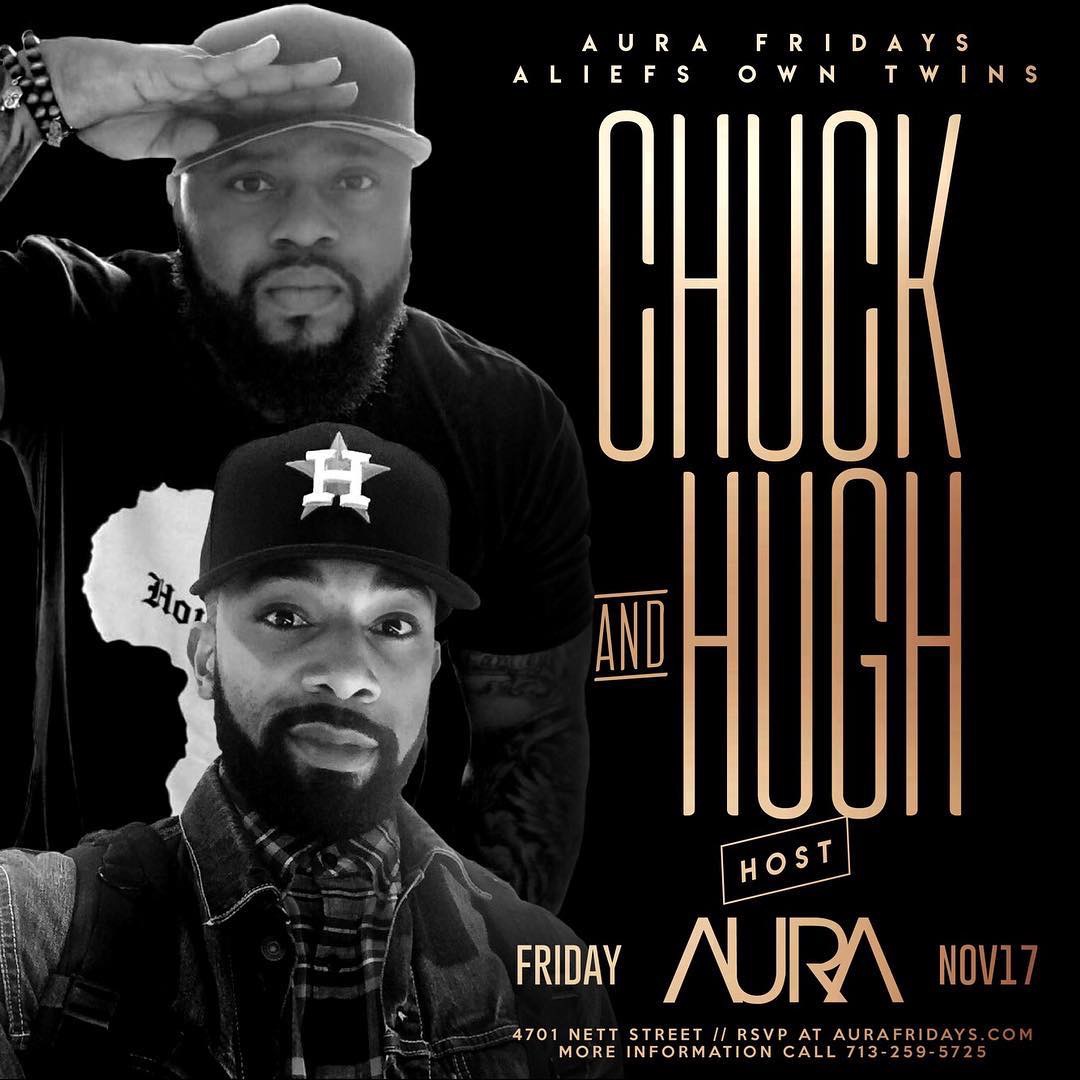 Click Here For Info


Join us as we embrace the The Next Step 
in Houston's Elite Nightlife Experience 
where Refined Art meets elegant technology 
in a hi-energy space ignited by state-of-the-art 
sound and lighting systems, secluded alcoves, 
Large Turn-Up Sectionals, Stage, Glitz, Glamour and More.... 
Its LIT...Aura Friday Nights! 
High Def Audio By resident DJ Mr Rogers, Mc Beezy & More 
Dress To Impress. 
NO REFUNDS ON PAID TABLES For VIP/Table Reservations, 
Bottle Service, Groups or Large Parties... 
Call/Text 713.259.5725 

AURA NIGHTCLUB 
4701 NETT ST 
Houston, TX 77007


---

Click Here For Info


ROSE GOLD FRIDAYS
at ROSE GOLD COCKTAIL DEN
2301 Main St
RSVP For No Cover All Night
DJ J Que & DJ Q Holic
9pm-2am
www.ROSEGOLDFRIDAYS.com


---

Click Here For Info


The Perfect Party. 
**THE ALL NEW PROOFTOP FRIDAYS 
@ PROOF ROOFTOP INDOOR/OUTDOOR LOUNGE**
The NEW Friday Night Experience In Midtown 
"PROOFTOP FRIDAYS @ PROOF" 
ENERGY.STYLE.ENTHUSIASM
$5 DRINKS HAPPY HOUR TIL 9-11:30PM
COME MIX.MINGLE.DRINK.EAT.PLAY
COMPLIMENTARY PASTA & WINGS 9-11P
DJ XO & GO MC MAJOR 
EVERYBODY FREE ALL NIGHT WITH RSVP!!!
INDOOR/OUTDOOR CITY VIEW ROOFTOP PARTY
HEATERS & FIRE PITS ON THE PATIO
Hookah & Cuisine On The Patio
Dress Code Enforced!!



Click Here For Info

---

Click Here For Info


MERCY NIGHTCLUB 
1505 Saint Emmanuel St 
Houston Texas | 77002
Houstons #1 Nightlife Destination
RSVP for Free Entry
Dresscode Strictly Enforced This Is Not Your 
Typically Friday Night Dress Up or Miss Out
Bottle Service Is Highly Recommended
832.512.6515
mercyfriday.eventbrite.com
@AristocratLife


---

Click Here For Info


D.h! | Shades Simplicated Mktg | Nkem of Emagine That Ent | Mr. TC
Present
++THE INT'L AFFAIR++
EACH & EVERY FRIDAY NIGHT!
10PM-2AM
BELVEDERE PREMIUM LOUNGE
1131-01 UPTOWN PARK BLVD
UPSCALE EVENT FOR HOUSTON'S CULTURAL ELITE!
DJ SHINSKI + DJ OCEAN ON THE PATIO + MC MIKOLO on the mic
SPINNING THE BEST IN AN INTERNATIONAL ARRANGEMENT OF ELECTRIFYING SOUNDS
RSVP HERE FOR COMPLIMENTARY ADMISSION TILL 11PM
http://intlbelve.eventbrite.com/
OR TEXT "BELVE" TO 281.804.2597 
WINGS & FRIES ON THE PATIO!
STRICT DRESS CODE
NO SHORTS . NO BALL CAPS . NO TENNIS SHOES
ENTRY PROVIDED AT DOORMANíS discretion
FREE PARKING + VALET PARKING AVAILABLE
FOR MORE INFO / TABLE RESERVATION / BOTTLE SERVICES PLEASE CALL
281.804.2597 OR 281.312.9175


---

Click Here For Info


Mercedes Benz & Moet Presents..
BLVCK Excellence 2017
All Black Affair
Friday November 24th
9PM - 2AM
Dress Code : Impeccable
Ladies : Heels and Dresses
Gentlemen: Blazers
Live DJ
Cigars and Hookahs on the Patio
Hors d'oeuvre Served
Photo Booth
Red Carpet
Art Showcase
The Roof on the Lake
1531 Hwy 6 #300, Sugar Land, TX 77478
Reservations 281.733.3270


---

Click Here For Info


AphricanApe The Evolution Live in Houston, 
Friday November 24th 
at Ayva Center 
9371 Richmond Ave Houston TX 77063. 
Doors open at 6pm and show starts at 7pm.
Ladies and gentlemen, this comedy show will 
be like nothing Houston has ever seen as it 
features your favorite internet sensations like:

@chief_obi @crazeclown @twyse_116 @thefoxhimself
@ebabykobby @wowoboyz @ofilidesigns @kingdrewwskyy
@otwhite @canice100k

Ticket now available at 
SouthWest Farmers Market
9801 Bissonnet St Ste U Houston, TX 77036

Wazobia Market
16203 Westheimer Rd Suite 106
Houston, Texas

Debbies Catering 
6271 Highway 6 S, Houston TX 77083

or Visit www.aphricanapetheevolution.eventbrite.com


---

Today the Ultimate Destination is @theaddresshtx 
...Come out and enjoy $5 Frozen's, 
Premiums and  @dussecognac
3333 Raleigh St
Sounds by @djaggravatedhh
#cognac #happyhour #fridays #theaddresshtx 
#adultplayground #oldschool #90s #hiphop #rnb


---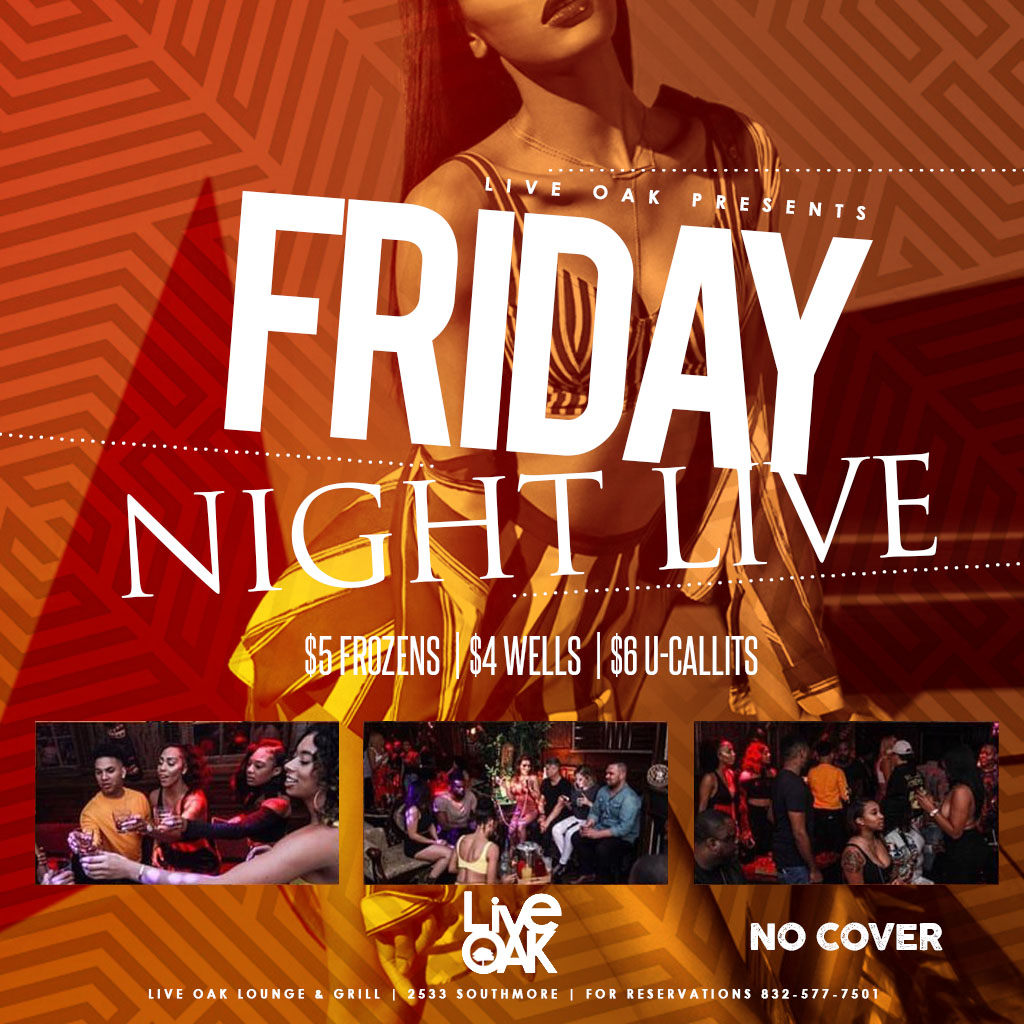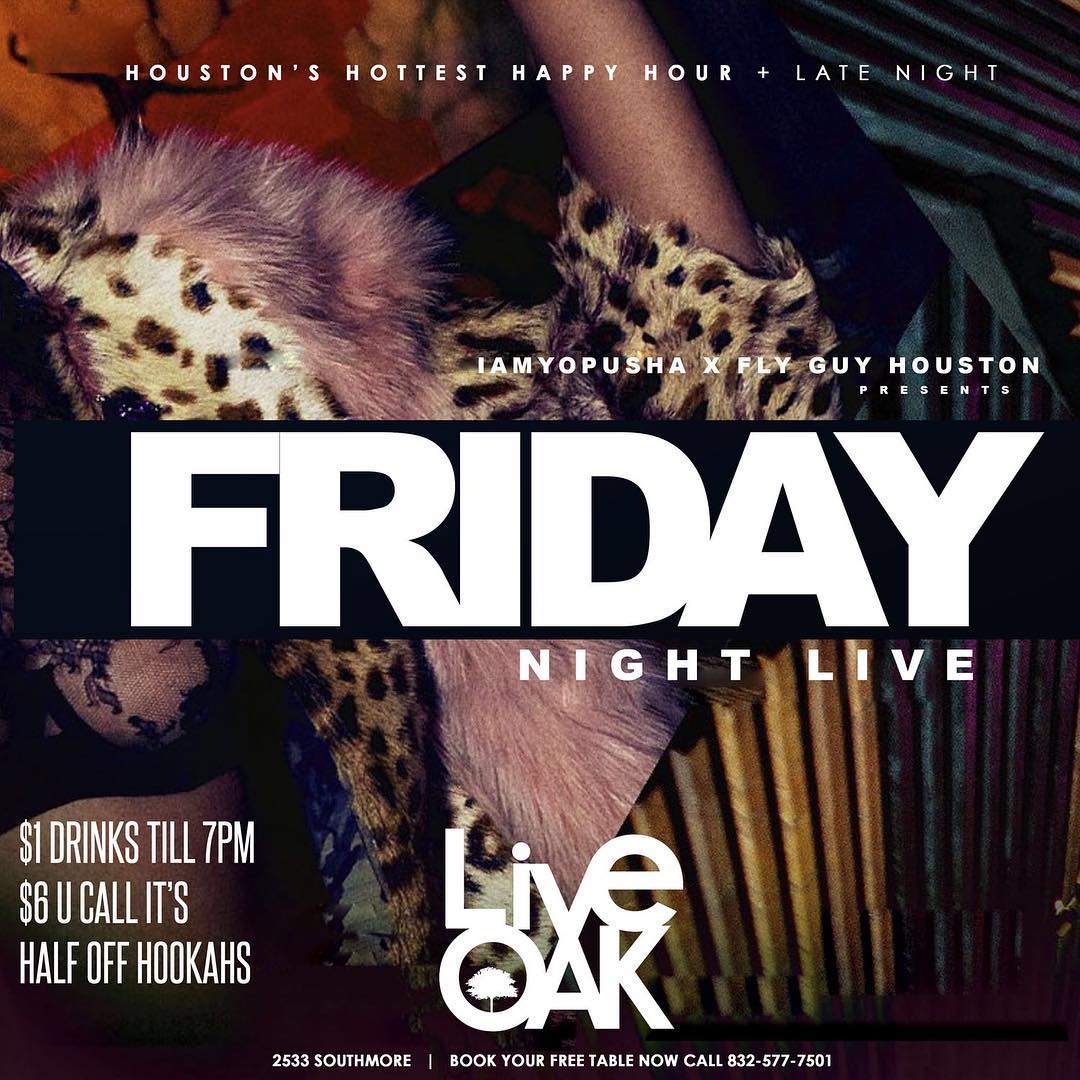 FRIDAY NIGHT LIVE 
@
LIVE OAK
(2533 SOUTHMORE BLVD)
 $5 FROZENS
$4 WELLS
$6 U-CALLITS
TILL 8:30
W/ DJ D NICE INDMIX
FOR MORE INFO 832.577


---

Come experience a fabulous night 
with the Brothers of Omega Psi Phi 
Fraternity as we Celebrate 106 Years 
of Service of our Great Fraternity. 
This will be a memorable event 
that you don't want to miss!
Free Admission All night


---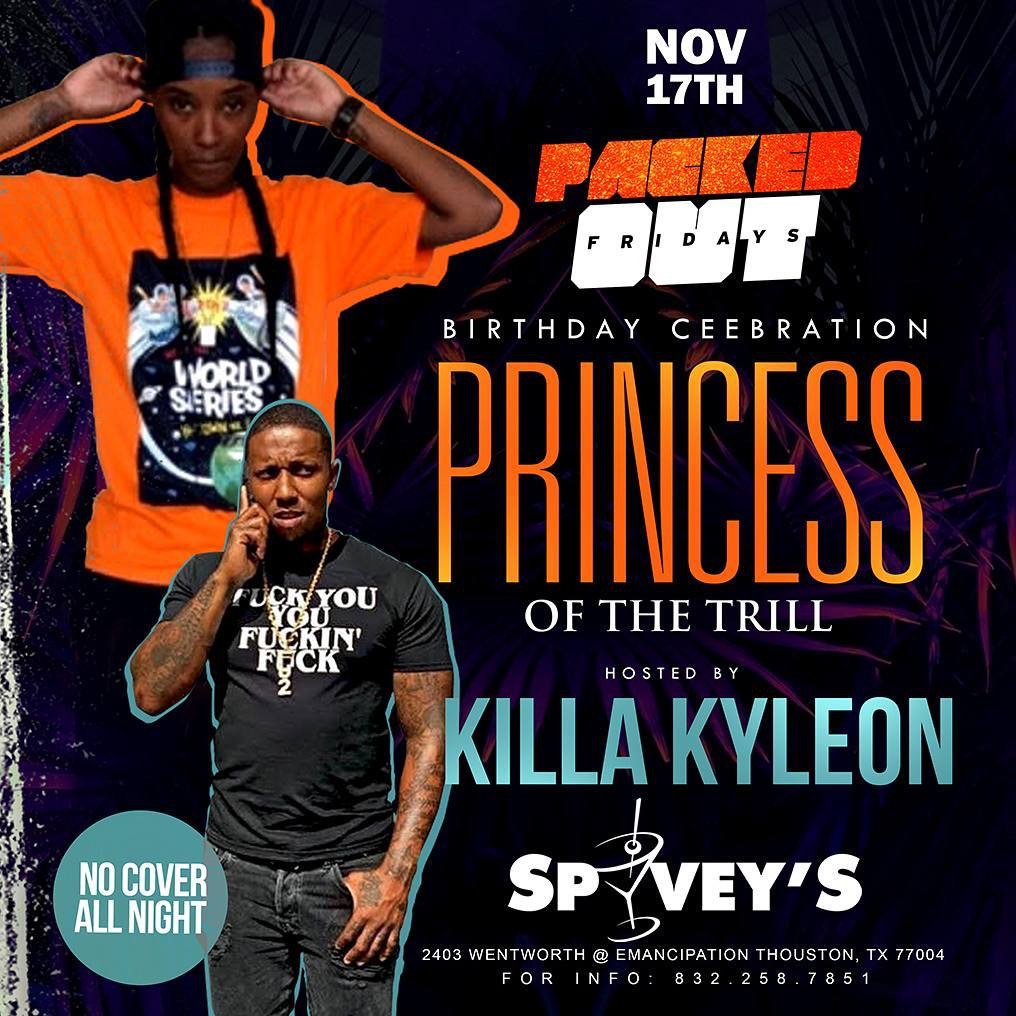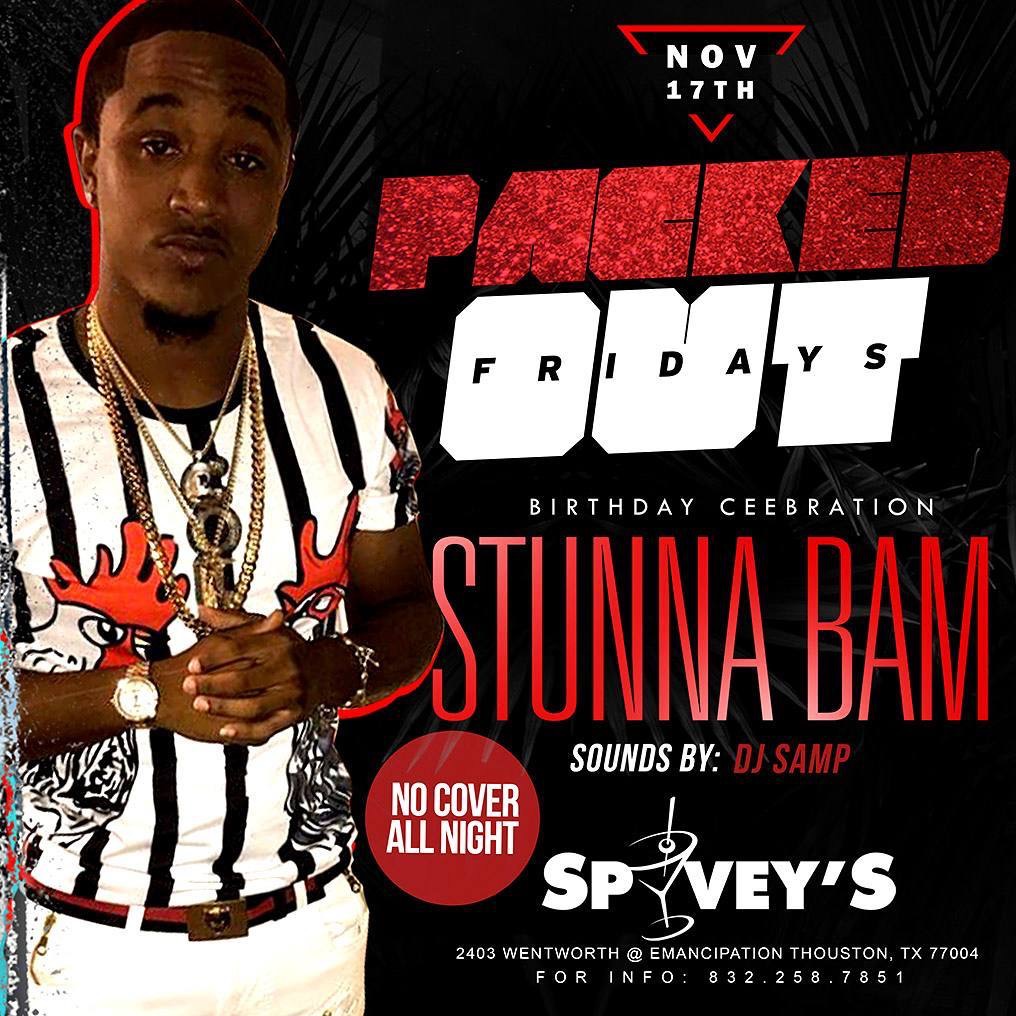 PACKED OUT FRIDAYS
@
SPIVEY'S
(2403 WENTWORTH DR)
W/ DJ ERIC SPIVEY & SAMP INDMIX
NO COVER ALL NIGHT
FOR INFO 832.258.7851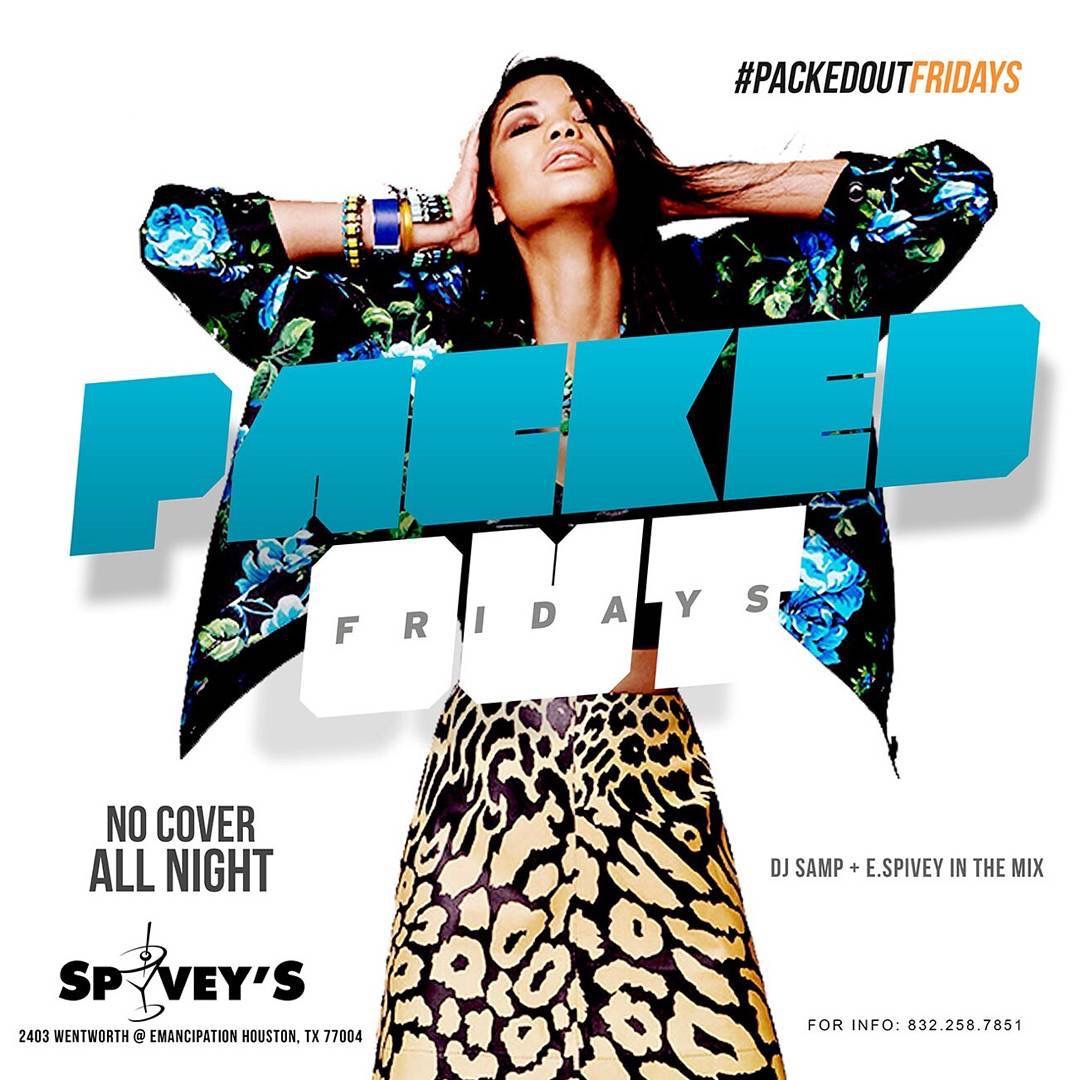 ---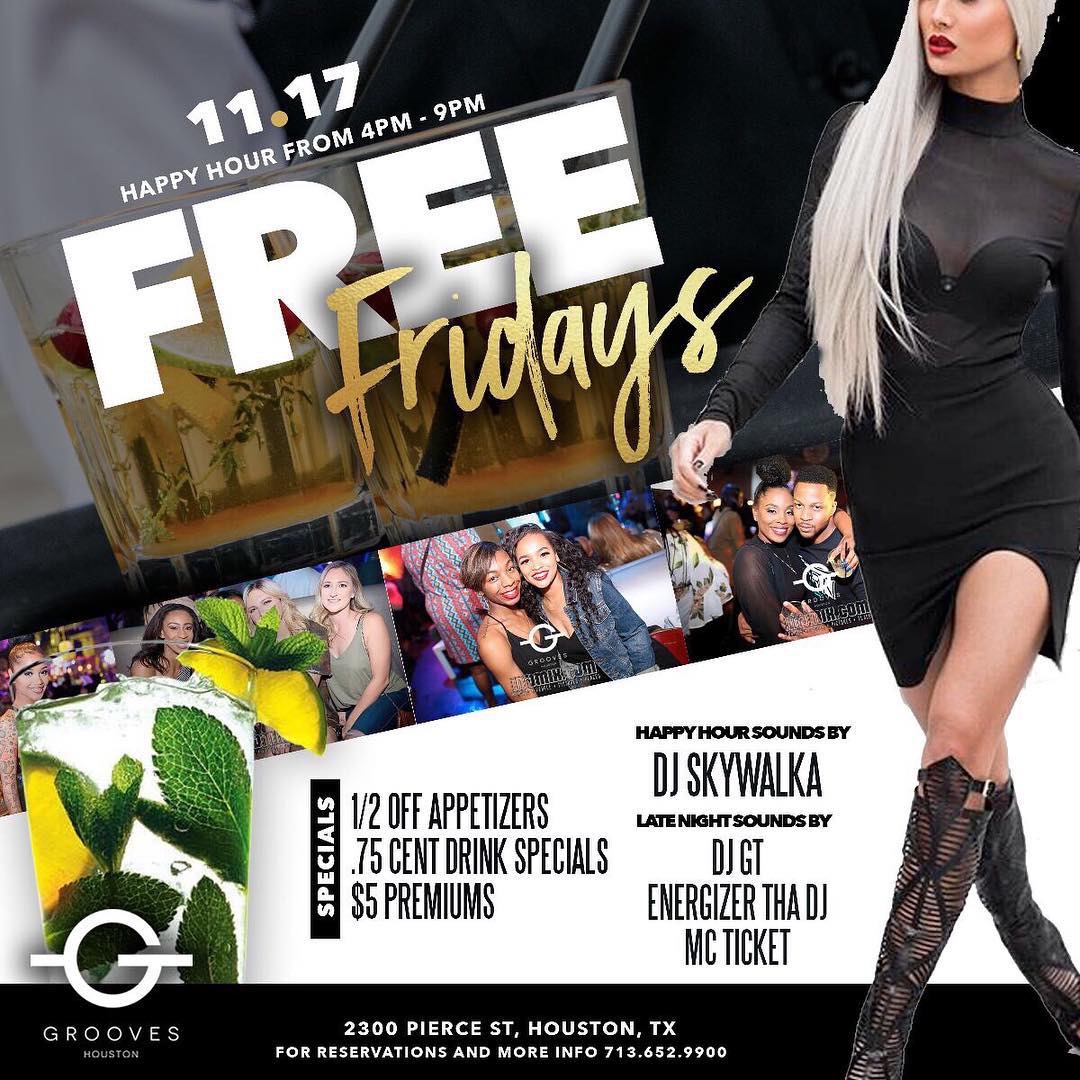 FREE FRIDAYS at GROOVES 
(2300 PIERCE ST.)
EVERYONE FREE ALL NIGHT
HOUSTON'S BEST HAPPY HOUR
.75c DRINK SPECIALS
$5 PREMIUMS
1/2 OFF APPETIZERS
W/ DJ GT, ENERGIZER THA DJ, 
STARR SKYWALKA & MORE INDMIX
FOR TABLES/INFO 713.652.9900


---

Click Here For Info


GILT FRIDAYS
@
ENGINE ROOM
(1515 PEASE ST.)
DJ KIOTTI | MC HOLLYWOOD
& BLACK CARD STEVE O INDMIX
EVERYONE FREE ALL NIGHT W/ RSVP
giltfridays.com


---


CHEERS Fridays 
@CARROS713 (Carringtons)
**WHERE EVERYBODY KNOWS YOUR NAME** 
EVERYONE FREE TIL 8pm. 
Ladies $5 all night long
WITH DJ B LOVE/DJ KYLE LEE (6p-10p)
DJ CHROME and OAKCLIFF (10p-2a)


---
---

THE ALL NEW 
INTERNATIONAL GENTLEMANS CLUB
EDEN FRIDAYS
@
EDEN
(6333 RICHMOND AVE)
DOORS OPEN TILL 6A
BYOB TIL 2A
FEATURING THE SEXIEST DANCERS
THE HOTTEST INTERNATIONAL NIGHT!
HOOKAH/FOOD AVAILABLE
FOR MORE INFO 832.815.0036 


---

Click Here For Info


Join us as we embrace the 
*NEW crown jewel of Upscale Saturday Nights 
at the beautiful Lumen and Crimson Lounge 
in Upper Kirby/RiverOaks High Def 
Audio By DJ Mr Rogers! 
2 Upscale Lounges - LUMEN and CRIMSON 
connected side by side. 
Dress To Impress. Bottle Service Encouraged 
Call 713.259.5725. 
LUMEN & CRIMSON LOUNGE
5020 KIRBY Houston, TX 77098


---

THE RETURN OF SNL AT STORY
NO COVER ALL NIGHT 
+$150 BOTTLES TIL MIDNIGHT! 
3302 MERCER ST.(GREENWAY PLAZA AREA) 
NEED A SECTION? TEXT 281.995.3311


---

Click Here For Info


Silent TRAP Party!
Thanksgiving Saturday
November 25th, 2017
GROOVES HOUSTON! 
9pm - 2am
21+ Only!
GROOVES HOUSTON
2300 Pierce St
Houston, TX 77003


---

Thanksgiving Weekend Day Party 
At The Davenport Nov 25th 2pm-8pm. 
Your #1 Upscale Day Party Social 
For The Mature And Classy 
Brought To You By Keto Gentry The Consultant
Official After Party 
At Post Lounge Of Houston 
9003 Westheimer 
9pm-2am 
Book Your Free Section!
Special Birthday Celebration 
For Angela & Cliff


---

Stopplayin HBCU Day party 3p-9pm 
prospect Park Saturday 
Nov 25 
No cover 
celebrating birthdays Dj Supastar and Da King Mc 
@Host by Tsu and Pvu alumni 
Committee Stelly Jankyjoe 
Dave Mosby section 832-259-9988
#stopplaying #hbcu #pvhc2k17 #tsu #jsu 
#asu #su #gsu #biggame#beowt 713#281#832 
@iamdjsupastar @kent_the_great 
@andre_stelly_realtor @prospectpark


---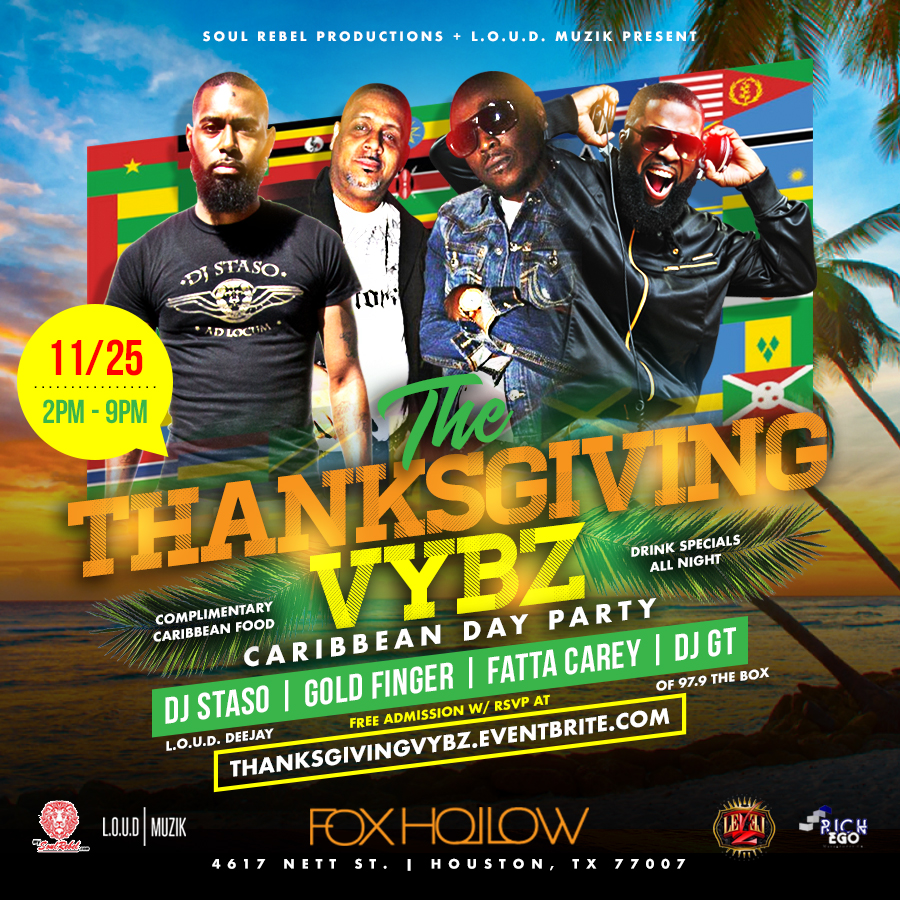 Click Here For Info


SATURDAY
NOV. 25TH
SOUL REBEL PRODUCTIONS & L.O.U.D. MUZIK 
PRESENTS....
THE THANKSGIVING
VYNZ CARIBBEAN DAY PARTY
@
FOX HOLLOW
(4617 NETT ST)
FEAT. DJ STASO | GOLD FINGER | FATTA CAREY | DJ GT OF 97.9 THE BOX
COMPLIMENTARY CARIBBEAN FOOD & DRINK SPECIALS & HOOKAH 
FREE BEFORE 5PM
 W/ RSVP
THANKSGIVINGVYBZ.EVENTBRITE.COM


---

Click Here For Info


Come check out the grand reveal of Desires Houston 
each and every Friday and Saturday's. '
Doors open at 9:00pm. 
Get there early as we have a early bird special 
before 10pm. Be wowed as we have 2 levels of 
Ultimate Desires, 7 themed Rooms including a huge Theater. 
Don't forget to BYOB! 
We do offer mixers and setups, 
NO outside mixers are allowed NO EXCEPTIONS! 
Dress code strictly Enforced. 
Please email any questions or concerns at 
info@desireshouston.com also complete your online 
registration and RSVP  at www.desireshouston.com 
Come and experience "Your Ultimate Lifestyle Paradise"! 
2800 Antoine Dr  #2884 
Houston Tx 77092 
832-845-7194


---

Saturdayz @ LIVE OAK
2P-9P
[DAYTOX SATURDAYS] DAY PARTY
@ LIVE OAK Presents
.50 CENT WINGS $5 EGG ROLLS & BOUDIN BALLS 
+ $4 WELLS $6 SPECIALTIES $7 PREMIUMS TIL 6P!!
$5 FROZENS RITAS ALL DAY!!!
SOUNDS BY 97.9 THE BOX DJ JQUE 
+ GO MC MAJOR & GO DJ BOBBY BANDZ
FREE ENTRY EVENT | FREE TABLE RSVP BELOW!!
VIP BOTTLE SERVICE & INFO:  832.379.9194 


---

Click Here For Info


#TherapyOnTheAve Anti-Club Saturdays
Therapy On The Ave
A Place To Create Your Own Vibes 
A Break Away From The Night Club
Drinks With Friends (Happy Hour Party) 
7pm-10pm
$20 Hoohak Happy Hour From 7-10pm
LIT Karaoke Party (1st Floor) 8-11pm 
Rooftop Party 11pm-2am
Trap Brunch (Chicken & Waffles) 
10pm-Until
A Night Of Social Fun!
7:00 PM - 02:00 AM
Therapy Hookah Lounge
4105 Washington Ave


---

Click Here For Info


JOIN US EVERY WEEKEND FOR THE 
#1 SATURDAY NIGHT BIRTHDAY CELEBRATION EXPERIENCE
Suede Saturdays @ EngineRoom
1515 Pease St | Houston Texas | 77002
Houstons #1 Nightlife Destination
CLICK FOR FREE ENTRY
Dresscode Strictly Enforced
Bottle Service Is Highly Recommended
Section & Celebration Info: 832-265-8192


---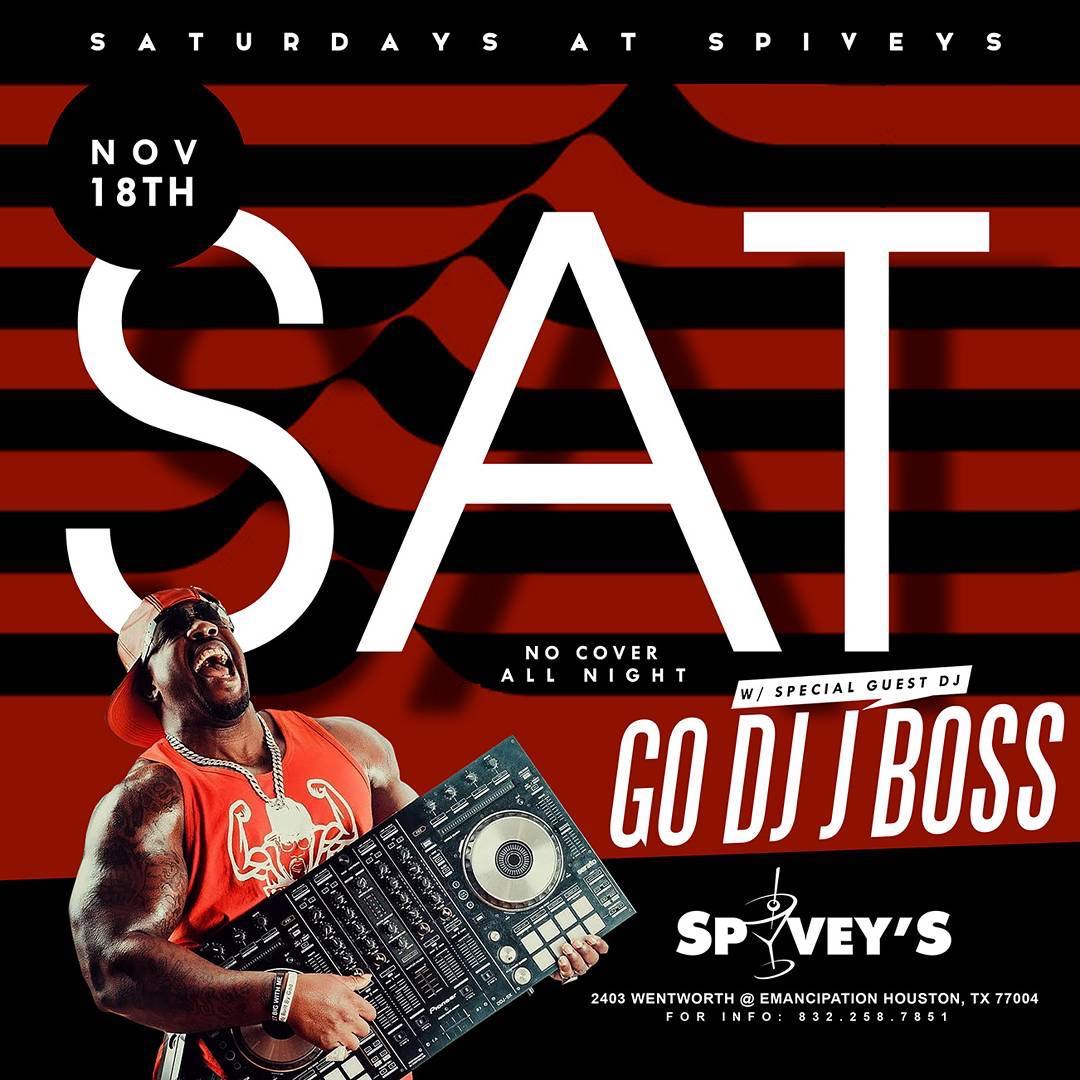 SPIVEYS
(2403 WENTWORTH)
NO COVER ALL NIGHT
DOORS OPEN AT 6P
HAPPY HOUR 6P-8P
PARTY TIL 2A


---
---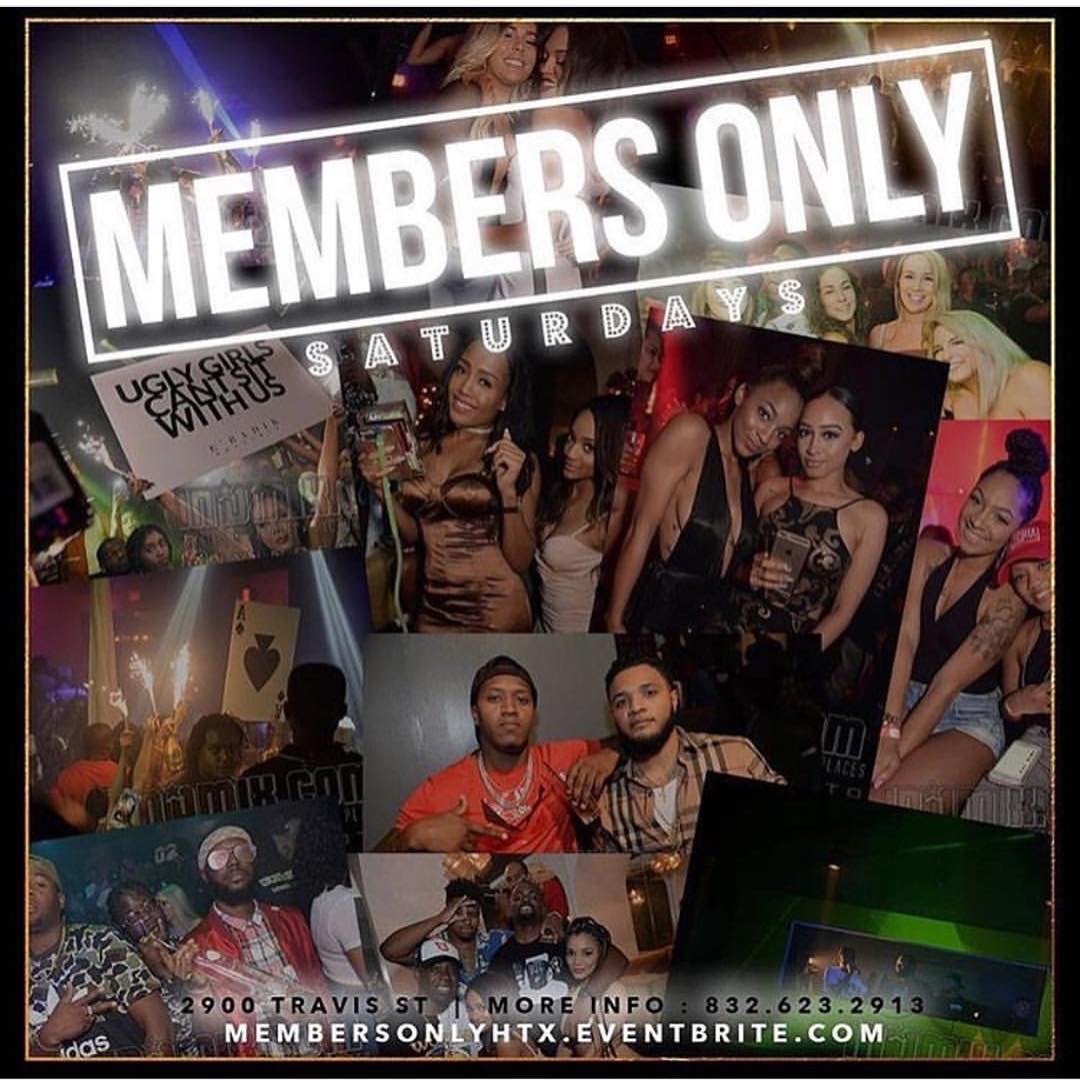 Click Here For Info


MEMBERS ONLY 
SATURDAYS
FOR THE LADIES
FREE ALL NIGHT
@
SET NIGHTCLUB
(2900 TRAVIS ST.)
W/ DJ BIG THO INDMIX
 RSVP NOW AT 
MEMBERSONLYHTX.EVENTBRITE.COM
OR 832.623.2913


---
---
---
---