Click Here For Info


R&B TUESDAYS
at
GHOST BAR Houston
LADIES FREE ENTRY ALL NIGHT LONG
Playing The Best of Early 90'S,00'S & Current R&B
10pm-2am
With A Spalsh of TRAP/HIP-HOP Midnight - 2am
Doors Open at 10pm
Happy Hour From 10p-11:30pm w/ $2 Drinks
3105 Main St Houston 77002
SOUNDTRACK BY 93.7 THE BEAT'S DJ MR ROGERS & MC BEEZY
Tables & Section Reservations CALL OR TEXT 346.775.2455
https://randbhouston.eventbrite.com



Click Here For Info

---

Click Here For Info


Tuesday Feb. 18th
#Courvoisier + @mcqua + Presents 
#LaughOutLoudTuesdays 
At 
Ador Kitchen & Cocktails 
403 W. Gray St. 
Live Comedy Show 
Kleon The Comedian
& @comediangrossmann + @lildarrel + @datdamnmonty + @tidarianb 
Doors Open at 5pm  Show Starts at 9:30
www.laughoutloudtuesdays.com
Table + Sections 713-235-0156


---
---

Click Here For Info


DOORS OPEN 4P | TACO TUESDAY PRESENTS
"TEQUILA N' TACOS"
@ THE ALL NEW SEASIDE
FREE ENTRY ALL DAY & NIGHT!!!
HAPPY HOUR 4-10P
$5 DON JULIO & PATRON | $18 PITCHERS | $5 HENNY & CIROC
$2 TACOS & $5 FROZEN ALL NIGHT
FULL KITCHEN MENU OPTION AVALIABLE
HOOKAH ON THE PATIO | $200 LITER BOTTLE SPECIALS
97.9 THE BOX DJ YOUNG STREETZ & GO DJ BOBBY BANDZ INDMIX
INFO: 281.915.8536 or 832.722.5482
702 WEST DALLAS


---

Click Here For Info


Ladies Love Tuesday's
$4 Martinis all night
Ladies build your own martini
Happy Hour $5 Drinks + $20 Hookahs From 5pm - 9pm
Food Menu Available
Sports Games on all Screens
Free Entry All night 
for info text 8323383829


---

Red Light Tuesdays 
at Davenports
Each & Every Tuesday
DJ Mike Mogul & Red Soda inDmix
'Its Stone Cold Groove'


---
---
THURSDAY EVENTS
| SUN | | MON | TUE | WED | THUR | FRI | SAT | Coming Attractions |

Thirsty Thursdays 
at Seaside Lounge
Hookah, Great Seafood, Music and More! 
Crawfish Served Daily 4-11pm
$3 Henny Special 4-9pm
No Cover


---

PreGame Thursdays at Belle Station
202 W gray St
$4 Wells $7 Premiums
No Cover
DJ J Qu & Hefna inDmix
Full Kitchen, Hookah & More


---

Click Here For Info


Keto Gentry The Consultant & Trey Clark
Presents Feb 13th 
The Comedy Party 
Pre Valentine's Day Comedy Show & Fashion Show
Featuring: Comedian Keisha Hunt 
Hosted By: The Comedy Party Queen Trinity The Comedian 
Special Guest Comedian: Rambo2Funny
Doors Open @6pm Comedy Show Starts @10pm
What A Fashion Show Starts @9pm (On Time)
Featuring Celebrity Designer & Owner Of 3 Degrees Runway
Dominica Briscoe & Owner Of Charisma's Boutique Ms Charisma Carter
For Table Reservations Or Comfort Seating Contact 832.533.1117   


---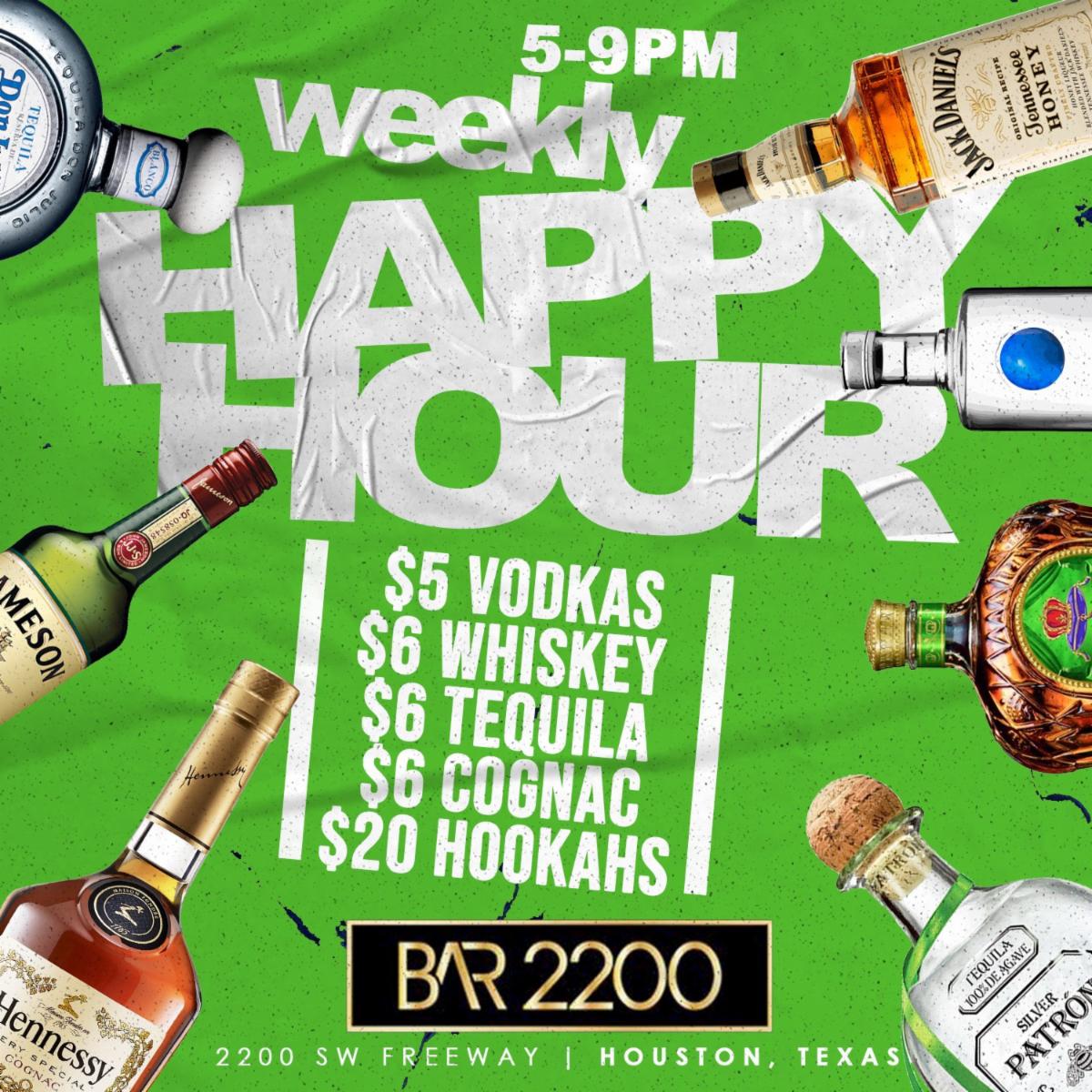 Click Here For Info


Thursday Night Football @ Bar 2200
Rockets Vs Clippers watch Party
$5 Drinks + $20 Hookahs till 9pm 
Food Menu Available
Free Entry All Day
Located 2200 Southwest Freeway 


---

InCrowd + DKB + Alife
presents
Therapy Thursdays
Each & Every Thursday
4105 Washington Ave


---

Waxaholic THURSDAYS
at Alley Kat
No Cover
3718 Main St


---

Click Here For Info


THE FRIDAY EXCHANGE 
Everyone Free All Night 
w/ Rsvp thefridayexchange.eventbrite.com 
@imdonniehouston | @micheleonair | 2 LEVELS 
TACOS & STEAK NIGHT | BEST OF 90'S vs. TODAY'S HIP HOP 
R&B | THE HITS. 
Doors open 9pm | 809 Congress St. 
@henkeandpillot #theFRIDAYexchange


---

Click Here For Info


GOODFELLAS
presents
SPIRE FRIDAYS
SPIRE NIGHTCLUB
A New Era in Houston NightLife
Spire Nightclub (1720 Main St)
Complimentary Hennessy 10-11
Dress Code Fashionably Forward and Chic
Info/Reservations: 832.419.9826
RSVP FOR FREE ENTRY at
http://www.spirefridays.com


---

Houstons #1 Friday Happy Hour 
at THE ADDRESS
CRAWFISH ON THE PATIO
IS BACKKKKKKK
50 Cent Wings & $7 Henn From 4-9pm
832.330.6800 To Reserve Your Table


---

Click Here


Premiere of the newly renovated ROSEGOLD on Friday!
Featuring:
D.J. Mr. Rogers & more
Sexy Adult Vibe
Food offerings
Complimentary Admission w/ RSVP:  Rosegoldfridays.com
Dress code required
Info line: 832.794.0743


---

Ghost Fridays 
75 Cent Drinks Till 11pm 
RSVP Now For A Free Section 
===>> GhostFridays.Com


---

Click Here


Free Crawfish Friday's 
at Seaside Lounge
Happy Hour at Seaside 4-10pm
Free Crawfish with $5 Drink 4-9pm
$5 Drinks Specials 4-10pm
Afterparty at Rosegold 10-2am


---

TODAY VALENTINES DAY EDITION‼️ 
@frozen_paradise_houston @frozenparadisehou 
@powerhouseenterprise Presents #playfridays️ #FrozenParadise 
Lunch 12pm-5pm | Happy Hour| 90cent drinks 5pm-8pm
$5 U Call It's  8pm-10pm
$5 Martinis 9pm-12pm
Late night 10pm-2am 
"Return Of The Party On The Patio" 
Tables Reservations 832.371.4753 
$5 #dj4thescrilla x @los_the_dj indmixx 
JOIN US ON THE PATIO! 
Good Food
Beautiful People
Dope Vibes
12pm-2am
#powerhouseenterprisepromo 


---

Click Here For Info


FRIDAY JANUARY 31ST 2020
@SPACEFRIDAYS
2401 SAN JACINTO STREET HOUSTON, TX 77002
DOORS OPEN 10PM - DOORS CLOSE 2AM
AQUARIUS FREE ENTRY ALL NIGHT
COMPLEMENTARY HANDCRAFTED HENNESSY COCKTAILS TIL 11PM 
+ FREE ENTRY & $5 DRINKS TIL 11:30PM w/RSVP
CURRENT HIP-HOP | EARLY 90'S 00'S R&B | SOME AFRO AFROBEAT
MORE INFO OR SECTION RESERVATIONS CALL or TEXT 832.713.8404
http://spacenightclub.eventbrite.com


---

Click Here


FRIDAY AT BAR 2200 IN RIVER OAKS
NBA GAMES ON ALL TVS
FREE MARTELL COGNAC FROM 7PM-9PM
$5 HAPPY HOUR DRINKS EVERYDAY & $20 HOOKAHS FROM 5PM-9PM
FREE ENTRY ALL NIGHT | DRESS CODE ENFORCED 
FOR BOTTLE SERVICE OR MORE INFO TEXT 832.338.3829 


---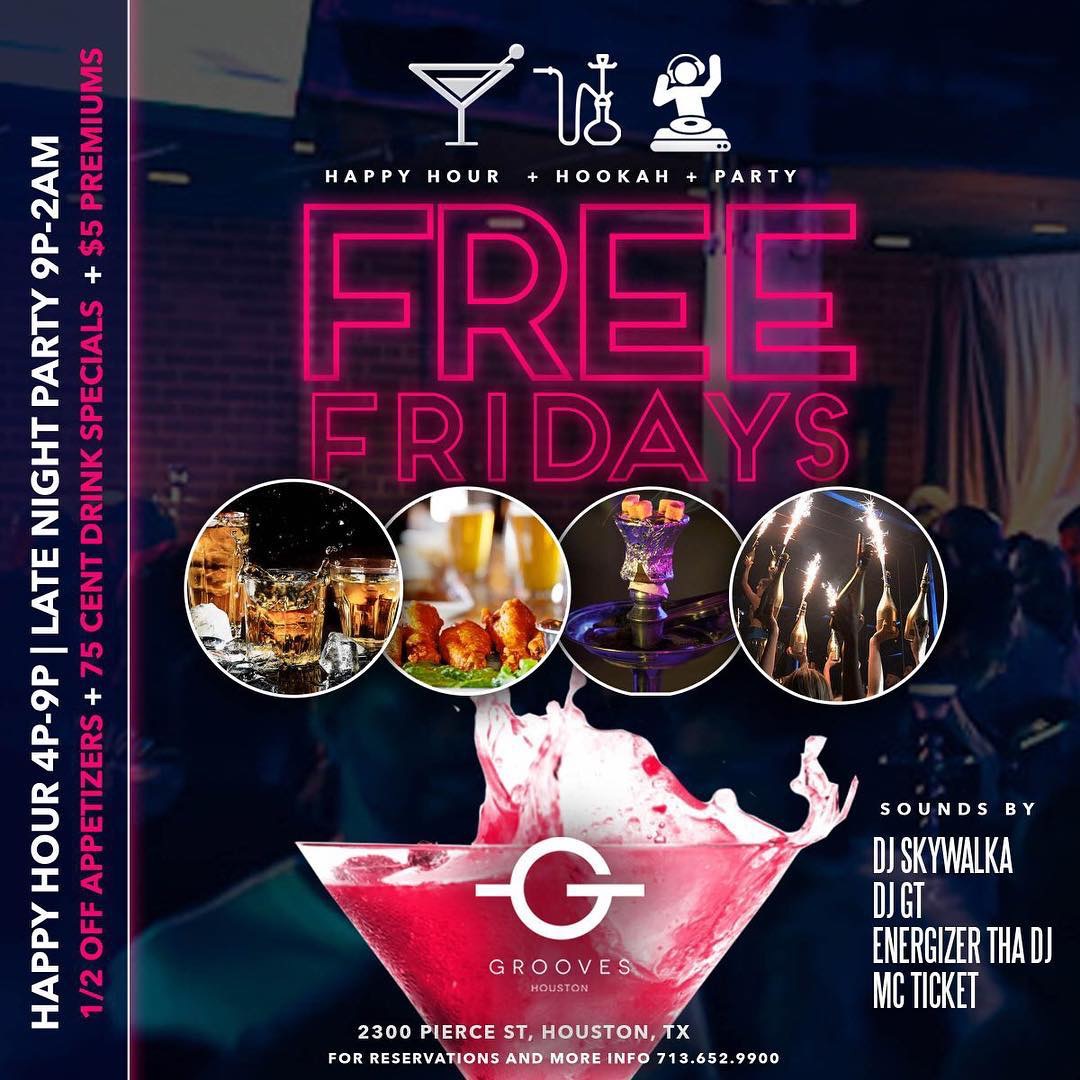 FREE FRIDAYS at GROOVES 
(2300 PIERCE ST.)
EVERYONE FREE ALL NIGHT
HOUSTON'S BEST HAPPY HOUR
.75c DRINK SPECIALS
$5 PREMIUMS
1/2 OFF APPETIZERS
W/ DJ GT, ENERGIZER THA DJ, 
STARR SKYWALKA & MORE INDMIX
FOR TABLES/INFO 713.652.9900


---

Click Here For Info


12p-10p | DAYTOX PRESENTS
BRUNCH -N- BUBBLY w/ DJ CEE WATTS 12p-5p 
+ SATurDAZED DAY PARTY 5p-10p w/ DJ MR ROGERS 
@ THE ADDRESS  
FREE ENTRY EVENT TIL 10P
((BRUNCH MENU ATTACHED BELOW))
HAPPY HOUR FOOD & DRINK SPECIALS 3-8P
$5 WELLS | $5 FROZEN RITAS | $7 PREMIUMS 
$8 HENNY RITAS | $20 HOOKAH 
1/2 OFF BAR BITES (selected items)
HOOKAH
SOUNDS BY DJ MR ROGERS | DJ CEE WATTS 
BOBBY BANDZ | D WELLS | MC MAJOR

——-

10-2A | UPTOWN SATURDAY NIGHTS PRESENTS
THE SHOW PROVIDED BY DJ JQUE | MC BEEZY | DJ YOUNG STREETZ
LADIES FREE TIL MIDNIGHT 
MEN FREE TIL 10P
FULL KITCHEN MENU (try the grilled wings & shrimp)
HOOKAH
VIP TABLES & INFO:
Text or Call - 832.379.9194



Click Here For Info

---

Click Here For Info


THE RETURN OF SATURDAY NIGHT LIVE 
AT SEASIDE LOUNGE
GOOD VIBES + SIGNATURE DRINKS + ARCADES + PATIO BAR
DJ J Que & DJ Hefna inDmix
NO Cover All Night
702 W Dallas St
For Tables & Info Call/Text 713.459.9019


---

Click Here For Info


DIOR SATURDAYS
NOW at CAKE HOUSTON
FREE ENTRY TILL 11pm
(Guest List see number below)
DOORS OPEN: 10:00 PM
CLICK HERE FOR FREE TICKETS NOW!
For Section Reservations / Bottle Service
TEXT/CALL 713.459.9019 For sections or to get on my guestlist till 11:30pm
For the sophisticated, stylish, energetic 
and strictly for social jet setters 
and exceptional taste makers. Influencers.


---

Click Here For Info


LOVE/HATE Saturdays
Spinning The Best of Classic Hip Hop & R&B
Classy Adult Playground for Houston's discerning socialites
at Belvedere Uptown Park
1131-01 Uptown Park Blvd #310, Houston, TX 77056
No Cover | Free Parking | Hookah 
Discounted Bottle Service till 11:30
Food On The Patio
Mature Audience
For Info/Table Reservation >> 713.459.9019 or 281.995.3311
RSVP & Book Tables >> http://lovehatehtx.eventbrite.com
$260 Bottles before 11:30pm [Crown, Vodkas, Rose Moet, Hennessy]
$320 Bottles After 11:30p [Crown, Vodkas, Rose Moet, Hennessy]
$360 Bottles All Night VSOP, Patron, Don Julio
$180 Moet White Star


---

Click Here For Info


Lumen Hip Hop Saturdays 
with The Best Hip Hop DJs in The City. 
This Saturday it's Ladies Night with a 
complimentary drink and free entry 
for the Ladies before 11pm. 
DJ Kiotti & Dj Mei in the Mix. 

Lumen Lounge
5020 Kirby Dr.
Houston TX, 77098
Table Reservations 
(713) 807-7567

N.A.C Presents  
Crush or Lust Saturday's 
Best of Both Worlds 
5020 Kirby Dr. 
Ladies Night Edition 
(complimentary drink and no cover for the ladies b4 11pm
Dj GQ Mike. Dj Meek on the beat 
Rsvp www.crushsaturdayshouston.eventbrite.com
Info/section 281-865-1349/832-578-4356/601-807-8035



Click Here For Info

---

Click Here For Info


SATURDAY NIGHT VIBES AT KAPRI ULTRA LOUNGE
(GALLERIA HOUSTON)
NEW CROWNED JEWEL OF UPSCALE SATURDAY NIGHTS
SOUNDS BY DJ J STONE + DJ Cee Watts
THE BEST SATURDAY HAPPY HR. FT $2 ANY DRINK TIL 11P
LADIES FREE TIL MIDNIGHT
713.530.7264 or 832.722.5482 FOR INFO/TABLES
KAPRI ULTRA LOUNGE
5718 Fairdale Ln
http://www.kaprisaturdays.com


---

Click Here


Chemistry Lounge Saturday Nights
Welcome to Houstons #1 Saturday Nightlife Destination!
Free entry before 11:30 pm,
Complimentary Hookah 11pm-12am W/ RSVP @ socialifestyle.com
Sound By DJ Tatat 10-12am & 12-2am 
97.9 very own Dj YoungStreetz inDmix.
Tonight event Features $5 U-Call it Drinks
Games on all 13 Big Screens.
$100 Presale Bottles.
Full Kitchen & Hookah
For Sections 713.960.2625


---

Click Here For Info


Keto Gentry The Consultant 
Presents Feb 22nd
"Hit Em With The All Denim"
Day Party At The Davenport 
2pm-8pm 2115 Richmond 
DJ Meek InThaMix 
For Comfort Seating Contact 832.533.1117  


---

Click Here


Saturdays At Bar 2200  
Free Entry All Day w/Rsvp 
Doors Open At 3pm
Brunch 3p-8pm
Mimosas $5 
Mimosa Carafes $15 
Happy Hour From 5-9pm
$5 Vodka, 
$6 Whisky, $6Cognac, $6Tequila 
$20 Hookahs 
Sports Games on All Screens 
Bottle Service Available 
Full Kitchen Serving The Best Food In River Oaks
For more info text 832.338.3829



Click Here

---

Click Here


Brunch & Bullshit is the all new Saturday Brunch series 
in Houston at The Seaside Lounge featuring your 
favorite beats in an environment with a crazy vibe. 
Enjoy brunch from 11am-5pm and a Day Party from 5pm-8pm.

Come enjoy some of our signature dishes including: 
Shrimp & Grits, grilled salmon & cheese grits, 
chicken and waffles anong many other amazing seafood based options.

Be one of the first to try one of our unique spins 
on mimosas or one of our other signature cocktails.

Seaside Lounge
702 W Dallas St
Houston, TX 77019
11am-5pm
http://www.gotbrunch.com


---

Click Here For Info


BGE + LiveHouse 
presents
GHOSTBAR SATURDAYS
3105 Main St | Houston Texas | 77002
Houstons Newest Nightlife Destination
RSVP for Free Entry
Dresscode: FLY SH*T ONLY
Bottle Service Is Highly Recommended
For Tables & Info Call/Text 713.459.9019
RSVP FOR FREE ENTRY
GHOSTSATURDAYS.EVENTBRITE.COM


---

@powerhouseenterprise 
PRESENTS  
@dbarsaturdays @dbarhouston  @dj4thescrilla x @djchose 
#FreeEntry #DBar #SaturdayNightLive #HoustonNightlife 
#EndedUpAtDBar #DBarSaturdays #houston 
#powerhouseenterprisepromo @cb_bbq next door 


---

Click Here For Info


FREE ENTRY & FREE HENNESSY COCKTAILS w/RSVP 
http://www.influencershouston.com 
10PM - 2AM 
PRIVACY SATURDAYS LOCATION 
2900 TRAVIS ST HOUSTON TX 77006 
FOR MORE INFO OR SECTION RESERVATIONS 832.713.8404


---

Click Here


TEXT REGG
presents
Eats Beats & Jazz
3 Showtimes
8pm - 930 - 11pm
The Bleek Gillium Project'
with Marium Echo
3 Rooms + Full Kitchen + 2 DJs
textregg.eventbrite.com
or
TEXT REGG for Seats and Tables


---
---