THURSDAY EVENTS
| SUN | | MON | TUE | WED | THUR | FRI | SAT | Coming Attractions |

Click Here For Info


Brandon T JACKSON
Live at the Houston improv
Thur 7/27 - Sun 7-30
Get your tickets Now!


---

Click Here For Info


Miller Lite Tap the Future Live Pitch 
As the creators of the light beer category, 
Miller Lite is on a mission to empower
the next wave of entrepreneurs.
Join us and business expert Daymond John, 
for the 5th Annual Miller Lite Tap the
Future program and Live Pitch event.
RSVP IS REQUIRED, SPOTS ARE LIMITED.
#TAPTHEFUTURE


---

Click Here For Info


African Fashion Week Houston
Presents
Cigars and Stilettos
An AFWH Business Professional Networking Affair
Hosted by Larry W Brooks and Carletta Shepherd.
 
Thursday, July 27th, 2017
5pm – 10pm
Aloft Houston Downtown Rooftop
820 Fannin St
Houston, TX 77002
 
 
Complimentary Happy Hour 
Hors D'Oeuvers and Drink Specials
Cigars on the Patio provided by Attica Jones, 
Houston's own Cigar Queen 
w/Houston's Cigar Events
Mini Fashion Show
Admission:
Online Discount: $15.00
Door: $20.00
 
 
For more info, please contact us at 
1.800.920.4655 Ext 4 or email info@afwhouston.com
Tickets can be purchase at www.afwhouston.com 
or Cigars and Stilettos...
Business Professional Networking Affair


---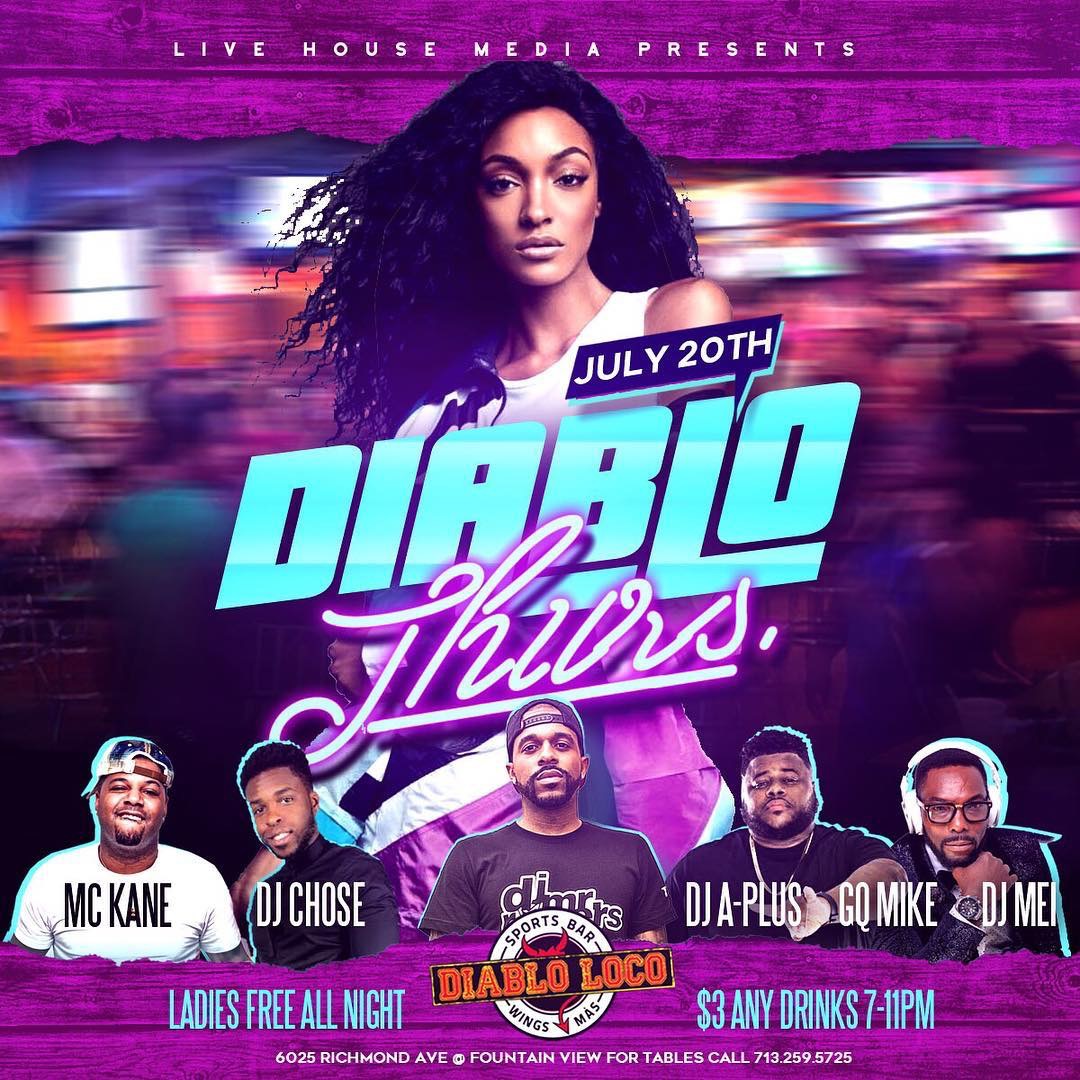 Live House Media Presents: 
Diablo Thursdays at Diablo Loco
6025 Richmond Ave @ Fountain View
No Cover Before 9pm | Open Until 2am
Full Kitchen 
$3 Drink Specials: 
4-7pm Wings, Ritas & Beer | 7-11pm Any Drink 
11pm-2am Margaritas for Ladies
Over 50 Hookah Flavors | Games on the Big Screens


---

Thursdays at JET
JET LOUNGE
(1515 PEASE ST.)
W/ DJ MR. ROGERS + DJ ALO INDMIX


---

Click Here For Info


–QMEVENTS PRESENTS –
LIVE @ FOX THURSDAYS
LIVE MUSIC SHOWCASE FEATURING
FLATLINE MUSIC AND AMAZING VOCALISTS
ALONGSIDE DJ STARRSKYWALKA IN THE MIX
REVERSE HAPPY HOUR FORM 8-10PM
$150 Bottles, $6 Wells, $6 Wines
SHOWTIME STARTS AT 10PM – 2AM
WINGS, PIZZA AND SPECIAL PLAT DU JOUR
RSVP FOR FREE ENTRY BEFORE 10PM
FOX HOLLOW 4617 NETT STREET
FOR MORE INFO OR TABLE RESERVATIONS 
CALL/TEXT: 832.377.1548


---

This Thursday at The All New 
@Spiveys_Bar_Lounge 
2403 Wentworth St 
Come #Karaoke With #WildNOut & #MovieStar @dcyoungFly 
🎤#KaraokeThursdays 🎤 + Happy Hour All Day & Night 
+ $2 #Tacos On Patio + $15 #Margarita Pitcher!  
#FameGangMarketingGroup #Spiveys #OnlyForTheSexy 
#Bars #Lounges #3rdWard #Houston #HTown #HTX 
#HouTex #HoustonNightlife #Nightlife 
#TheUltimatePartyExperience 
For Section Info 832 258.7851


---
---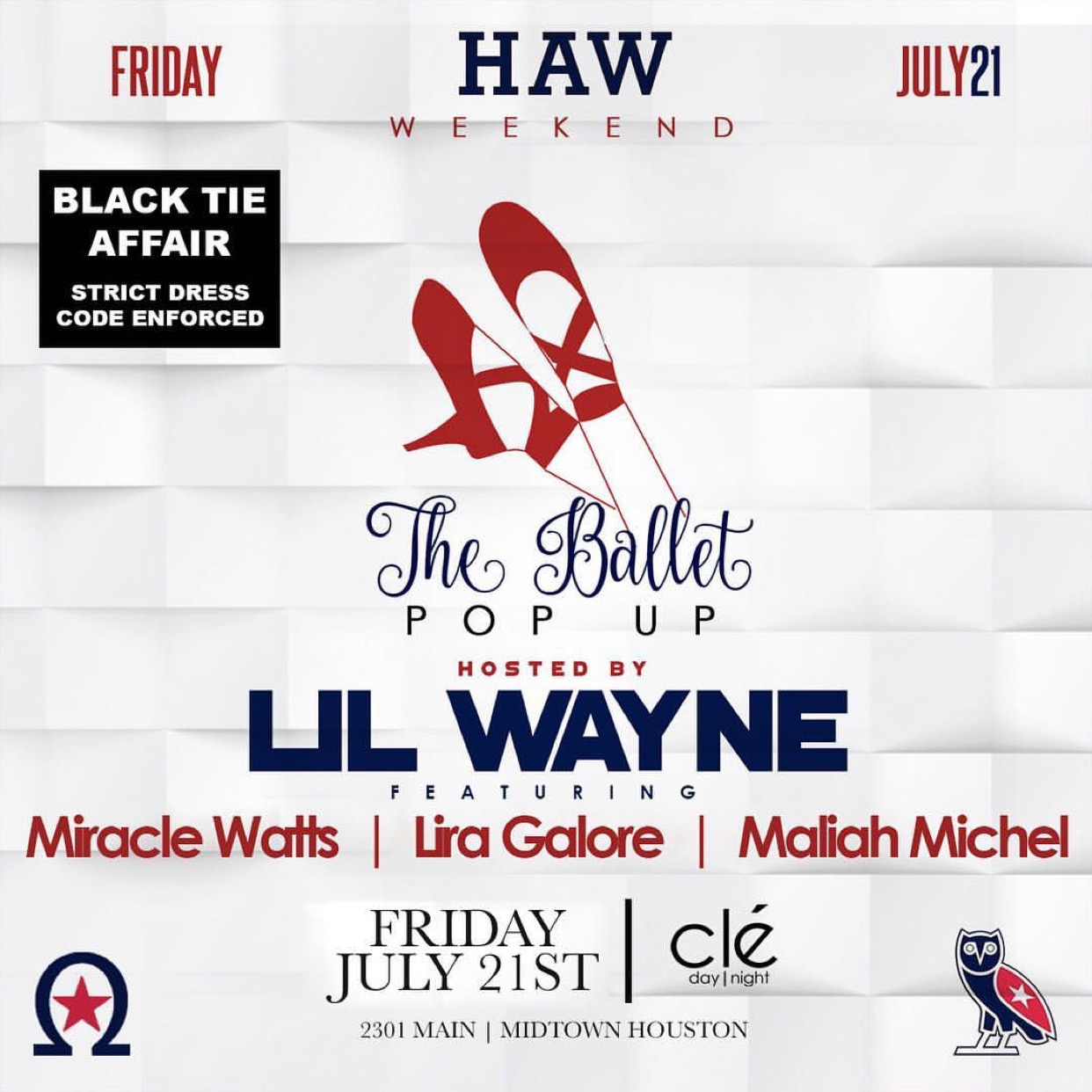 Click Here For Info


JULY 21ST
THE BALLET POP UP
HOSTED BY LIL WAYNE 
FEAT.
MIRACLE WATTS | LIRA GALORE | MALIAH MICHEL
@
CLE NIGHTCLUB
(2301 MAIN ST.)


---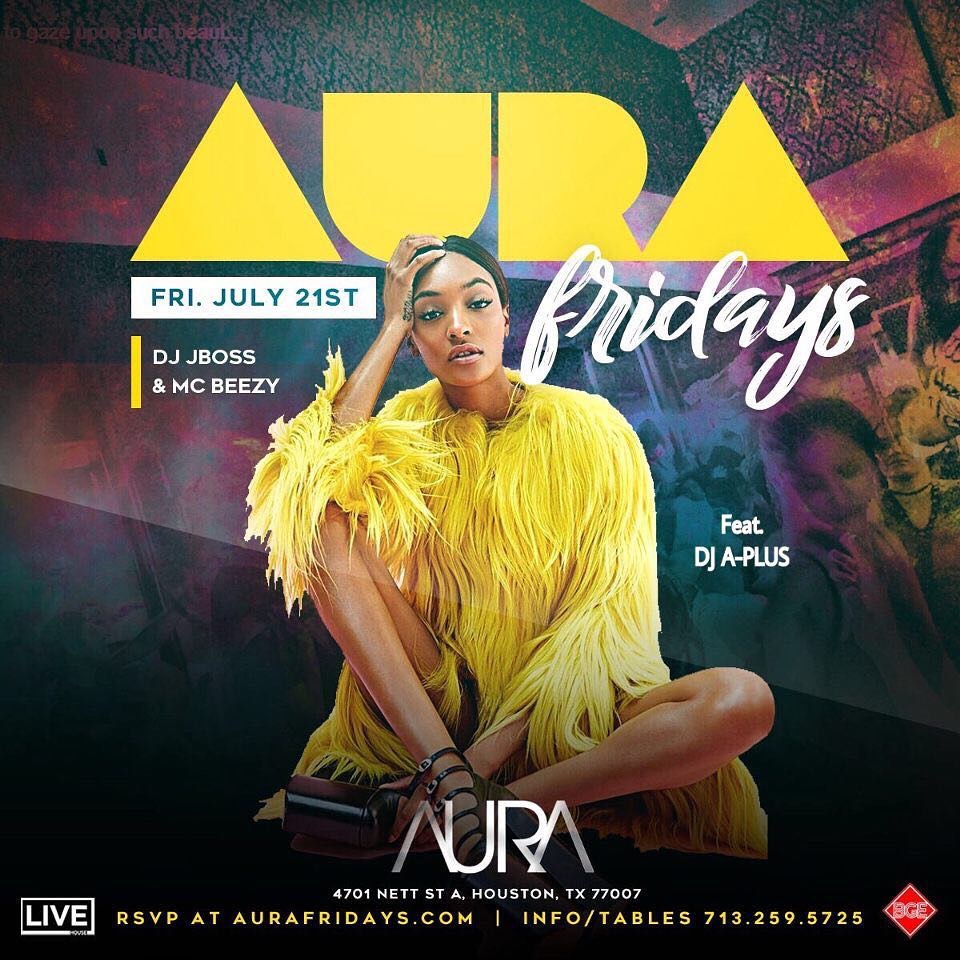 Click Here For Info


Join us as we embrace the The Next Step 
in Houston's Elite Nightlife Experience 
where Refined Art meets elegant technology 
in a hi-energy space ignited by state-of-the-art 
sound and lighting systems, secluded alcoves, 
Large Turn-Up Sectionals, Stage, Glitz, Glamour and More.... 
Its LIT...Aura Friday Nights! 
High Def Audio By resident DJ Mr Rogers, Mc Beezy & More 
Dress To Impress. 
NO REFUNDS ON PAID TABLES For VIP/Table Reservations, 
Bottle Service, Groups or Large Parties... 
Call/Text 713.259.5725 

AURA NIGHTCLUB 
4701 NETT ST 
Houston, TX 77007


---

Click Here For Info


A Perfect Blend of Art & Science....
a true Mixology bar for us on Friday nights!
Dress code is strictly enforced, collar shirts for men, 
no sports wear or hats.	
We encourage sport coats/blazers, no sneakers. 
RSVP & No Cover til 11p show ticket at door.
Drink specials early with Professional Networking Mixer fridays. 
Good vibes til 2am!
"Mint Julep, Boulevardier, Negroni, Kentucky Mules, 
and many more customized cocktails made from the 
freshest ingredients to tease your tastebuds."
...Mixology Fridays at 1919 ...
2736 Virginia St (River Oaks) 


---

Click Here For Info


MERCY NIGHTCLUB 
1505 Saint Emmanuel St 
Houston Texas | 77002
Houstons #1 Nightlife Destination
RSVP for Free Entry
Dresscode Strictly Enforced This Is Not Your 
Typically Friday Night Dress Up or Miss Out
Bottle Service Is Highly Recommended
832.512.6515
mercyfriday.eventbrite.com
@AristocratLife


---

Friday  @ttubbshtown + @moe_vickers 
+ @mcqua & @premier_marketing_group 
Presents 
#noxcuzefridays " Major key alert!  
#Houston #1 Sexy Night at @facesultralounge 
#FacesFriday @ Faces 
5104 Almeda 
No Cover Doors Open at 8pm hh 8-11pm 
$5 #Hennesy $3 #Fireball Shots 
PrePaid Bottles $150 
Book Parties With Us ! 2818819660.  
with @godjking + @djdebanair & @mcqua indamix 
#tgif #facesfriday #fridays #freeentry 
#thirdwardtx #5104almeda #letsgetit 
@c_b_bbq on deck


---
---

This Friday #PackedOutFridays 
at @Spiveys_Bar_Lounge 
2403 Wentworth St 
$150 Bottles All Night 🍾 
"Early Arrival Is Strongly Suggested"
Everyone Free All Night! 
#TheUltimatePartyExperience 
🎶🎶🎶 @dj_samp & @eric_spivey Indmix  
#FameGangMarketingGroup 
#Houston #HTown #HTX #HouTex #3rdWard #Midtown 
#Spiveys #MuseumDistrict #HoustonClubs 
#HoustonLounges #HoustonNightlife #Nightlife 
#Fun #TurntUp #Party #Ciroc #Hennessy 
#BelaireRose #Urban #Culture #Free 
For Info 832 258.7851


---

Click Here For Info


D.h! | Shades Simplicated Mktg | Nkem of Emagine That Ent | Mr. TC
Present
++THE INT'L AFFAIR++
EACH & EVERY FRIDAY NIGHT!
10PM-2AM
BELVEDERE PREMIUM LOUNGE
1131-01 UPTOWN PARK BLVD
UPSCALE EVENT FOR HOUSTON'S CULTURAL ELITE!
DJ SHINSKI + DJ OCEAN ON THE PATIO + MC MIKOLO on the mic
SPINNING THE BEST IN AN INTERNATIONAL ARRANGEMENT OF ELECTRIFYING SOUNDS
RSVP HERE FOR COMPLIMENTARY ADMISSION TILL 11PM
http://intlbelve.eventbrite.com/
OR TEXT "BELVE" TO 281.804.2597 
WINGS & FRIES ON THE PATIO!
STRICT DRESS CODE
NO SHORTS . NO BALL CAPS . NO TENNIS SHOES
ENTRY PROVIDED AT DOORMANíS discretion
FREE PARKING + VALET PARKING AVAILABLE
FOR MORE INFO / TABLE RESERVATION / BOTTLE SERVICES PLEASE CALL
281.804.2597 OR 281.312.9175


---

Click Here For Info


Party people in the place to be...
welcome to Flashback Fridays
@ Up&Down on Washington 
feat. the BEST of 
'80s, '90s & '00s Hip-Hop and R&B 
w/ DJ Aggravated + Def Jam Blaster 
+ DJ Alo spinnin' the hits & classics 
by some of the most influential artist 
of thos eras! DOORS OPEN @ 5p 
w/ HAPPY HOUR FOOD & DRINK SPECIALS til 9p
NO COVER ALL NIGHT w/ RSVP: 
flashback-fridays.eventbrite.com 
LATE NIGHT PARTY til 2a 
Valet Parking + Hookah Service Available 
+ Party on the Roof
VIP Tables/More Info @ 713.449.3294


---

Click Here For Info


Welcome To A Special Friday Night Out Social 
@BarBleu
Brought To You By Yours Truly 
Keto Gentry The Consultant
This Night Is Only For The True Upscale, 
Fashion Forward Thinking Business Professionals. 
We Welcome You To A Night Of 
*Good Vibes *Good Music *Good Drinks *Good Food
& More Importantly Good People. 
We Look Forward To Seeing You All Welcome To Bar Bleu. 
#TheExclusiveFriday
*Doors Open 8pm-2am
*Konfusion The Producer Mixing All Your 
*Neo-Soul & R&B Hits
*Chef Bland On The Patio
For Section Reservations Or Birthday Bookings 
Contact Me At 832-533-1117
#BarBleuHouston #BarBleuLounge 
#HoustonsUpscalePartySocial #KetoGentryBarBleu


---

Click Here For Info


The White Haute Couture
Summer Fashion Show & Launching
by Nu Images Modeling Agency
Fri, July 28, 2017
6:00 PM – 10:00 PM
Aloft Hotel
820 Fannin St.
Houston, Texas 77002


---

Click Here For Info

---
---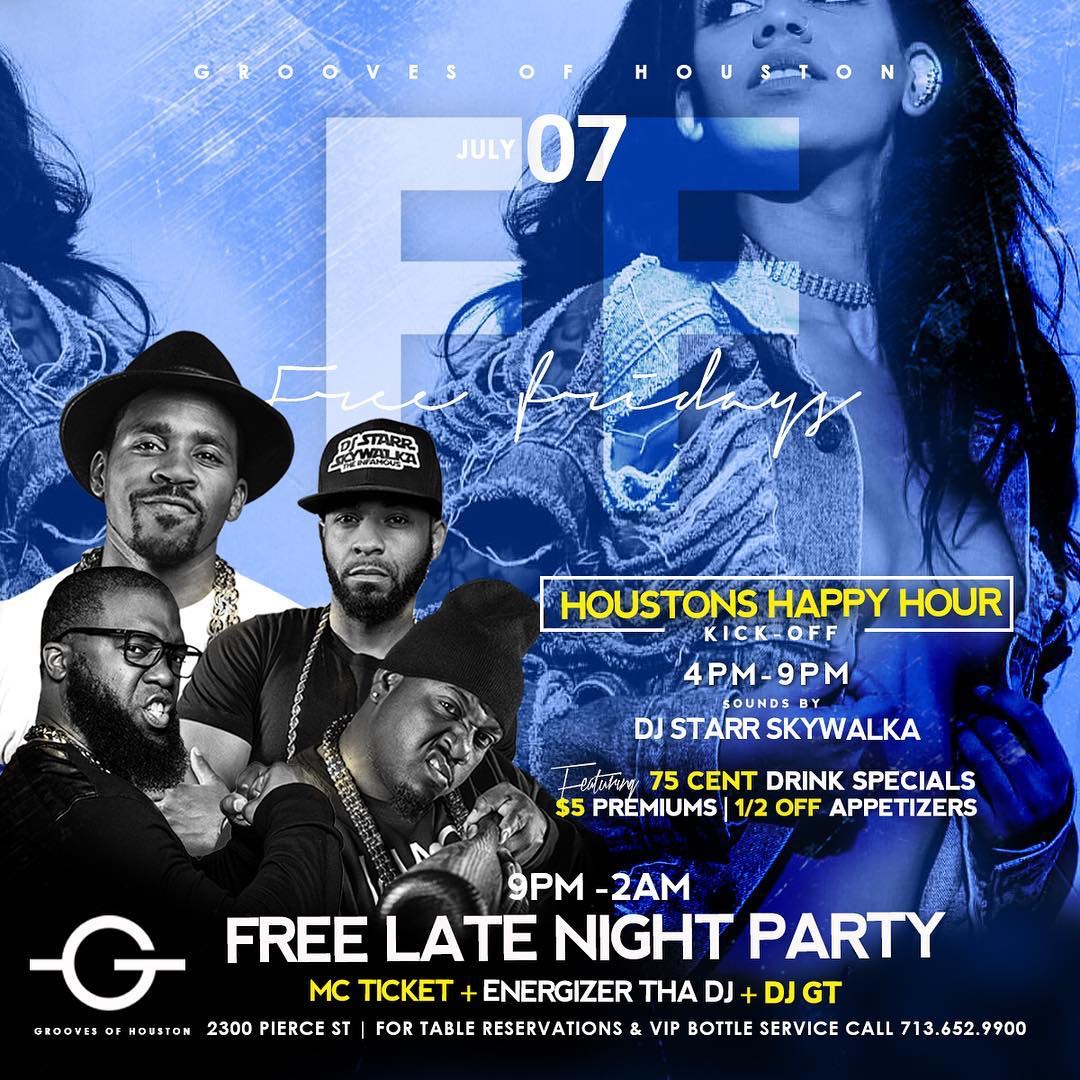 FREE FRIDAYS
@
GROOVES 
(2300 PIERCE ST.)
EVERYONE FREE ALL NIGHT
HOUSTON'S BEST HAPPY HOUR
.75c DRINK SPECIALS
$5 PREMIUMS
1/2 OFF APPETIZERS
W/ DJ GT, ENERGIZER THA DJ, 
STARR SKYWALKA & MORE INDMIX
FOR TABLES/INFO 713.652.9900


---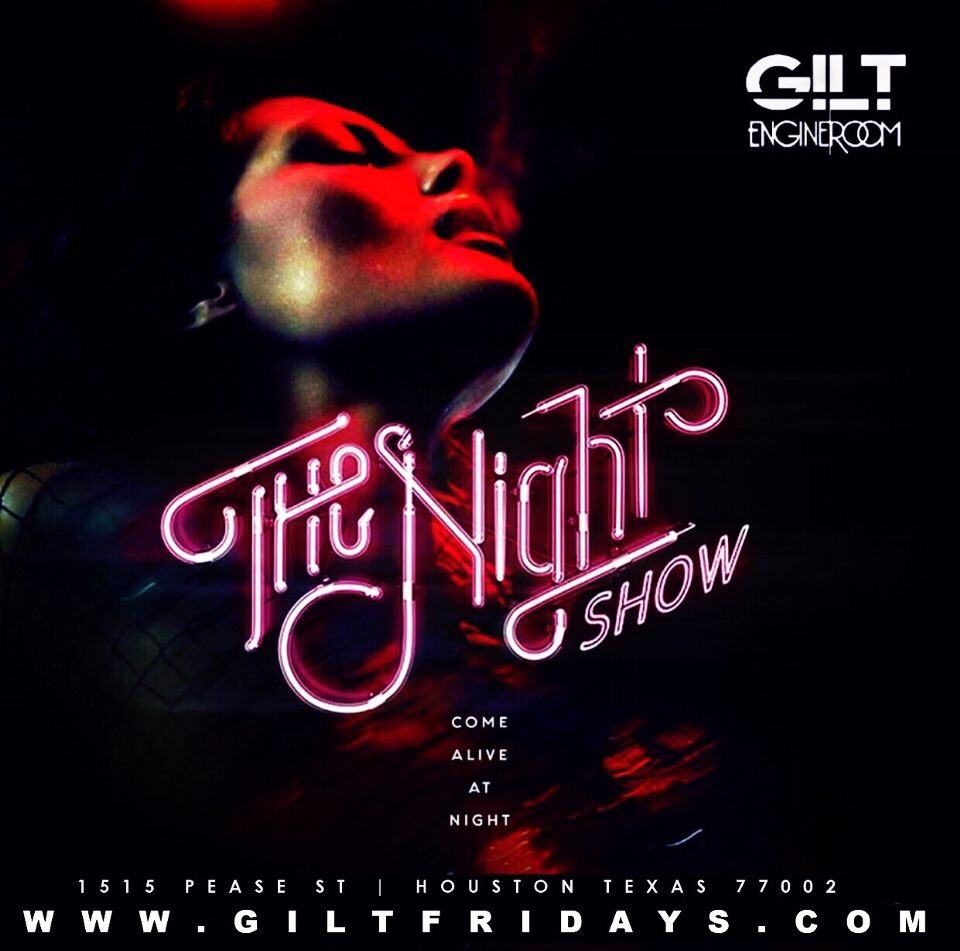 Click Here For Info


GILT FRIDAYS
@
ENGINE ROOM
(1515 PEASE ST.)
DJ KIOTTI | MC HOLLYWOOD
& BLACK CARD STEVE O INDMIX
EVERYONE FREE ALL NIGHT W/ RSVP
giltfridays.com


---


CHAD CHIZZLE
presents:
CHEERS Fridays @CARROS713 (Carringtons)
**WHERE EVERYBODY KNOWS YOUR NAME** 
EVERYONE FREE TIL 8pm. Ladies $5 all night long
WITH DJ KYLE LEE (6p-10p)
DJ CHROME and OAKCLIFF (10p-2a)


---
---

Click Here For Info


3RD ANNUAL LEO SUPER DAY PARTY 
AT CAPITOL BAR 
2415 Main St 
Houston, TX 77002
JULY 29TH 
2p-9p
Saturday, July 29
DJ HiC inDmix



---

Click Here For Info


MC QUA + ERIC SPIVEY + WAYNE COLE
Presents
Saturday July 29th Joseph Sikora aka Tommy Egan 
From The Hit Show #POWER 
Spire | 1720 Main Street 
Get Your Tickets & Sections 713-235-0156


---

Click Here For Info


Join us as we embrace the *NEW crown jewel 
of Upscale Saturday Nights at the beautiful 
Lumen and Crimson Lounge in Upper Kirby/RiverOaks
High Def Audio By DJ Aggravated, A-Plus & GQ Mike!
2 Upscale Lounges - LUMEN and CRIMSON connected side by side.
Dress To Impress. 
Collar Shirts for Men, Blazers Preferred. No sneakers or hats.
Bottle Service Encouraged  Call 713.259.5725.
LUMEN & CRIMSON LOUNGE - 5020 KIRBY Houston, TX 77098


---

Click Here For Info


QMEVENTS PRESENTS
AFRIJAM AFRO CARIBBEAN DANCE FEST
SAT JULY 29TH
SOUND BY
DJ DADEE KELLOGZ  VS. DJ TOWII
MC KUT & MC YVES
AFRO-CARIBBEAN DANCE CALSS BY "JAAJO DANCE" 'TIL 11PM
AFRICAN & CARIBEAN FOOD ON THE PATIO
VENDOR POP-UP SHOP
DOORS OPEN AT 10PM
LADIES FREE 'TIL 10:30PM W/ RSVP
FOX HOLLOW
4617 NETT ST HOUSTON
FOR TICKETS WWW.AFRIJAMDANCEFEST.COM
MORE INFO/TABLES 832.377.1548



Click Here For Info

---

Click Here For Info

---

Click Here For Info


All New Suite 2300 Saturdays 
No Cover All Night w/RSVP 
Happy Hr 8-11pm 
832.722.5482
Suite 2300 
2300 Pierce Street 
Houston, TX 77003



Click Here For Info

---

Click Here For Info


This Saturday
THE OFFICIAL AFTER PARTY FOR  #TRAEDAY is @ #SetHouston ⚡️⚡️
2900 Travis St. 📍
Doors open at 9pm 🚪 
Comp. entry: memebersonlyhtx.eventbrite.com 


---

Click Here For Info

 
July 15th We Welcome You To The All New 
"Experience Saturdays" 
At Post Lounge Of Houston 
Located At 9003 Westheimer  
"Where Quality Over Rules Quantity"
Its Not About How Packed Your Venue Is
Its About Having The Right People!
Doors Open At 8pm-2am
Live Music Featuring Logan Houston 9:30-11:30
Konfusion The Producer Mixing All Your Neo Soul & R&B 
Classic Hits 11:30pm-2am
Ms Chef Bland On The Patio 
To Book Your Free Section Or Birthday Section 
Or Table Contact 832.533.1117



Click Here For Info

---
---

Lets bring True Hip Hop back 🔊. 
#TrueStory at Story Ultra Lounge 
(3302 Mercer St.). 
$3 ANY PREMIUM DRINK 9-11p 👀. 
@DjJque playing ALL Classics Beats. 
NO COVER ALL NIGHT 
#Pac #Biggie #MaryJ #LLcoolJ #JayZ 
#reasonabledoubt #Snoop #BadBoy #50cents 
#DrDre #Outkast #IceCube #8ballandMJG 
#Aaliyah #TribecalledQuest #RKelly #Juve


---

This Saturday #SaturdaysAtSpiveys at 
 @spiveys_bar_lounge 2403 Wentworth St
 Drink Specials All Night | #EveryoneFreeAllNight 
🎶 #979thebox Very Own #RadioBoss @hardbodykiotti Indmix
For Info or Section Reservations 📲(832)258.7851 
#FameGangMarketingGroup #Spiveys #OnlyForTheSexy 
#Bars #Lounges #3rdWard #Houston #HTown #HTX 
#HouTex #HoustonNightlife #Nightlife 
#TheUltimatePartyExperience


---

Houston Texas Saturday July 29th 
Come Enjoy One Of The Best Turn Ups of 2017... 
It's my Bday and It's About To Turn Up At Indigo. 
Live Music} DJ} Hookahs} Food} Bottles Poppin! 
This Bash I need you to Break Out Your All White 
or All Black And Let's Mix & Mingle. 
If you have partied with me at any of my events 
or I partied with you on this night 
come toast up with me... 
Leo's Let's Show Up And Show Out.....


---
---
---
---