Click Here For Info


ATLAS Wednesdays
Steak and Whiskey Night
Doors Open at 4pm
Everyone Free Until 9pm
No Cover b4 12am w/ RSVP
4p-7p Happy Hour
7-10p Live Music & Reverse Happy Hour
10p-2a Late Night Mix
$15 Angus Ribeye & Fully Loaded Baked Potato
Sounds by:
DJ MR ROGERS
DJ AGGRAVATED
DJ A-PLUS w/ The Late Night Mix
Parties, Reservations or bottle service Call 713.259.5725
www.atlaswednesdays.eventbrite.com
Presented by BGE Empire and Live House Media



Click Here For Info

---

Click Here For Info


Special Tribute (10P-11P) COMMON vs NAS
Click Link Below To Rsvp For Free Entry
https://tailoredwednesdaysatle onslounge.eventbrite.com
Wednesday Night FREE BOILED CRAWFISH W/CORN & POTATOES From 7P-9P
With A {Purchase Of A Mixed Alcoholic Mix Drink.}
Tailored Wednesdays 'Bout To Make Y'alls Bodies Rock.
For All Music Video Dj Sets By DJ Sly Foxx Spinning:
NEO-SOUL/SOUL/ALT HIP-HOP/ALT R&B.
To Book Your Free Section Or Table Contact 832.533.1117
#TailoredWednesdays #HoustonsU pscalePartySocial 
#ExperienceLeonsLounge #Saturd aysAtLeonsLounge


---

Click Here For Info

---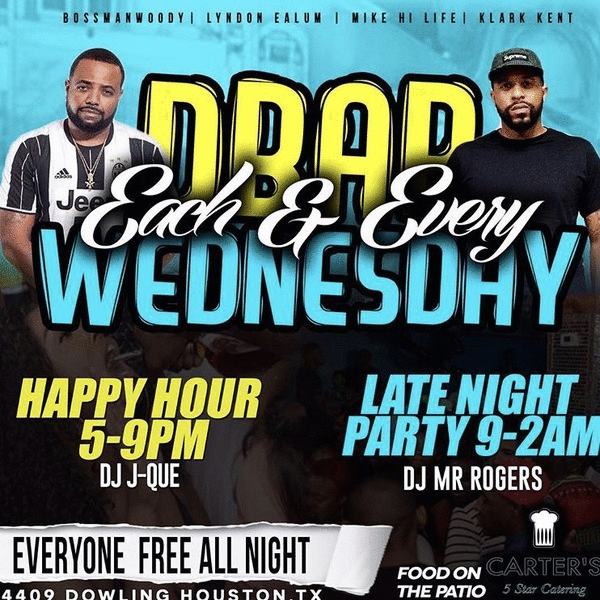 BOSSMAN WOODY | LYNDON EALUM | MIKE HI LIFE | KLARK KENT
WEDNESDAYS
@
DBAR
(4409 Dowling)
w/ DJ Mr. Rogers & J-Que ndmix
Happy Hour till 5p-9p
Late Night Party 9p-2a
$10 Hookahs
Doors Open at 7p
Early Arrival Is A Must
For More Info 713.295.9526


---

ONYX Wednesday's Each And Every Wednesday
3113 BERING DR.
DOORS OPEN at 6pm
1$ DRINK 7-9PM
20 WINGS FOR 11$ | 8$ BURGER BASKET'S
3$ CIROC & FIREBALL ALL NIGHT
5$ MARGARITAS
BOOK YOUR FREE Table NOW: 832-265-8192


---
THURSDAY EVENTS
| SUN | | MON | TUE | WED | THUR | FRI | SAT | Coming Attractions |

Click Here For Info


Live House Media Presents: 
Diablo Thursdays at Diablo Loco
6025 Richmond Ave @ Fountain View
No Cover Before 9pm | Open Until 2am
Full Kitchen 
$3 Drink Specials: 
4-7pm Wings, Ritas & Beer | 7-11pm Any Drink 
11pm-2am Margaritas for Ladies
Over 50 Hookah Flavors | Games on the Big Screens
Sounds by 
DJ A-Plus | DJ Hi-C | MC Kane


---

Click Here For Info


EATS BEATS & JAZZ 
EVERY THURSDAY 
@ UP & DOWN ULTRA LOUNGE
4105 WASHINGTON
2 DJs + FULL KITCHEN AND A JAZZ BAND


---

Click Here For Info


–QMEVENTS PRESENTS –
LIVE @ FOX THURSDAYS
LIVE MUSIC SHOWCASE FEATURING
FLATLINE MUSIC AND AMAZING VOCALISTS
ALONGSIDE DJ STARRSKYWALKA IN THE MIX
REVERSE HAPPY HOUR FORM 8-10PM
$150 Bottles, $6 Wells, $6 Wines
SHOWTIME STARTS AT 10PM – 2AM
WINGS, PIZZA AND SPECIAL PLAT DU JOUR
RSVP FOR FREE ENTRY BEFORE 10PM
FOX HOLLOW 4617 NETT STREET
FOR MORE INFO OR TABLE RESERVATIONS 
CALL/TEXT: 832.377.1548


---

The Best of The 90's & 2000's 
@ JET LOUNGE (1515 Pease St.) 
w/ DJ Mr. Rogers indmix!


---

Thursdays
@
DBAR
(4409 Dowling)
FREE ALL YOU CAN EAT CRAWFISH
Everyone FREE All Night
$5 U Call Its 6-10p
$5 MARGARITAS
Food On The Patio & More!
Mc Beezy + Hi-C & J Black indmix!


---

Throwback Thursdays
Sapphire Lounge
2403 Wentworth & Downling
Happy Hour & Reverse Happy Hour
No Cover


---
---

Click Here For Info


AURA FRIDAYS
(LOCATED ON 4701 NETT STREET, CORNER OF SHEPARD DRIVE)
NEW ENERGY NEW VIBE NEW LOOK!!!
DRESS CODE IS STRICTLY ENFORCED!
NO TYPE OF BALL CAPS NO SHORTS NO PLAIN TSHIRTS, 
NO EFFORT NO ENTRY!!
SOUNDS BY GO DJ JBOSS x 97.9's DJ YOUNG STREETZ!!!
FREE TIL 11:30 w/RSVP
$4 YOU CALL ITS til 11
713.366.1560 TO RESERVE A SECTION/ BOTTLE SERVICE!!!


---

Click Here For Info


A Perfect Blend of Art & Science....
a true Mixology bar for us on Friday nights!
Dress code is strictly enforced, collar shirts for men, 
no sports wear or hats.	
We encourage sport coats/blazers, no sneakers. 
RSVP & No Cover til 11p show ticket at door.
Drink specials early with Professional Networking Mixer fridays. 
Good vibes til 2am!
"Mint Julep, Boulevardier, Negroni, Kentucky Mules, 
and many more customized cocktails made from the 
freshest ingredients to tease your tastebuds."
...Mixology Fridays at 1919 ...
2736 Virginia St (River Oaks) 


---

Click Here For Info


DRINK HOUSTON 
Friday Night Lights 
feat. DJ Hi-C, Aggravated, A-Plus & More! 
$5 Any Drink b4 11, 5 Rooms of Entertainment, 
Food, Hookah + More! (RSVP NOW)
http://drinkfridays.eventbrite.com


---

Click Here For Info


MERCY NIGHTCLUB 
1505 Saint Emmanuel St 
Houston Texas | 77002
Houstons #1 Nightlife Destination
RSVP for Free Entry
Dresscode Strictly Enforced This Is Not Your 
Typically Friday Night Dress Up or Miss Out
Bottle Service Is Highly Recommended
832.512.6515
mercyfriday.eventbrite.com
@AristocratLife


---

Your #1 happy hour hot spot in the city 
Live Oak 
2533 southmore blvd 
$5 u call it's 
$5 appetizers and more 
for tables for call 832-577-7501


---

Click Here For Info


The BEST HAPPY HOUR PARTY IN HOUSTON !
BAD & BOUGEE FRIDAYS
✔HOUR HOUR $5 U CALL IT'S 5-10P
✔FREE FISH PLATES
 ✔KARAOKE 
✔HOOKAH
 ✔NO COVER
 ✔LIVE DJ
LATE NITE PARTY 10-2A 
3000 BLODGETT 
BIRTHDAYS , SECTIONS & INFO 713.522.EPIC
IM or epic22houston@yahoo.com 
FREE BIRTHDAY PARTIES & GROUPS OF 6+ 
COMPLIMENTARY SECTION AND BOTTLE OF CHAMPAGNE 
WITH RSVP ! HIT US UP !!! 
Https://www.eventbrite.com/e/bad-bougee-fridays-epic22lounge-tickets-33777385068


---

Click Here For Info


D.h! | Shades Simplicated Mktg | Nkem of Emagine That Ent | Mr. TC
Present
++THE INT'L AFFAIR++
EACH & EVERY FRIDAY NIGHT!
10PM-2AM
BELVEDERE PREMIUM LOUNGE
1131-01 UPTOWN PARK BLVD
UPSCALE EVENT FOR HOUSTON'S CULTURAL ELITE!
DJ SHINSKI + DJ OCEAN ON THE PATIO + MC MIKOLO on the mic
SPINNING THE BEST IN AN INTERNATIONAL ARRANGEMENT OF ELECTRIFYING SOUNDS
RSVP HERE FOR COMPLIMENTARY ADMISSION TILL 11PM
http://intlbelve.eventbrite.com/
OR TEXT "BELVE" TO 281.804.2597 
WINGS & FRIES ON THE PATIO!
STRICT DRESS CODE
NO SHORTS . NO BALL CAPS . NO TENNIS SHOES
ENTRY PROVIDED AT DOORMANíS discretion
FREE PARKING + VALET PARKING AVAILABLE
FOR MORE INFO / TABLE RESERVATION / BOTTLE SERVICES PLEASE CALL
281.804.2597 OR 281.312.9175


---

Click Here For Info


4Play Fridays
Sapphire Lounge
2403 Wentworth & Downling
Happy Hour 5p-8p
Party til 2a
No Cover
SapphireHouston.eventbrite.com


---

@djdwells @djbrasko and @kingkillaquin indmix 
FREE FREE ENTRY, Strong drinks, 
Live music from 6-11 and cigars on the patio.. 
Happy Hour From 2-9 and 
REVERSE HAPPY HOUR FROM 11-MIDNIGHT .....
HOSTED BY @_blackgabbydoll and Friends!!!!!


---


CHAD CHIZZLE
presents:
CHEERS Fridays @CARROS713 (Carringtons)
**WHERE EVERYBODY KNOWS YOUR NAME** 
EVERYONE FREE TIL 8pm. Ladies $5 all night long
WITH DJ KYLE LEE (6p-10p)
DJ CHROME and OAKCLIFF (10p-2a)


---
---

Click Here For Info


Super Day Party & Crawfish Jam 
Lincoln Bar & Lounge
5110 Washington
Sat April 29th
1p-8p



Click Here For Info

---

Click Here For Info


DAYTOX SATURDAYS PRESENT 
@ Social Junkie 2P-12A | $5 Chicken Wings & Tender 
+ Burger Baskets & $7 U Call It's Til 6P 
Carnival Food Fest Outside
FREE ENTRY ALL DAY, Be Sure To Rsvp.
SOUNDS BY 97.9 THE BOX DJ YOUNG STREETZ + DJ XO 
+ DJ BOBBY BANDZ + DJ HEFNA + DJ D WELLS & GO MC MAJOR
CARNIVAL FOOD FEST OUTSIDE - CRAWFISH 
TURKEY LEGS | FUNNEL CAKES | BOUDIN | SAUSAGE ON A STICK 
INFO: 832.379.9194 or 832.722.5482 


---

Click Here For Info


Join us as we embrace the *NEW crown jewel 
of Upscale Saturday Nights at the beautiful 
Lumen and Crimson Lounge in Upper Kirby/RiverOaks
High Def Audio By DJ Aggravated, A-Plus & GQ Mike!
2 Upscale Lounges - LUMEN and CRIMSON connected side by side.
Dress To Impress. 
Collar Shirts for Men, Blazers Preferred. No sneakers or hats.
Bottle Service Encouraged  Call 713.259.5725.
LUMEN & CRIMSON LOUNGE - 5020 KIRBY Houston, TX 77098


---

Click Here For Info


Live Scene Saturdays at Grooves
Happy Hr 8-11pm 
( Call For A Complimentary Bottle of Champagne)
Live Music 9-11pm
Late Night Party w/ Houston's Hottest DJs 
11pm-2am | RSVP Now



Click Here For Info

---

Click Here For Info


KOUTURE SATURDAYS
Time: 9p-2am
Sounds by.Dj JQue of "The Morning Show"
venue: Set (2900 Travis St.) MIDTOWN HOUSTON, Tx.
Dress Code: Fashion Foward Attire
RSVP FOR NO COVER 
Table Info: Call or Text 281.605.0002


---

Click Here For Info


Saviore Faire Saturdays at Lucy's
Sick of the same old same old in Houston nightlife? 
We are too. If you're looking for a sexy place to eat, 
lounge, and enjoy dope music with progressive people, 
look no further. 
Every Saturday night the low key turn up can be found 
at Lucy's Restaurant & Ultra Lounge. 
Ranked one of Houston's Top Ten Restaurants by Yelp, 
indulge in exquisite Ethiopian cuisine, while rocking 
to the sounds of Go DJ Meek Tha Freak. Fans of The Internet, 
Neo-Soul, 90s Music, Afrobeat, Soca, and of course - 
the freshest Hip Hop available, are invited to experience 
this unique, adult atmosphere. Pull Up!


Party Like One Of Us from Meek Tha Freak on Vimeo.
---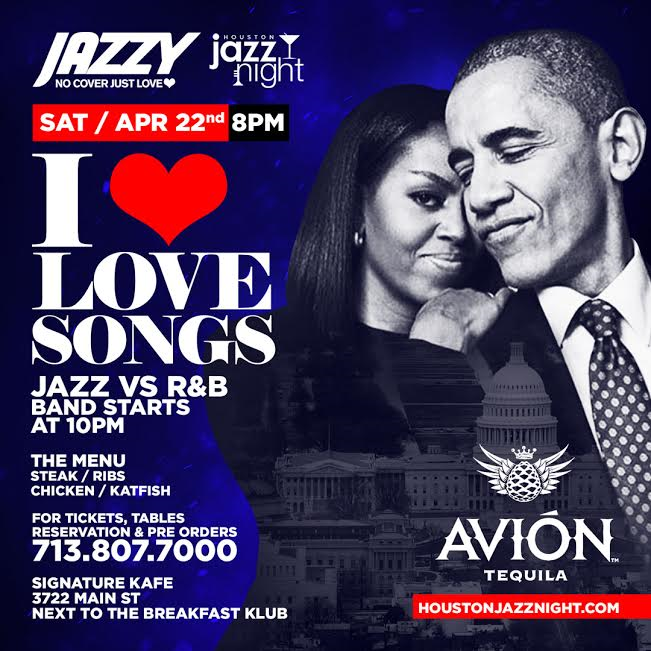 Click Here For Info

---

EPIC SATURDAYS 
BOOK YOUR FREE BIRTHDAY PARTY WITH FREE SECTION 
& COMPLIMENTARY BOTTLE OF CHAMPAGNE !
NO COVER ALL NIGHT 
$5 U CALL IT'S TIL 11P
3000 BLODGETT 
713.522.EPIC


---

Click Here For Info


Sapphire on Saturdays
Sapphire Lounge
2403 Wentworth & Downling
Happy Hour 5p-8p
Party til 2a
No Cover
SapphireHouston.eventbrite.com


---

Click Here For Info


Houston Welcome To Leon's Lounge
Join Us Each & Every Saturday Night
"Where Quality Over Rules Quantity"
It's Not About How Pack Your Venue 
Is It's About Having The Right People.
We Are Separating Classes Of People Saturday 
Nights At Leon's Is Only For 
The Grown & Upscale Professional.
We Welcome You Join Us...
To Book Your Free Section 
or Table Including Birthdays 
Contact 832.533.1117
#HoustonsUpscalePartySocial 
#ExperienceLeonsLounge  #HookahsAvailable 
#FoodOnPatio #LiveMusic 
#ThePantheonBand #DjKonfusionInTheMix


---

Click Here For Info


JOIN US EVERY WEEKEND FOR THE 
#1 SATURDAY NIGHT BIRTHDAY CELEBRATION EXPERIENCE
Suede Saturdays @ EngineRoom
1515 Pease St | Houston Texas | 77002
Houstons #1 Nightlife Destination
CLICK HERE FOR FREE ENTRY
Dresscode Strictly Enforced
Bottle Service Is Highly Recommended
Section & Celebration Info: 832-265-8192


---
---
---