---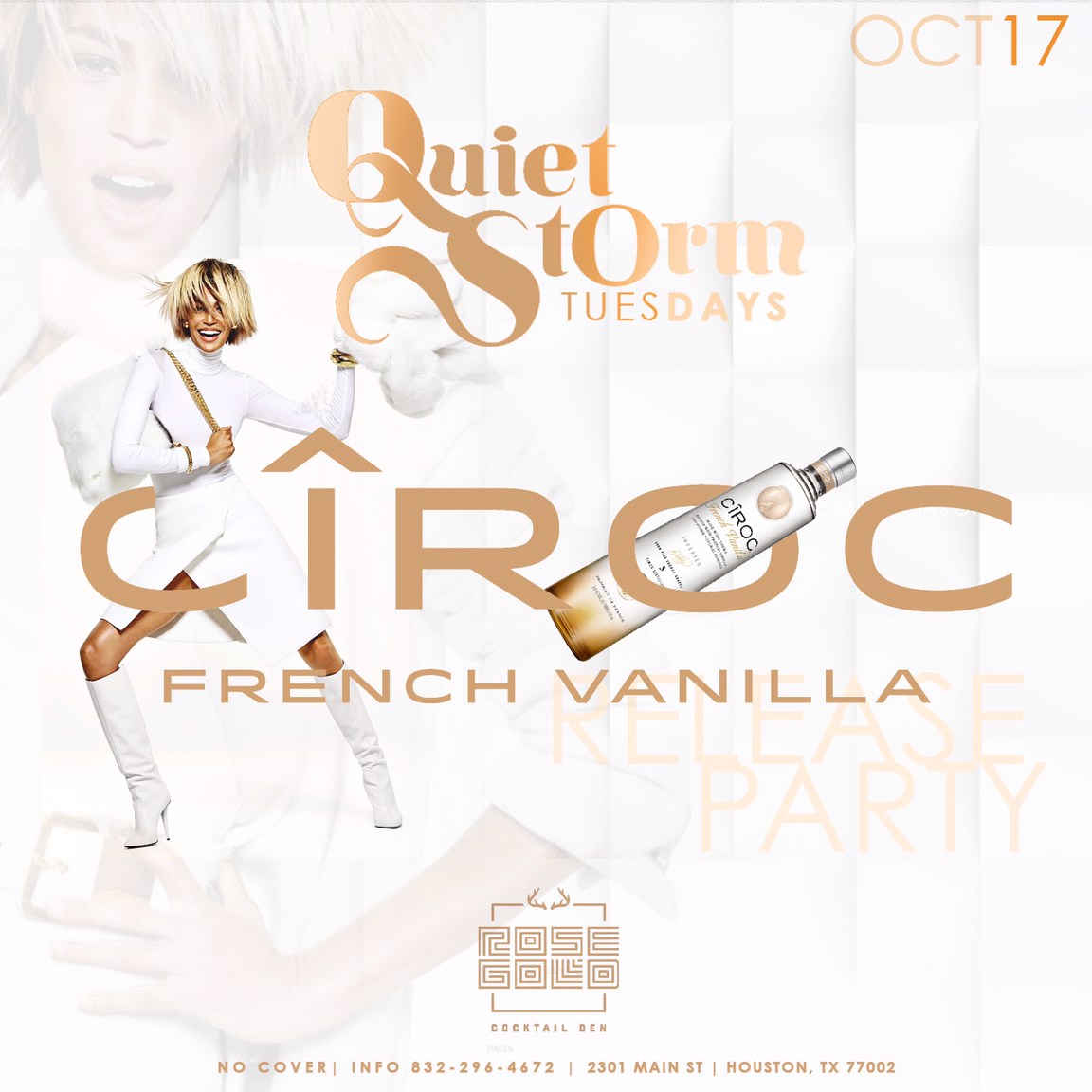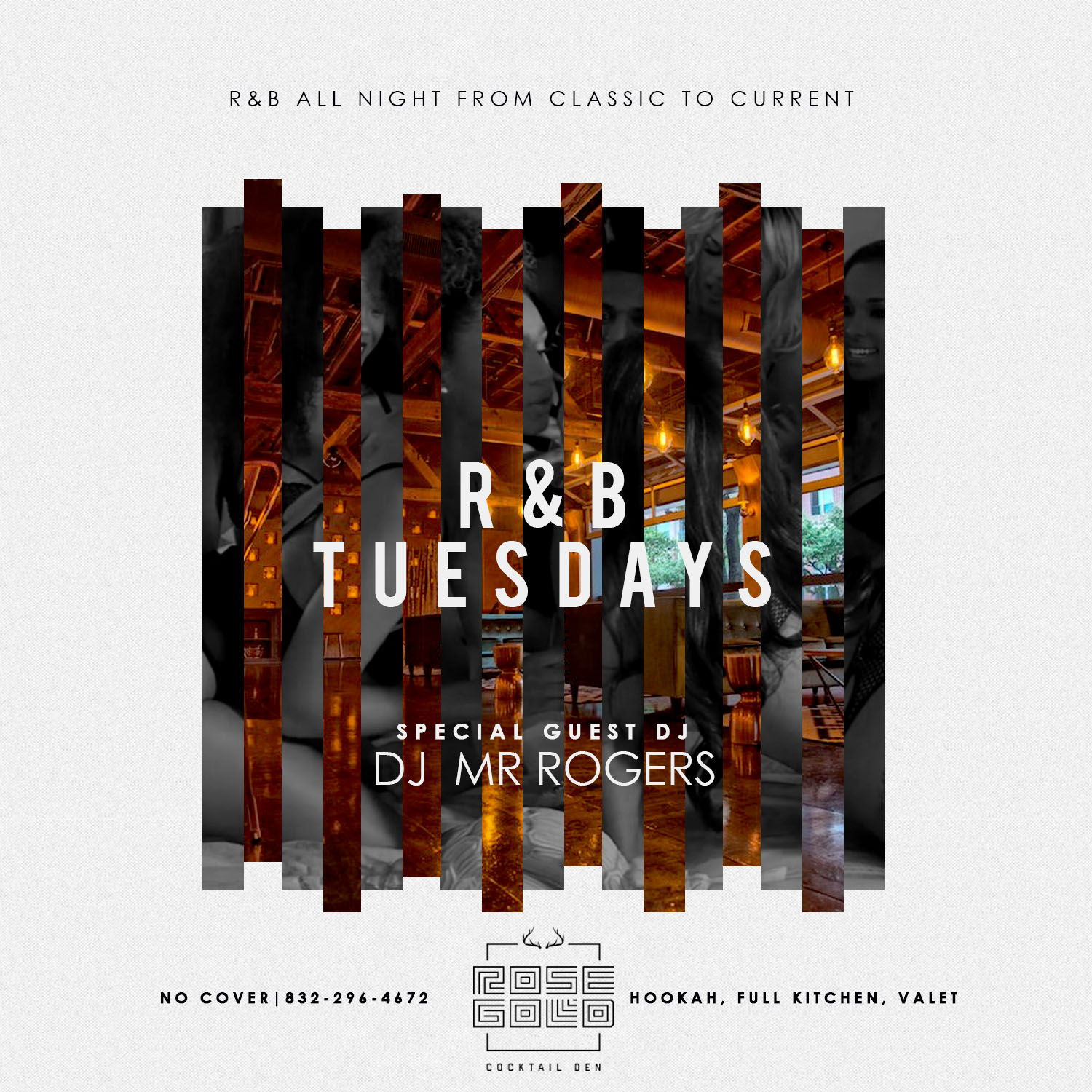 R&B TUESDAYS
@
ROSE GOLD
(2301 MAIN ST)
W/ DJ MR. ROGERS INDMIX
HOUSTON'S NEWEST, HOTTEST NIGHT AT ROSE GOLD DEN 
DRINK SPECIALS, HOOKAH, GREAT FOOD & MORE
NO COVER | FOR INFO 832.296.4672


---

Click Here For Info


Post this one with Homepage ads....
#newwave #nightlifewithNext 
#upscale #tuesdaynighttakeover 
#hookah #nextgenhouston 
Tuesday night will never be the same.. 
Eventbrite links: https://www.eventbrite.com/o/nextgen-marketing-15317044997


---

Come out and enjoy #kulturetuesdays 
for open mic night, live performances, 
talent showcase, comedy and more 
@postloungehouston doors open at 8pm 
with drink specials all night 
sounds by DJ Nana | hookah | food | Patio


---

Houston's Favorite Industry Night 
Each & Every Tuesday
Everyone Free All Night
Faces Ultra Lounge 
832.330.6800


---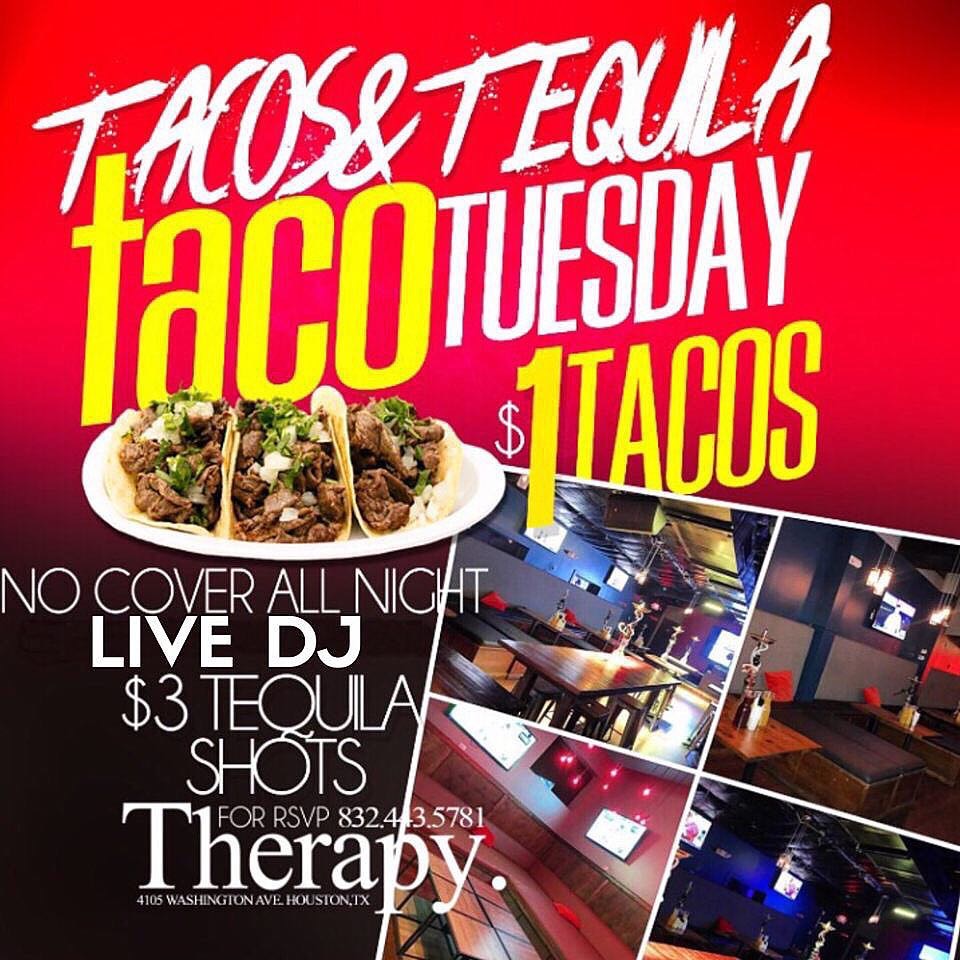 TACO
TUESDAYS
TEQUILA & TACOS
@
THERAPY
(4105 WASHINGTON)
$1 TACOS
$3 TEQUILA SHOTS
SIGNATURE DRINKS | PATIO | HOOKAH AVAILABLE
FOR TABLES / INFO 832.443.5781


---
---
---
WEDNESDAY EVENTS
| SUN | | MON | TUE | WED | THUR | FRI | SAT | Coming Attractions |

Click Here For Info


SET
WEDNESDAYS
PRESENTS 
MC QUA BDAY KICKOFF
+
HOLLYWOOD PEEDA BDAY CELEBRATION
HOSTED BY LALA
& MORE!
@
SET NIGHTCLUB
(2900 TRAVIS ST.)
LADIES FREE ALL NIGHT
BOTTLES SPECIALS & MORE
FOR MORE INFO 832.265.8192
The Cities Wednesday Night Wave

Set Wednesdays | 2900 Travis
Ladies Free All Night
$100 Belaire | $150 Hennessy & Moet Rose
Weekly Rotation Of The Hottest 
Mc's & DJ's In The City
Doors Open at 10pm
Section Info: 832-265-8192


---

Click Here For Info


Event : Fundraiser for Erica Hughes for Criminal Court at law #3 Harris county 
Date : 10-18
Place : Prospect Park
Time : 5:30-8
Link : https://hughesforjudge.nationbuilder.com/


---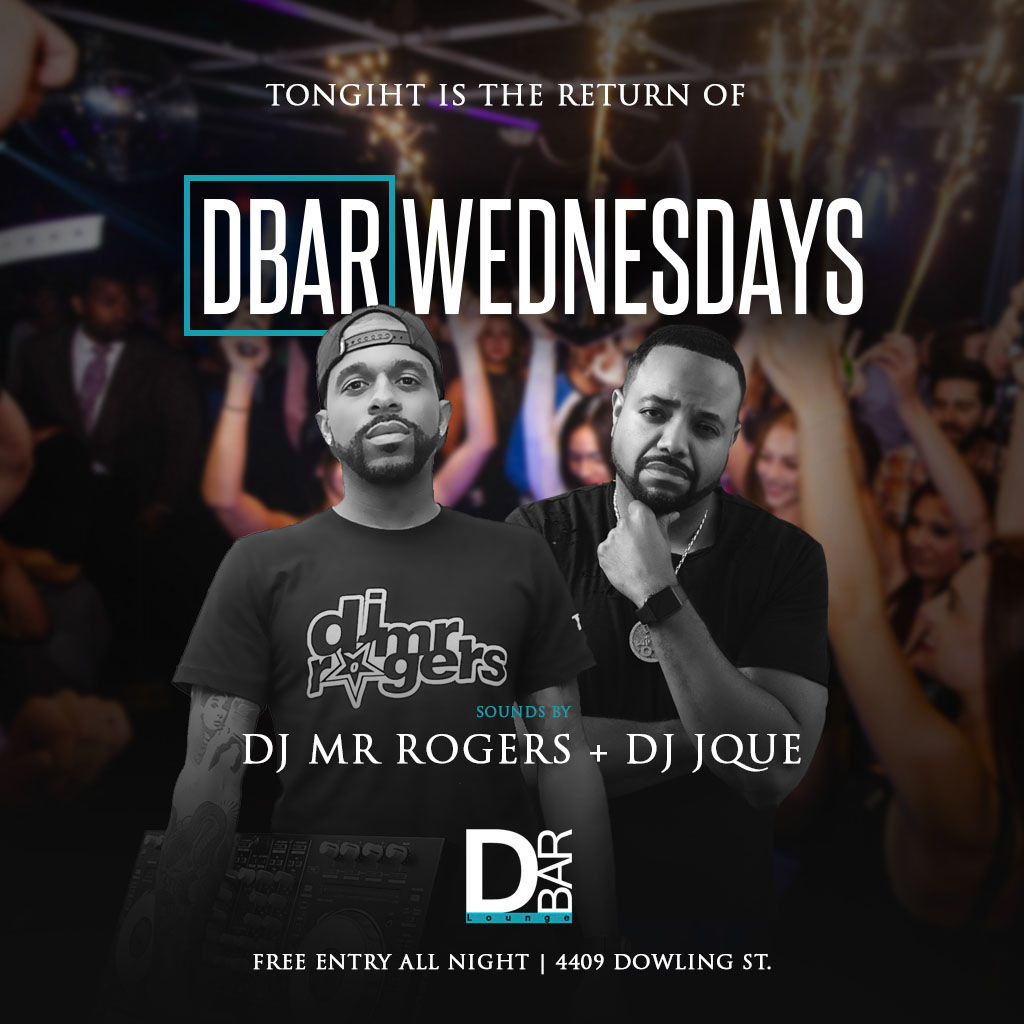 DBAR WEDNESDAYS 
RELOADED
@
DBAR
(4409 Dowling)
W/ DJ MR. ROGERS & J-QUE INDMIX
Happy Hour 9-10p
Late Night Party 9p-2a
$10 Hookahs
Doors Open at 7p


---

All new "Post Live Wednesdays" 
@postloungehouston 
for best live music party around Houston. 
Performing artist this week are Medicin and Teacake 
of the Dope band. $10 admission after 10pm. 
Food Hookah and Cigar Patio available. 
Doors open at 7pm. Come have fun!!!


---

Ladies Nights at the Address
Today Happy Hour starts at 4pm  
@theaddresshtx 
with $3 wells, $4 Frozen's and $5 Premiums 
from 4-7pm!! 
.50 cent wings from 7-9pm. 
3333 Raleigh St 
for info call 832-933-0201 
#theultimatedestination


---

All new #Wednesday
#WallStreetWednesday
-------------------
@foxxysgentlemenclub
11112 South Post Oak
info: 4243754149
-------------------
#Hosted x @_official.vida_ @stripclubtrappin
@vxnhouse @ogcharliehustle
-------------------
$3.75 u call it till 7p | $1.50 Draft Beers
$5 Ciroc, $5 Crown Apple, $5 cognac 
$3.50 JoseCuervo Shots
-------------------
#indmix
@djtaco713 @djshawney @officialdakidd
@southsidetillidie @obi.wu @djdukeview


---
---
---
COMING ATTRACTIONS
| SUN | | MON | TUE | WED | THUR | FRI | SAT | Coming Attractions |

Click Here For Info


A GIRL HAS NO NAME 
Visual EP Premiere 
Tuesday Oct 24th 6:30 PM 
at the Match Theater in Midtown
3400 Main St Houston Tx. 77002

Starring @bebushkamonetti
Hosted by @DJJQUE
Sounds by @GODJHIC

Tickets are available at:
https://matchouston.org/events /girl-has-no-name



Click Here For Info


THE SUPER DAY PARTY 
HALLOWEEN WEEKEND 
AT LINCOLN BAR 
SATURDAY OCTOBR 28th
12p-8p 
+ PVU HOMECOMING
DJs Michele McKnight, DJ Mc Daniels & DJ Q Holic inDmix
5110 WASHINGTON AVE
Houston, TX



Click Here For Info


Therapy On The Ave Presents 
"WASHINGTON MASSACRE III"
OCT 28TH 
THERAPY SATURDAYS 
Presents 
"WASHINGTON MASSACRE III"
The Haunted Rooftop Halloween Costume Party
$500 Costume Contest | Happy Hour 8-10P 
Karoake + Live DJ 8-11P 
Late Night Party 11-2A | NO COVER W/ RSVP!!! 
A Place To Create Your Own Vibes 
Drinks With Friends (Happy Hour Party) 7pm-10pm 
LIVE DJ & MC
$20 Hoohak Happy Hour From 8-10pm
LIT Karaoke Party (1st Floor) 8-11pm 
+ Late Night Party 11pm-2am
HAUNTED Rooftop Party 11pm-2am
VIP TABLES & INFO: 832.379.9194



Click Here For Info


.:: THE MONSTER'S BALL ::.
THE ULTIMATE HALLOWEEN COSTUME PARTY!
SATURDAY - OCTOBER 28TH
INDOOR & OUTDOOR EVENT
Costumes are HIGHLY SUGGESTED!
EVERYONE FREE TILL 11PM W/ RSVP!
www.monstersballhouston.com
FOR MORE INFORMATION: 346.404.5060



Click Here For Info


Keto Gentry The Consultant 
Presents 
I Miss The 80's & 90's 
Pre Halloween Costume Day Party @The Davenport
October 28th 2pm-8pm
DJ Silk In The Mix 
Food Truck On The Patio
$100 Give Away For Best Costume
Houston's #1 Upscale Day Party For The Mature & Classy
For Comfort Seating Contact 832.533.1117



Click Here For Info


Come out and kick with me for 
The Halloween Wicked Desires bash 
at the all new Desires Houston. 
"Your Lifestyle Paradise".. 
2800 Antoine Dr
Suite #2884 Houston, Tx 77092 
SATURDAY OCTOBER 28th
COME CHECK OUT OUR ANNUAL COSTUME PARTY 
BEST DRESSED COSTUME CONTEST & MORE..
There is an amazing 2 levels of pure seduction 
& IT'S B.Y.O.B | FREE BUFFET  ("Dress to Impress")
Sexy for the Ladies Classy for the Gentlemen
Dress upscale | Must present yourself well to get in!
DOORS OPEN @ 9PM
Hours of operation may vary for special events. 
Please check our Events Page for the most up to date 
on all current information 
New Members must be checked in by Certain Time 
On Specific Nights 
Desires Houston Membership & Pricing Information
Sign Up Now At www.desireshouston.com 
CONTACT ME CONCERNING Membership Information 832-845-7194
DESIRES HOUSTON "YOUR LIFESTYLE PARADISE FOR THE ELITE"



Click Here For Info


The second annual family friendly Houston Egyptian Festival 
will be held on Saturday, October 28
11am-9pm, at Discovery Green. 
There will be exotic camel rides, belly dancing shows 
and lessons, live music & even performers from Egypt 
are flying in to perform Folkloric dances! 



Click Here For Info


The Biggest Party Has Hit Texas, 
Bud Light Will Host Nightmare On Main Street 
The Biggest Halloween Fest In The Nation. 
Get Ready Tuesday October 31st 
Your Bones Will Shiver As Budlight 
Takes Over Capitol Bar . 
With $1000 Costume Contest , 5 Djs , 
Food Drinks And More 
This Is A Event You Don't Wanna Miss …
For Questions Or More Info Feel Free To 
Reach Our Budlight Staff At 281-678-7234
Capitol Bar Midtown
2415 Main Street
Houston, TX 77002
9p-2a



Click Here For Info


The Biggest Costume Party In The City!!
SWIVEL TUESDAY IS BACK!!!
On Halloween Night | Tuesday October 31st!
Cash Prize Contest For The Best Costume!
Tue 10/31
Ladies FREE All Night In Costume w/RSVP!
Sounds By: Dj Movtivation + Dj Young Samm + Laybo
SET
2900 Travis St
For More Info: 832.785.8350 Or 832.427.7038



Click Here For Info


Je'Caryous Johnson 
presents 
"Two Can Play That Game"
Fri 11/17 -Sun 11/19 @ 8pm
Hobby Center, Houston, TX



Click Here For Info


Silent TRAP Party!
Thanksgiving Saturday
November 25th, 2017
GROOVES HOUSTON! 
9pm - 2am
21+ Only!
DJ ALO spinning the best of Trap music All Night Long
DJ YOUNGSTREETZ bring yout he best 90's R&B, Old School Hip Hop,
DJ DR HAVOC and Mc Kut spinning the best Afro Beat, Soca, and Reggae



Click Here For Info


Click Here For Info


The FINAL JUDGEMENT SWAC Championship 
hits Houston, TX on December 2, 2018
featuring 
Frankie Beverly and Maze live in Concert
hosted by Traci Steele and Big Tigger
National Anthem sung by Rotimi 
from the hit series POWER
God Bless America sang by Houston's own Tamar Davis
DON'T miss the FINAL one....
http://swacfootball.com



Click Here For Info


H-Town Sneaker Summit event 
on Sunday, December 3rd, 2017 
at the Bayou City Event Center 
from 3-8PM.



Click Here For Info


FRESHDARK MUSIC FESTIVAL
December 9th, 2017 
from 4pm-2am
Last Concert Cafe 
1403 Nance • Houston, TX 77002
Featuring Iman Omari, OSHUN, B. Cool-Aid, 
Jack Freeman and many more.

Grab your ticket at freshdarkfest.com
Follow freshDark on Instagram at @ freshdarkfest
#freshDark2017