Click Here For Info


Join us as we embrace the The Next Step 
in Houston's Elite Nightlife Experience 
where Refined Art meets elegant technology 
in a hi-energy space ignited by state-of-the-art 
sound and lighting systems, secluded alcoves, 
Large Turn-Up Sectionals, Stage, Glitz, Glamour and More.... 
Its LIT...Aura Friday Nights! 
High Def Audio By resident DJ Mr Rogers, Mc Beezy & More 
Dress To Impress. 
NO REFUNDS ON PAID TABLES For VIP/Table Reservations, 
Bottle Service, Groups or Large Parties... 
Call/Text 713.259.5725 

AURA NIGHTCLUB 
4701 NETT ST 
Houston, TX 77007



Click Here For Info

---

Click Here For Info


A Perfect Blend of Art & Science....
a true Mixology bar for us on Friday nights!
Dress code is strictly enforced, collar shirts for men, 
no sports wear or hats.	
We encourage sport coats/blazers, no sneakers. 
RSVP & No Cover til 11p show ticket at door.
Drink specials early with Professional Networking Mixer fridays. 
Good vibes til 2am!
"Mint Julep, Boulevardier, Negroni, Kentucky Mules, 
and many more customized cocktails made from the 
freshest ingredients to tease your tastebuds."
...Mixology Fridays at 1919 ...
2736 Virginia St (River Oaks) 


---

Click Here For Info


MERCY NIGHTCLUB 
1505 Saint Emmanuel St 
Houston Texas | 77002
Houstons #1 Nightlife Destination
RSVP for Free Entry
Dresscode Strictly Enforced This Is Not Your 
Typically Friday Night Dress Up or Miss Out
Bottle Service Is Highly Recommended
832.512.6515
mercyfriday.eventbrite.com
@AristocratLife


---

Click Here For Info


D.h! | Shades Simplicated Mktg | Nkem of Emagine That Ent | Mr. TC
Present
++THE INT'L AFFAIR++
EACH & EVERY FRIDAY NIGHT!
10PM-2AM
BELVEDERE PREMIUM LOUNGE
1131-01 UPTOWN PARK BLVD
UPSCALE EVENT FOR HOUSTON'S CULTURAL ELITE!
DJ SHINSKI + DJ OCEAN ON THE PATIO + MC MIKOLO on the mic
SPINNING THE BEST IN AN INTERNATIONAL ARRANGEMENT OF ELECTRIFYING SOUNDS
RSVP HERE FOR COMPLIMENTARY ADMISSION TILL 11PM
http://intlbelve.eventbrite.com/
OR TEXT "BELVE" TO 281.804.2597 
WINGS & FRIES ON THE PATIO!
STRICT DRESS CODE
NO SHORTS . NO BALL CAPS . NO TENNIS SHOES
ENTRY PROVIDED AT DOORMANíS discretion
FREE PARKING + VALET PARKING AVAILABLE
FOR MORE INFO / TABLE RESERVATION / BOTTLE SERVICES PLEASE CALL
281.804.2597 OR 281.312.9175


---

Click Here For Info


Can't figure out where to go for Happy Hour every Friday? 
We got you covered! After work head to 1919 Wine & Mixology 
to get your weekend started with the city's most attractive 
professionals. 
From 6 to 10PM DJ Wreck & Go DJ Meek will help you forget 
about your job. Enjoy mouth watering steak and salmon 
prepared by Chef Ventress. Cigar connoisseurs rejoice, 
as the finest cigars will be on site for consumption. 
Admission is complimentary all evening and you can't 
beat the drink specials. Come turn up with us!


---

Click Here For Info


Join us for the biggest party 
in Houston on a Friday night. 
$3.25 ANY DRINK from 9-11pm, yes ANY DRINK!
21+
Fashionable attire required
Vaild ID required
Drink Houston
7620 Katy Freeway
Houston, TX 77055
http://www.drinkhoustonfridays.com/


---

Click Here For Info

---

Click Here For Info


FRIDAY NIGHT LIVE
HOOKAHS & HIP HOP
@
LIVE OAK
(2533 SOUTHMORE)
HAPP HOUR
$7 PREMIUM
$5 BOUDIN BALLS
$5 EGGROLLS
$5 FROZENS 
$4 WELLS
& MORE
FOR INFO 
THEFRIDAYNIGHTLIVE.COM


---
---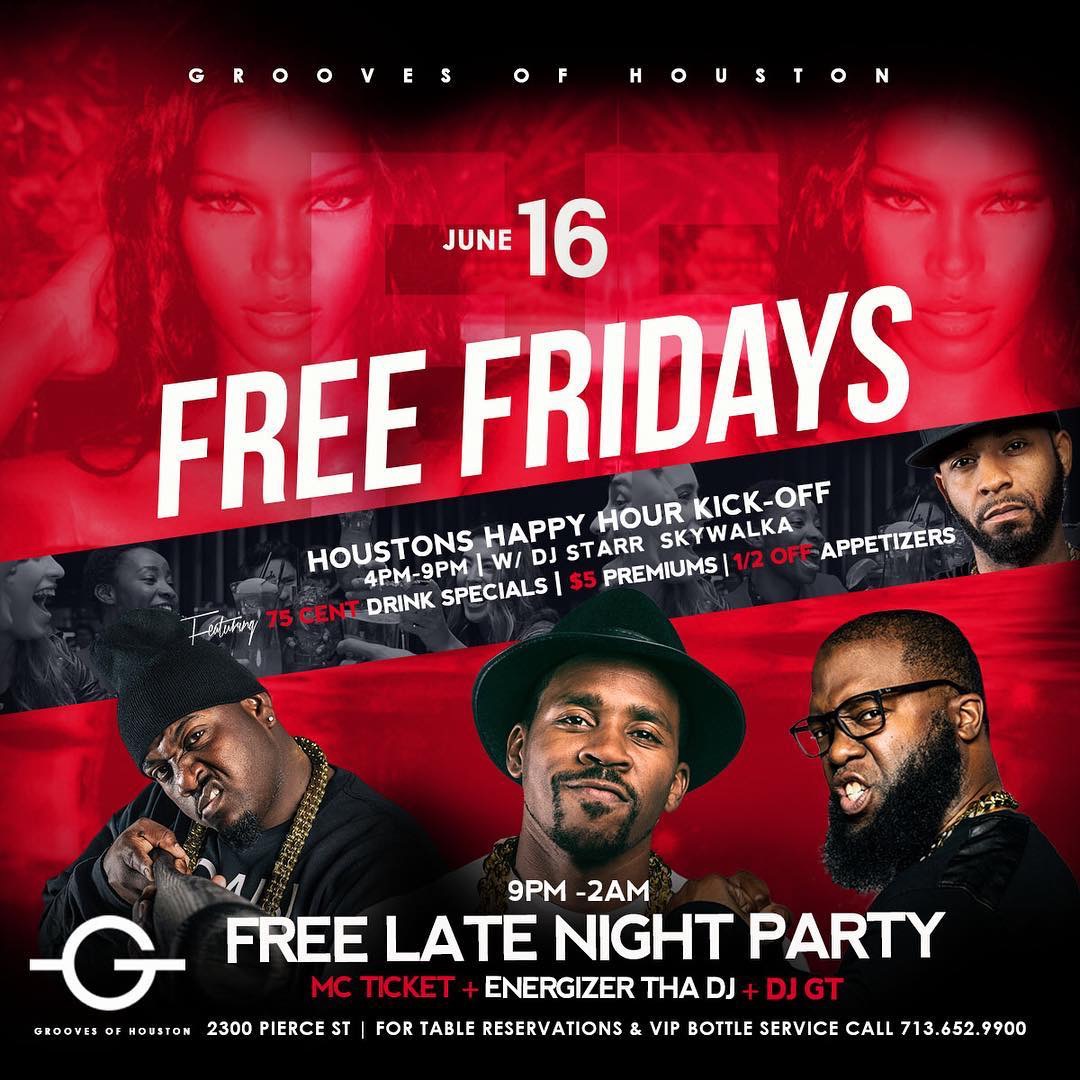 FREE FRIDAYS
@
GROOVES 
(2300 PIERCE ST.)
EVERYONE FREE ALL NIGHT
HOUSTON'S BEST HAPPY HOUR
.75c DRINK SPECIALS
$5 PREMIUMS
1/2 OFF APPETIZERS
W/ DJ GT, ENERGIZER THA DJ, STARR SKYWALKA & MORE INDMIX
FOR TABLES/INFO 713.652.9900


---

Click Here For Info


"Welcome to the largest camping event in the world!  
Whether you're looking to relax, network, make 
new friends or just mingle with other like-minded professionals, 
Urban Camp Weekend is for you. 
Picture you and your friends at a house party or BBQ...
now add a tent, a river, some games, food, sand volleyball, 
games, a DJ, surprise events, additional outdoor recreational 
activities and you have now successfully envisioned the best 
camping experience yet. 
Early sign-up and arrival is strongly encouraged... "


---

LIT FRIDAYS @ SAPPHIRE
2403 WENTWORTH @ DOWLING. HOUSTON TX 77004
SOUNDS BY: DJ MOTIVATION
FREE ENTRY ALL NIGHT LONG
DOOR OPEN AT 5PM UNTIL 2AM
SECTION PACKAGES
$150- BOTTLE OF CHOICE + SECTION + 20 GUEST FREE
$200- BOTTLE OF CHOICE + SECTION + HOOKAH 
+ 10 TEQUILA SHOTS + CHAMPAGNE BOTTLE + 20 GUEST FREE
BOOK YOUR BIRTHDAY NOW OR GROUP OF 5 
& RECEIVE COMPLIMENTARY CHAMPAGNE BOTTLE
832-289-4312 or 832-715-0192


---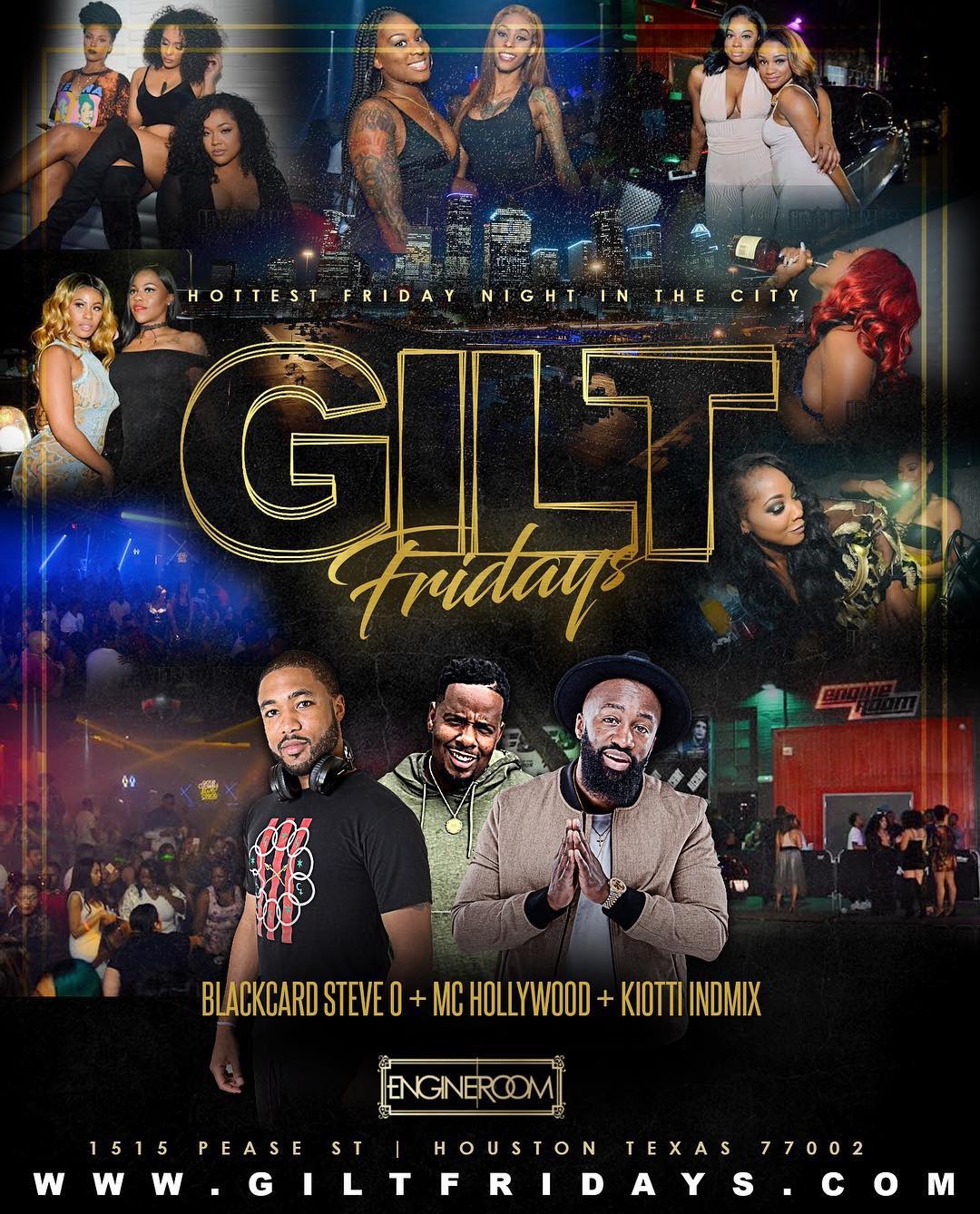 Click Here For Info


GILT FRIDAYS
@
ENGINE ROOM
(1515 PEASE ST.)
DJ KIOTTI | MC HOLLYWOOD
& BLACK CARD STEVE O INDMIX
EVERYONE FREE ALL NIGHT W/ RSVP
giltfridays.com


---


CHAD CHIZZLE
presents:
CHEERS Fridays @CARROS713 (Carringtons)
**WHERE EVERYBODY KNOWS YOUR NAME** 
EVERYONE FREE TIL 8pm. Ladies $5 all night long
WITH DJ KYLE LEE (6p-10p)
DJ CHROME and OAKCLIFF (10p-2a)


---
---
COMING ATTRACTIONS
| SUN | | MON | TUE | WED | THUR | FRI | SAT | Coming Attractions |

Click Here For Info


TANK'S EXCLUSIVE ALL WHITE AFFAIR
Featuring a Live Performance from TANK. 
Hosted by Kandi Burruss, Kenny Burns and more...
Music by Kool DJ SupaMike, DJ Hollaback, 
DJ Keith Scott, DJ Mark Da Spot 
& DJ Young Streets.
Friday June 30th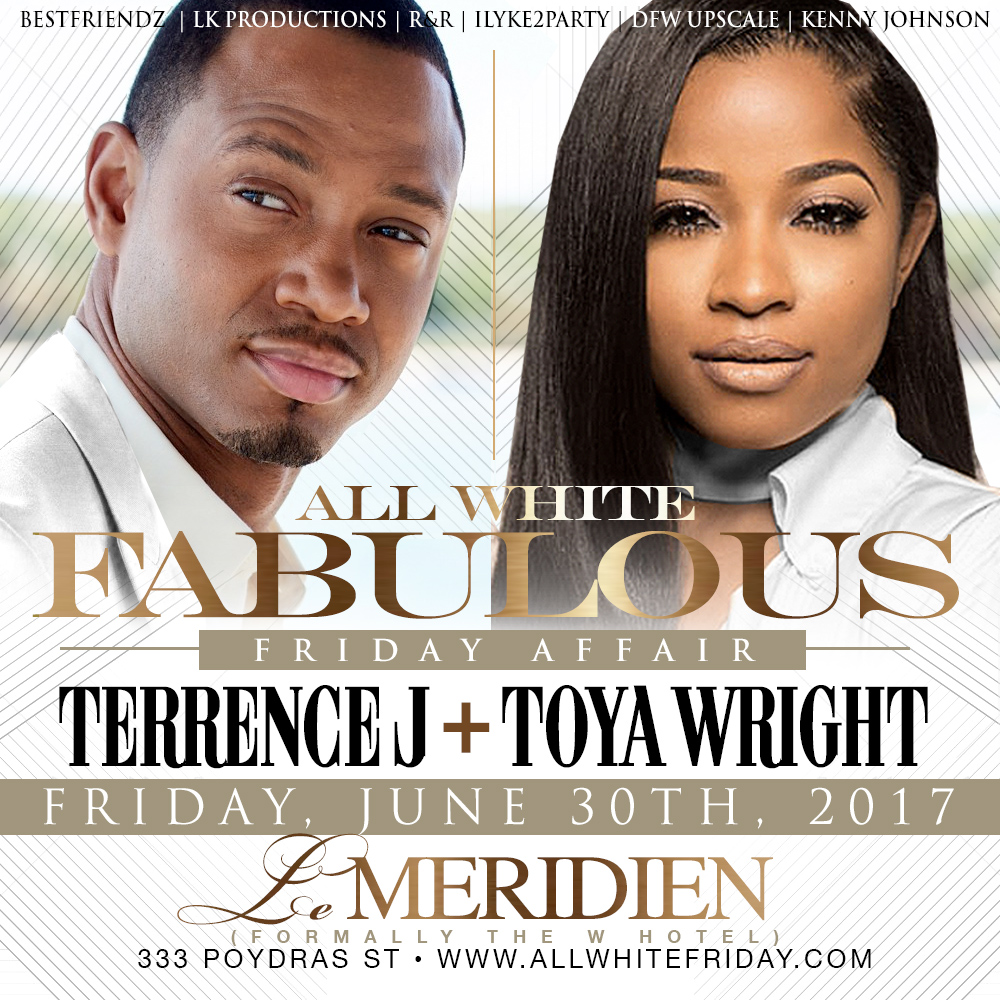 Click Here For Info


THE 5th ANNUAL
ALL WHITE
FABULOUS FRIDAY AFFAIR
at
THE LE MERIDIEN
(FORMERLY THE W - 333 POYDRAS ST.)
FRI JUNE 30th
ALL WHITE ATTIRE IS REQUESTED, NOT MANDATORY!!!
EARLY ARRIVAL IS SUGGESTED!!!
POWERED BY:
BESTFRIENDZ | R&R | LK PROD. | KENNY JOHNSON |
DFW UPSCALE | iLYKE2PARTY
www.allwhitefriday.com



Click Here For Info


Super Day Party Classic 
AT Lincoln BAR JULY 1ST 2p-8p
w/ DJs McDaniels, Supastar, LaRose & Joe P inDmix
No Cover w/ RSVP
Lincoln Bar & Lounge
5110 Washington
Houston, TX



Click Here For Info


The Infamous "DO IT IN THE DAY" 
[FIREWORKS SHOW & BBQ] FREEDOM JAM 
[JULY 4th WEEKEND] Celebration 
@ Social Junkie 2P-10P 
$5 Chicken Wings, Tenders, & Burger Baskets 
+ $7 U Call It's Til 6P | Carnival Food Fest Outside
FREE ENTRY ALL DAY, Be Sure To Rsvp!! 
SOUNDS BY Celebrity DJ ASAP + 97.9 THE BOX DJ YOUNG STREETZ 
+ DJ XO + DJ BOBBY BANDZ + DJ D WELLS & GO MC MAJOR
BBQ CUISINE AVALIABLE 
CARNIVAL FOOD FEST OUTSIDE
CRAWFISH | TURKEY LEGS | FUNNEL CAKES
BOUDIN | SAUSAGE ON A STICK 
Info: 832.379.9194 or 713.530.7264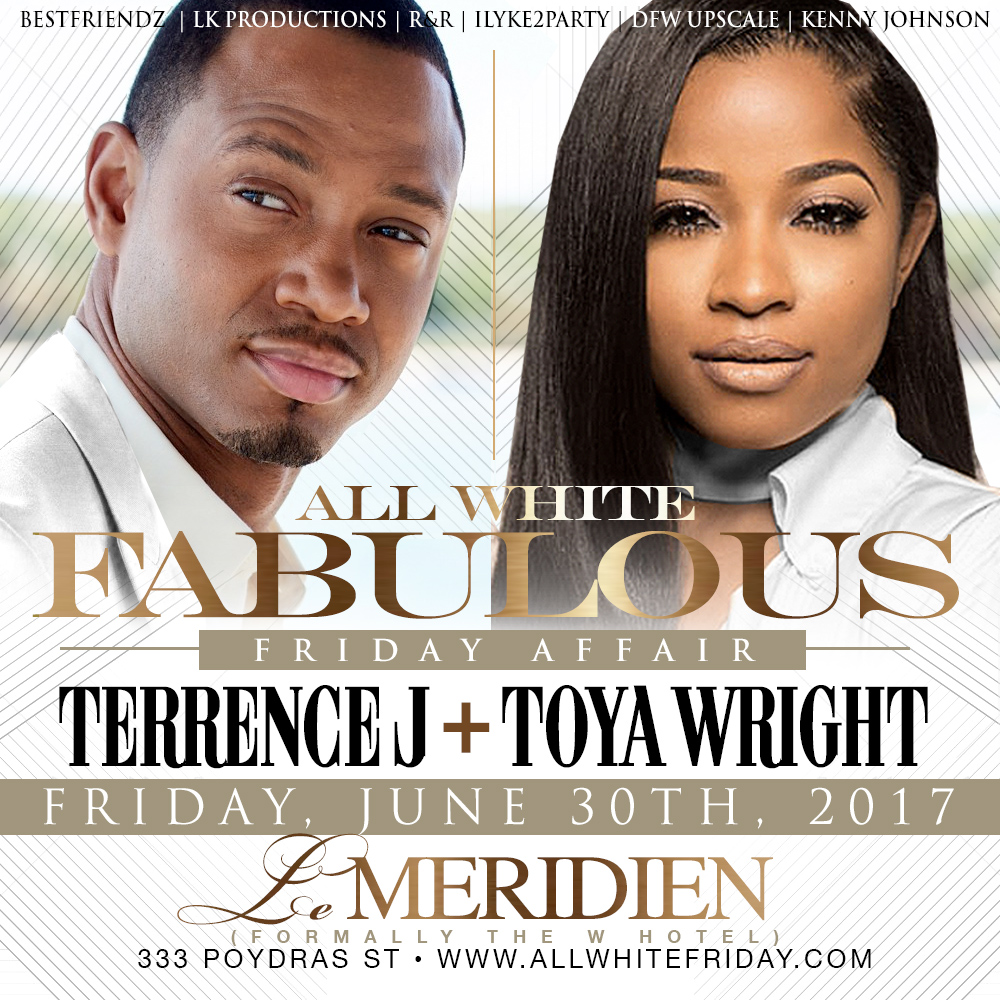 Click Here For Info


DAMN THAT DJ DAYPARTY
SATURDAY JULY 1st
at The LE MERIDIEN H O T E L
FREE + FREE = FREE
SAT JULY 1st



Click Here For Info


Click Here For Info


Young Dolph Live Performance
by RLC Entertainment
at AYVA Center 
July 1st 2017
For more info. Call 713-794-6659 
or 713-782-AYVA (2982) or Text (713)391-4696
Ayva Center
9371 Richmond Avenue
Houston, TX 77063



Click Here For Info


Live House Media ♠ Bar Guarantee ♠ 
Big Stan Productions ♠ HereWeGo Ent 
♠ 2nd To None Ent & Cali Events
presents
The infamous DAYBREAK™ 
Festival Weekend Celebrity Dayparty
Sat July 1st
Doors Open 12pm-9pm
*Over 200 Confirmed Celebrity Guests 
hosted by Terrence J and Friends
Live Music by
DJ Jque
DJ Chose
DJ Aplus?
DJ Youngstreetz
DJ Poppa
DJ H ollaback
Cool DJ Supa Mike & More
INFO 713.259.5725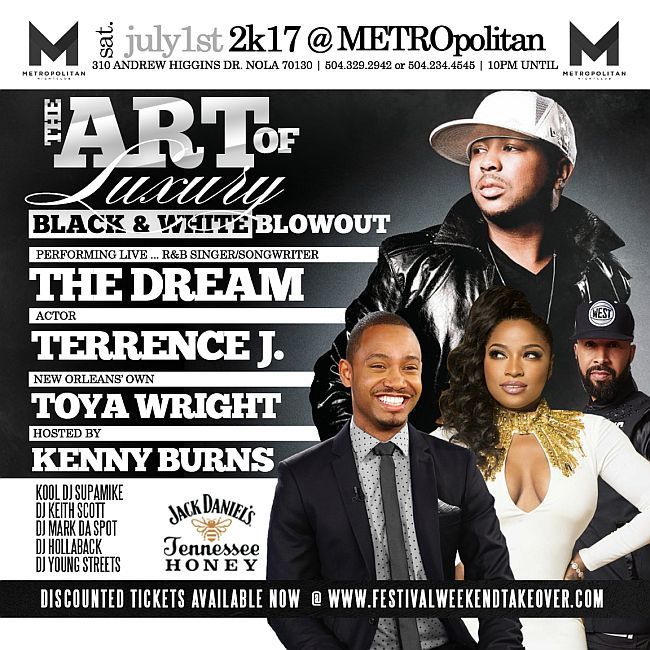 Click Here For Info


THE ART OF LUXURY - B&W BLOWOUT
With THE DREAM Performing Live. 
Hosted by Terrence J., Toya Wright, 
Kenny Burns, and more...
Music by Kool DJ SupaMike, DJ Hollaback, 
DJ Keith Scott, DJ Mark Da Spot 
& DJ Young Streets.
Sat July 1st



Click Here For Info


"Ciroc The Boat"
The 4th Annual All White Private Yacht Party 
(White Attire Mandatory)
Sunday July 2nd
6pm-10pm 
(Boarding at 6:30)
Live the HIGH LIFE on a 4hr long cruise 
on Galveston Bay on a warm summer day/night.
(specific address disclosed July 1st)
Complimentary hot hors d'oeuvres



Click Here For Info


Click Here For Info


INDEPENDENCE DAY WEEKEND SUNDAY NIGHT
 HOLIDAY EXCLUSIVE SPECIAL EVENT
Sunday JULY 2nd
9pm-2am
Sounds By: DJ MR ROGERS & More TBA
Ages: 21+ ONLY - DRESS TO IMPRESS
NO REFUNDS | ALL SALES FINAL
Strict Dress STRICTLY code enforced!
UPSCALE, SEMI FORMAL SEXY ATTIRE 
VIP Tables and sections available
Valet Parking Available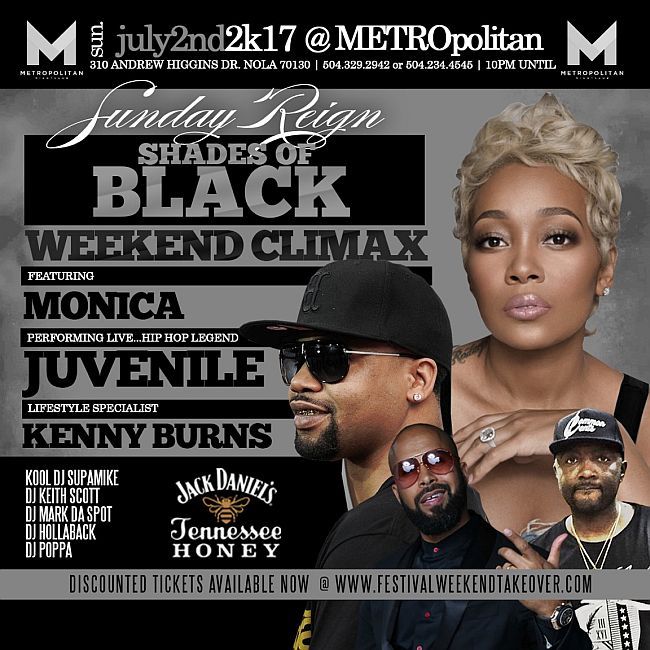 Click Here For Info


SUNDAY REIGN - SHADES OF BLACK
Hosted by R&B Legend MONICA!
Also Hosted Kenny Burns with 
a Live Performance from JUVENILE...
Music by Kool DJ SupaMike, DJ Hollaback, 
DJ Keith Scott, DJ Mark Da Spot 
& DJ Poppa.
Sun July 2nd



Click Here For Info


THE ALL WHITE FESTIVAL WEEKEND FINALE
by Larry Morrow
Sun, Jul 2
Masquerade Nightclub
8 Canal Street
New Orleans, LA 70130



Click Here For Info


THE WEEKEND GRAND FINALE
THE 4th ANNUAL CIROCBOYZ
TAKEOVER DAYPARTY
w/ KENNY BURNS &
DJ SNS
THE LE MERIDIEN HOTEL, 
formerly The W Hotel New Orleans
SUNDAY JULY 2, 2017



Click Here For Info


Moet + Hennessy + PATRON
presents
THE AMERICAN DREAM
PRE INDEPENDENCE DAY PARTY
MONDAY JULY 3rd 2017
at
CHAPMAN & KIRBY
2118 Lamar St Houston Texas 77003
10p-2a
Birthday Celebration for Rob Wright
DJs Mr Rogers, DJ Hawk & DJ Supastar inDmix
No Cover till 11pm w/ RSVP www.ChapmanKirby.com
Upscale Holiday Attire
Info & Sections >> 713.459.9019



Click Here For Info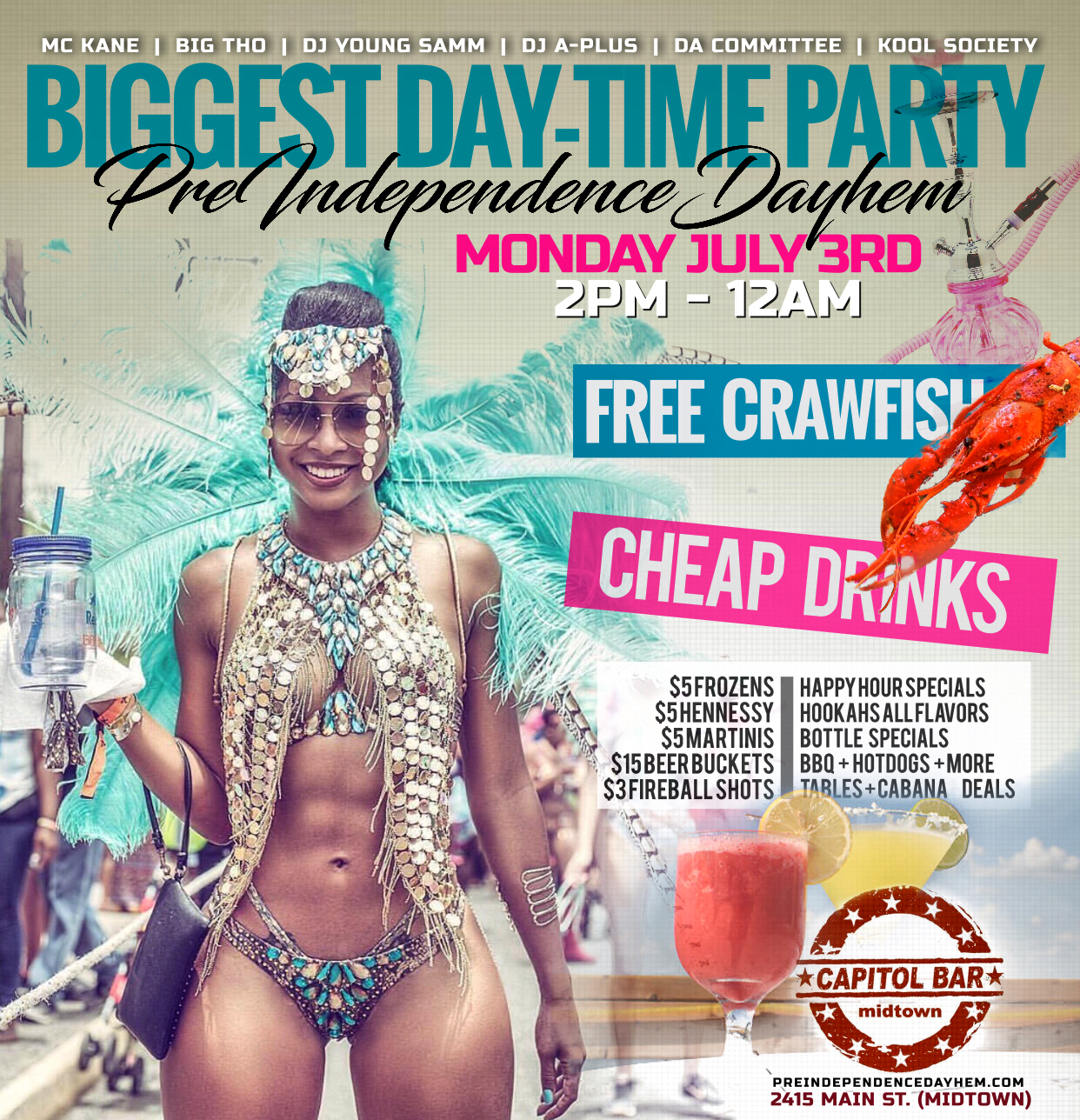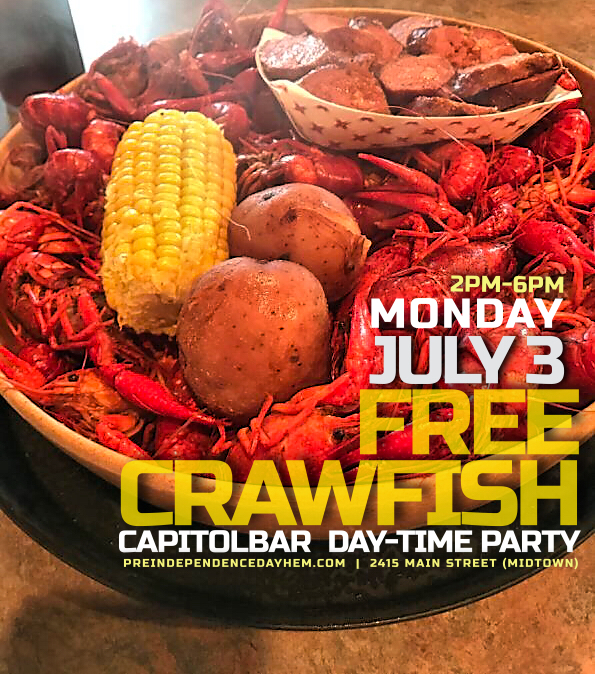 Click Here For Info


MONDAY
JULY 3RD
PRE INDEPENDENCE DAYHEM
THE BIGGEST DAYTIME DAY PARTY
2P-12A
@
CAPITOL BAR
(2415 MAIN ST.)
FREE CRAWFISH
$5 FROZENS
$5 HENNESSY
$5 MARTINIS
& MORE
HAPPY HOUR SPECIALS
HOOKAHS ALL FLAVORS
BBQ | HOTDOGS | BOTTLE SPECIALS
& MORE
FOR INFO PREINDEPENDENCEDAYHEM.COM



Click Here For Info


FRIDAY JULY 7TH 2017
JOUVERT HOUSTON
-----MORE-------
WATER - PAINT - OIL - POWDER
Gates open at 8pm - until
$20 Pre Sale | MORE at the Gate
for tickets go to
www.JOUVERTHOUSTON.com
DO NOT DRESS TO IMPRESS!!
13711 ALMEDA SCHOOL RD



Click Here For Info


Official Queen of Bounce, Friends After Party 
Friday, July 7th @ Open Bar 2655 winrock 
Hosted by: Kilo, Monster Wit The Fade, 
Wild Boy Duggie & more
Free Parking, Free Pool table, 
Drink Specials all night, 
Charbroiled Oyster on the patio
discount admission with concert ticket stub 
Early bird ticket @ 
Queenfriendsafterparty.eventbrite.com
Wild Boy Duggie Indmix all night 
to reserve section call: 
504-915-1141 or 504-577-3999



Click Here For Info


YEMI ALADE 
LIVE IN CONCERT 
Ayva Center
9371 Richmond Ave
HOUSTON,TX 77063
SATURDAY JULY 8TH AYVA CENTER 
Singing all her hits "Johnny" "Tumbum" "Charlie" "Na Gode"

GET YOUR TICKETS NOW AT 
www.yemialadehouston.eventbrite.com 
 
MUSIC BY 
dj gq mike dj shinski mc mikolo
dj olapunch dj issar dj omu mc j.t



Click Here For Info


Blac Youngsta 
at Eastdown Warehouse
Sun, Jul 9, 2017, 8:00 PM 
Eastdown Warehouse
950 Hardy Street
Houston, Texas 77020



Click Here For Info


Click Here For Info


STAY READY CONFERENCE
SUNDAY, JULY 9TH, 2017
The Westin Galleria
5011 Westheimer Rd. Houston, TX 77056
Registration 9:30-11:30 am
Main Session 11:00am-3:00pm
Business VIP 4:00-6:00p

If you've always wanted the opportunity to get 
the real life Eric Thomas experience, 
now is your chance. ET will be at the 
Stay Ready Conference in Houston on July 9, 
joined by; Jeremy Anderson, Inky Johnson, 
and David Shands. 
Now is your time, are you READY?

REGISTER NOW!



Click Here For Info


PMIACC presents The All White Fashion Event 
is a vibrant collection of accessories and 
the go-to fashion industry event to discover classic 
and trend-driven brands and new and emerging designers. 
Exhibiting brands conduct business with their customers 
and new prospects from around the globe in a refined 
and upbeat environment, while giving retailers 
the opportunity to discover everything from 
the latest styles to updated classics.
Complimentary Beverages Sponsored by Budweiser 
Complimentary Food and Sweet Treats
DJ RISKK will provide the sounds for 
the All White Fashion Event.

Budweiser Tasting Room
775 Gellhorn Drive
Houston, TX 77029

Sun, July 9, 2017
4:00 PM – 7:00 PM



Click Here For Info


HBCU SOUTH BEACH
A REUNION WITH FRIENDS...
GIRLS WEEKEND/ GUYS GETAWAY/ GREEK REUNION
SWAC - CIAA - MEAC - SIAC
JULY 14-16th
PARTY PASS STARTS AT $199
5+ EVENTS, 1 PRICE, 1 WEEKEND
=CLICK THE FLYER TO SEE MORE=
http://www.hbcusouthbeach.com/



Click Here For Info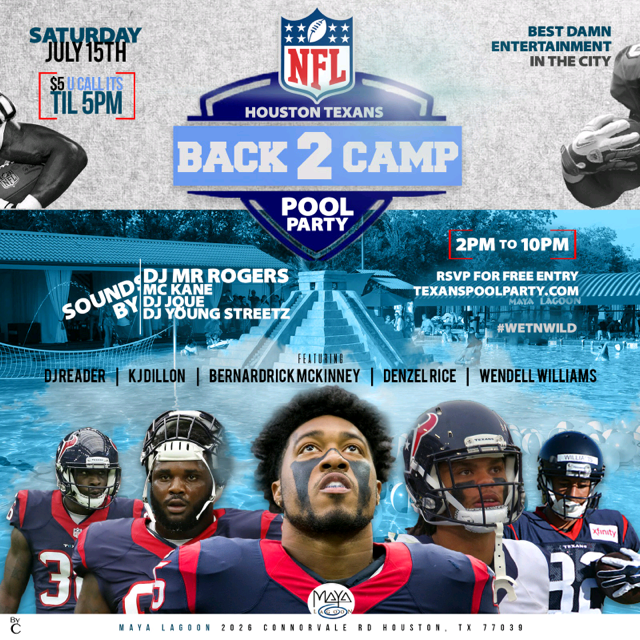 Click Here For Info


SATURDAY JULY 15TH 2017
2ND ANNUAL NFL CELEBRITY POOL PARTY
HOUSTON TEXANS BACK 2 CAMP EDITION
FEATURING: BERNADRICK MCKINNY | DJ READER 
KJ DILLION | DENZEL RICE | WENDELL WILLIAMS
SOUNDS BY: DJ MR ROGERS X MC KANE 
X 97.9 THE BOX DJ JQUE & DJ YOUNG STREETZ
$5 YOU CALL ITS UNTIL 5PM
EVERYONE FREE W/RSVP BEFORE 5PM
BEST DAMN ENTERTAINMENT IN THE CITY FROM 2-10PM
SECTIONS AND INFO: 832-289-4312
832-722-5482 / 832-338-3829



Click Here For Info


Going into the 4th year the Go Dj Awards 
is getting Bigger And Better. 
So we have decided to move to a 
Bigger And Better location MATCH, 
Midtown Arts & Theater Center Houston.



Click Here For Info