Click Here For Info


R&B TUESDAYS
at
GHOST BAR Houston
LADIES FREE ENTRY ALL NIGHT LONG
Playing The Best of Early 90'S,00'S & Current R&B
10pm-2am
With A Spalsh of TRAP/HIP-HOP Midnight - 2am
Doors Open at 10pm
Happy Hour From 10p-11:30pm w/ $2 Drinks
3105 Main St Houston 77002
SOUNDTRACK BY 93.7 THE BEAT'S DJ MR ROGERS & MC BEEZY
Tables & Section Reservations CALL OR TEXT 346.775.2455
https://randbhouston.eventbrite.com



Click Here For Info

---

Click Here For Info


Belle Station Tuesday Nights 
Playing the Best 90s & 2000s Hip Hop & R&B
All Night Long
Happy Hour 4-10pm 
$3 Vodka, Rose Champagne, Red Wine, And Frozens 4-7pm 
$5 Wells and $7 Premiums 4-10pm
Full Menu 
Late Night Industry Night 10-2am
$150 Bottle Specials 
DJ Henson // DJ Tony Styles // DJ Mr. Rogers 
No Cover All Night.


---

NACHO DADDY TUESDAYS
at The Address
$3 Fajita Tacos | $3 Mexican Cervezas | $3 Chips, Salsa & Guac
$4 Nachos | $5 Premium Tequilas | $5 Frozen PATRON
3333 Raleigh St.
No Cover All Night


---

Click Here For Info


www.TacoTuesdayPresents.com
DOORS OPEN 4P | TACO TUESDAY PRESENTS 
"TEQUILA N' TACOS" PVU ALUMNI HOMECOMING 2k19 EDITION
@ THE ALL NEW SEASIDE LOUNGE
FREE ENTRY ALL DAY & NIGHT!!!
***HAPPY HOUR 4-10P***
$5 DON JULIO + PATRON & PREMIUMS 
*** $2 TACOS & $5 MARGARITAS ALL NIGHT ***
FULL KITCHEN MENU OPTION AVALIABLE 
HOOKAH AVILIABLE | $200 LITER  BOTTLE SPECIALS 
97.9 THE BOX DJ YOUNG STREETZ & GO DJ BOBBY BANDZ INDMIX 
INFO: 281.915.8536 or 832.722.5482
702 WEST DALLAS


---

Click Here For Info


Taco Tuesday at Live Oak.
4pm-2am
No Cover
$2 Tacos All Night.
$5 U Call it's + $150 bottles before 10
$5 Frozens All Night.
18+ Women
21+ Men

Live Oak Lounge & Grill
2533 Southmore Boulevard
Houston, TX 77004

For Sections/Tables
713.259.5725
346.978.0755


---
---

Come check ou
@clubonyxhouston ‼️
HAPPY HOUR
(7-10pm)
$5 Cover
$5 Hennessy
$5 Patron
$5 Grey Goose & MORE
$2 BUD & BUD LIGHT
$5 Happy Hour Menu
Full Service Kitchen
#RoyalHookah #TheBestHookah #clubonyxhouston #onyxbeauties
#onyxgirls #houstontx #afterhours #happyhour


---
WEDNESDAY EVENTS
| SUN | | MON | TUE | WED | THUR | FRI | SAT | Coming Attractions |

Click Here For Info


KEVIN GATES LIVE
HOSTED BY DREKA GATES
Wed Nov 13th
The Address
3333 Raleigh Street
Houston, TX 77021
FOR QUESTIONS OR SECTIONS CALL 832-577-7501
WWW.GATESHTXAFTERPARTY.COM


---

Click Here For Info


Houston's #1  Wednesdays  Nightlife Destination
The Real Patio Vibe Chill On Wednesdays
Sounds By @Djmekzy & @Officialdjoreo 
Scratch And Win Prizes From 4pm To 9pm
Happy Hour From 4pm-9pm | $5 Premiums
Full H2O Kitchen Menu Available | Kurbside Tacos truck
$120 Veuve Clicquot | $150 Premium Bottle Specials till 12
Board Games | Zenga | Connect Four | Cards
FREE PARKING, FREE ENTRY
Reservations:Please call 832-298-6529 or text 346-401-8632   
It's H2O. 9277 Richmond Ave.
https://wowhtx.eventbrite.com



Click Here For Info

---

Click Here For Info


FREE ENTRY ALL NIGHT 
THE BEST FOOD, DRINK & HOOKAH SPECIALS IN THE CITY... PERIOD. 
ONLY 4 of 50 TABLES REMAINING. 
WEDNESDAY OCTOBER 2ND 2019 7PM-2AM 
NOSTALGIA GAME NIGHT/KICKBACK WEDNESDAYS 
AT SEASIDE LOUNGE CURATED BY @INFLUENCERSHTX
DRINK & FOOD SPECIALS

$3 DRINKS 7PM-11:30PM
$5 HENNESSY & FROZENS 11:30PM-2AM
$.50 CENT WINGS 7PM-2AM
$200 BOTTLES ALL-IN 7PM-2AM
GAME NIGHT ACTIVITIES
ARCADE GAMES, UNO CARDS, CONNECT 4, JENGA, 
DOMINOES, BEER PONG, CHECKERS, CHESS & MUCH MORE

BOOK NOW: TABLE TOPS, INSIDE SECTIONS, CABANAS, PATIO SECTIONS
FREE TABLE TOP & EXOTIC FLAVORED HOOKAH FOR GROUPS OF 4 OR MORE LADIES 
FOR MORE INFO OR SECTION RESERVATIONS 832.713.8404


---

Click Here For Info


Real R&B Wednesdays With A Taste Of Hip Hop For
25 & Up Socialites. Join Us For The
Best Social Hour In The City 6pm-2am.
@Bauhaus Ultra Lounge. 
Located At: 1803 Pease St.
For R&B Groove Comfort VIP Seating 
Contact 832.533.1117


---

FLIRT AFTER WORK WEDNESDAYS
at DBAR
(4409 Emancipation Ave)
5PM - 2AM
DJ GOODGRIEF + DJ JQUE
Full Kitchen | Hookah | Drink Specials
| $5 Patron | $7 Long Islands 
$6 Hennessy | $5 Crown | Hookah


---

All New "Forbidden Wednesdays" 
@EveHtx (4617 Nett St.) 
NO COVER ALL NIGHT 
@djmrrogers @djceewatts inDmix 
#EveOnWednesdays @eveonwednesdays
Enter at your own Risk


---
THURSDAY EVENTS
| SUN | | MON | TUE | WED | THUR | FRI | SAT | Coming Attractions |

InCrowd + DKB + Alife
presents
Therapy Thursdays
Each & Every Thursday
4105 Washington Ave


---

Click Here For Info


Tonight LIT Halloween Party At Seaside Thursdays 
Thousands In Cash & Prizes For Best Costume
$5 Any Drinks 7-11pm
FREE All Night 
832.330.6800


---

DIABO Thursdays 
at Diablo Loco
Ladies Free All Night
$3.50 Drinks 7p-11p
$4 Henny $4 Frozens
NFL Games


---

Thursdays at D Bar
$3 Drinks | $10 Hookah 
from 10p-Midnight
DJ HiC, J Black & MC Beezy inDmix
4409 Emancipation 
No Cover All Night


---

Waxaholic THURSDAYS
at Alley Kat
No Cover
3718 Main St


---

Click Here For Info


THE FRIDAY EXCHANGE 
Everyone Free All Night w/ Rsvp thefridayexchange.eventbrite.com 
@imdonniehouston | @micheleonair | 2 LEVELS 
TACOS & STEAK NIGHT | BEST OF 90'S vs. TODAY'S HIP HOP 
R&B | THE HITS. 
Doors open 9pm | 809 Congress St. 
@henkeandpillot #theFRIDAYexchange



Click Here For Info

---

Click Here For Info


ARISTOCRAT LIFE + GOODFELLAS presents
STADIUM FRIDAYS
at
SPIRE NIGHTCLUB
1720 Main St | Houston Texas | 77002
Houstons #1 Nightlife Destination
RSVP for Free Entry and Free Hennessy
Dresscode Strictly Enforced This Is Not Your Typically Friday Night
Dress Up or Miss Out
Bottle Service Is Highly Recommended
For Tables & Info Call/Text 713.459.9019
RSVP FOR FREE ENTRY at
http://www.stadiumfridays.com/


---

Houstons #1 Friday Happy Hour 
at THE ADDRESS
50 Cent Wings & $7 Henn From 4-9pm
832.330.6800 To Reserve Your Table


---

Click Here For Info


EACH & EVERY FRIDAY NIGHT!
#kaprifridays
10PM-2AM
KAPRI ULTRA LOUNGE
5718 Fairdale ln | Galleria Houston
SOUNDS BY THE HOTTEST DJS IN THE CITY
SPINNING THE BEST IN AN INTERNATIONAL ARRANGEMENT OF ELECTRIFYING SOUNDS!
RSVP FOR FREE ENTRY
STRICT DRESS CODE
NO BALL CAPS, NO SHORTS, NO TENNIS SHOES
NO LOOSE FITTED APPAREL
FREE PARKING + VALET PARKING AVAILABLE
FOR INFO / TABLE RESERVATION / BOTTLE SERVICES PLEASE CALL
281.804.2597
+++SECTIONS WILL SELL OUT+++


---

Click Here For Info


EAT. DRINK. DANCE. SOCILAIZE. HOOKAH
10.11 | 4-2A | LATE NIGHT PARTY 9-2A
THE RETURN OF "THE OAK ON FRIDAYS" 
@ THE ALL NEW RENOVATED LIVE OAK LOUNGE & BAR
FREE ENTRY ALL DAY & NIGHT!!!!
4-9P FOOD & DRINKS HAPPY HOUR
1/2 OfF Apps

Eggrolls
Onion Rings | Boudin Balls | $10 Cheese Burger Basket w/Fries 
$20 Wing Party Pack

DRINKS
$5 U Calls | $7 Premiums | $5 Frozen Ritas ALL NIGHT
$15 Hookahs**


SOUNDS BY
DJ CEE WATTS | GO DJ BOBBY BANDZ | MC HOLLYWOOD MED
BEST OF THE 90s & EARLY 2000s HAPPY HOUR MIX 
w/ DJ CEE WATTS + LATE NIGHT PARTY w/ GO DJ BOBBY BANDZ & MC HOLLYWOOD MED

DINING TABLES ARE FREE, FIRST COME FIRST SERVE.
VIP SECTION BOTTLE SERVICE SPECIAL: 
RECEIVE ONE FREE BOTTLE OF CHAMPAGNE 
with THE PURCHASE OF A LIQUOR BOTTLE & ALL GUEST ARE FREE.

VIP BIRTHDAY SECTION CELEBRATION SPECIAL: 
RECEIVE ONE FREE BOTTLE OF CHAMPAGNE with THE PURCHASE OF A LIQUOR BOTTLE
1 FREE BIRTHDAY FLYER | 1 FREE BIRTHDAY CAKE
SPECIAL BOTTLE PRESENTATION & ALL GUEST ARE FREE.

VIP TABLES & INFO: 281.915.8536



Click Here For Info

---

The coalition 
present 
Black and Purple 
Brothers of Omega Psi Phi 
The Roof Restaurant & Lounge Sugar land
DJ 8pm- 2am
Table Reservations and RSVP 832-259-9988


---
---

Click Here For Info


Ghost Fridays 
Free All Night 
+ 75cent Drinks Till 11pm 
Kiotti & Cee Watts Indmix 
Text 832-577-7501 For A Free Section Now



Click Here For Info

---

Click Here For Info


You're invited to 
The All New Space Nightclub in Midtown.
DJ Mr. Rogers and Mc Beezy indmix
9-2am
FREE WITH RSVP


---

THE PREGAME CRUE PRESENTS
SEASIDE FRIDAY NIGHT 
FOR SECTIONS CALL 713.259.5725
You're invited to 
Seaside Friday Night
$5 Happy Hour & Dinner 4-10pm
Full Seafood Menu, Hookah, Late Night Kitchen & More
Never a Cover
Free All Night


---

Hennessy & Hookah Fridays. 
All chill vibes on a Friday 
With @chukkyp Official Birthday Fireworks Party
Dj Alo, Dj Take0va, LarryGBeats, McMoSwagg 
Free entry, free parking, free section
Happy Hour 4-8 $5 Premiums
$150 Hennessy before 12
$120 Vueve Cliquot all night

Reservations:Text 346-401-8632 
https://hennyhookah.com OR   https://bookh2o.com  
www.h2osportsbar.com @h2osportsbar  


---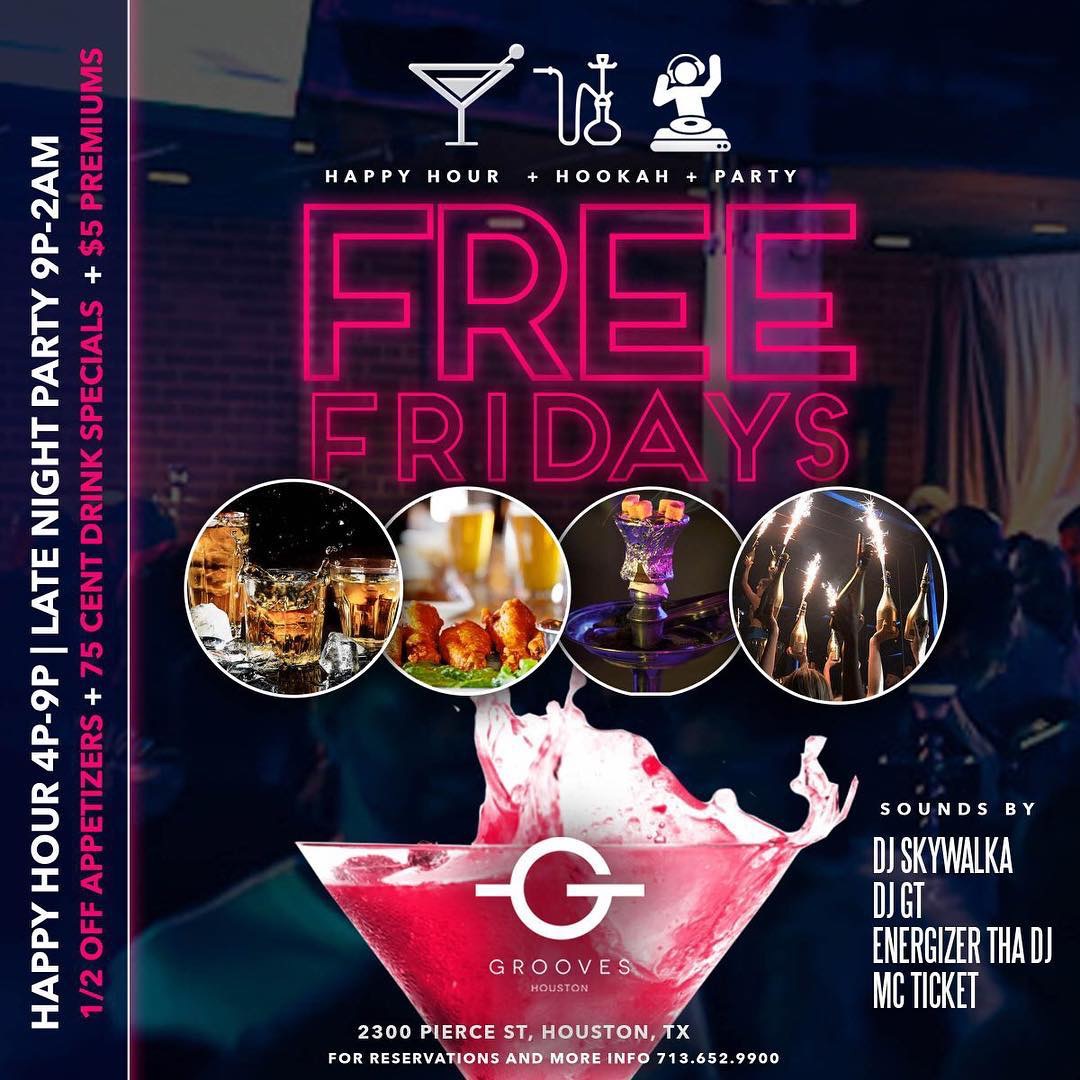 FREE FRIDAYS at GROOVES 
(2300 PIERCE ST.)
EVERYONE FREE ALL NIGHT
HOUSTON'S BEST HAPPY HOUR
.75c DRINK SPECIALS
$5 PREMIUMS
1/2 OFF APPETIZERS
W/ DJ GT, ENERGIZER THA DJ, 
STARR SKYWALKA & MORE INDMIX
FOR TABLES/INFO 713.652.9900


---

Click Here For Info


DIOR SATURDAYS
FREE ENTRY TILL 11pm
(Guest List see number below)
DOORS OPEN: 10:00 PM
CLICK HERE FOR FREE TICKETS NOW!
For Section Reservations / Bottle Service
TEXT/CALL 713.459.9019 For sections or to get on my guestlist till 11:30pm
For the sophisticated, stylish, energetic 
and strictly for social jet setters 
and exceptional taste makers. Influencers.



Click Here For Info

---

Click Here For Info


THE RETURN OF SATURDAY NIGHT LIVE 
AT SEASIDE LOUNGE
GOOD VIBES + SIGNATURE DRINKS + ARCADES + PATIO BAR
DJ J Que & DJ Hefna inDmix
NO Cover All Night
702 W Dallas St
For Tables & Info Call/Text 713.459.9019



Click Here For Info

---

Click Here For Info


www.DaytoxPresents.com
3P UNTIL | DAYTOX PRESENTS
SATurDAZED DAY PARTY w/ DJ MR ROGERS 
@ THE ADDRESS 
FREE ENTRY EVENT TIL 10P
HAPPY HOUR FOOD & DRINK SPECIALS 3-8P
$5 WELLS | $5 FROZEN RITAS | $7 PREMIUMS | $8 HENNY RITAS
1/2 OFF BAR BITES (selected items)
HOOKAH
SOUNDS BY DJ MR ROGERS | BOBBY BANDZ | D WELLS | MC MAJOR

___ 

10-2A | UPTOWN SATURDAY NIGHTS PRESENTS
PVU OFFICIAL HOMECOMING ALUMNI 2k19 AFTERPARTY 
+
THE SHOW PROVIDED BY DJ JQUE | MC BEEZY | DJ YOUNG STREETZ
LADIES FREE TIL MIDNIGHT
MEN FREE TIL 10P
FULL KITCHEN MENU (try the grilled wings & shrimp)
HOOKAH
VIP TABLES & INFO:
Text or Call - 832.379.9194


---

Click Here For Info


LOVE/HATE Saturdays
Spinning The Best of Classic Hip Hop & R&B
Classy Adult Playground for Houston's discerning socialites
at Belvedere Uptown Park
1131-01 Uptown Park Blvd #310, Houston, TX 77056
DJ GT inDmix
No Cover | Free Parking | Hookah 
Discounted Bottle Service till 11:30
Food On The Patio
Mature Audience
For Info/Table Reservation >> 713.459.9019 or 281.995.3311
RSVP & Book Tables >> http://lovehatehtx.eventbrite.com
$260 Bottles before 11:30pm [Crown, Vodkas, Rose Moet, Hennessy]
$320 Bottles After 11:30p [Crown, Vodkas, Rose Moet, Hennessy]
$360 Bottles All Night VSOP, Patron, Don Julio
$180 Moet White Star


---

Click Here For Info


Baddie Champagne Brunch & Day Party
12-3/3-9 DJ'S From 12 Noon
DJ MAIYA PAPAYA, DJ YOUNGSTREET, DJ TOXIQ, DJ DR MCDANIELS
Brunch Menu 12-3PM
Complimentary Mimosa till 1pm
Happy Hour 12noon-9pm $5 frozen, $5 Premiums, $2 
$150 Hennessy, Ciroc, Moet, Patron, Don Julio Bottles till 8pm
$120 Vueve Cliquot Special
Brunch Reservation, Bottle Service & Celebration Info: 346-401-8632
@planbhtx #planbhtx #planbsaturdays
Full H2O Kitchen Menu Available | Kurbside Tacos truck
9277 Richmond Ave

-----------------------------

SOLD OUT SIGNATURE SATURDAYS
Vibes by DJ COOK, MC DMOSWAGG
$150 Hennessy Bottles before Midnight
Free Parking, No Cover.
Reservations: CALL 832-298-6529,  TEXT 346-401-8632



Click Here For Info

---

Click Here For Info


Brunch & Bullshit is the all new Saturday Brunch series 
in Houston at The Seaside Lounge featuring your favorite beats 
in an environment with a crazy vibe. 
Enjoy brunch from 11am -5pm and a Day Party from 5pm-9pm.

Come enjoy some of our signature dishes including: 
Shrimp & Grits, grilled salmon & cheese grits, 
chicken and waffles anong many other amazing seafood based options.

Be one of the first to try one of our unique spins 
on mimosas or one of our other signature cocktails.

Seaside Lounge
702 W Dallas St
Houston, TX 77019
11am-5pm
http://www.gotbrunch.com


---

Click Here For Info


VIBE SATURDAYS
EARLY ARRIVAL HIGHLY SUGGESTED !!!!!!
HOOKAH
GO DJ HI C AND MJ MAJOR PROVIDING THE SOUNDS
SECTION RESERVATIONS CALL/TXT 832-577-7501

VENUE INFORMATION
VIP Accommodations
Hottest DJs In The Country
Valet Service
Strong Drinks
Great People

VIBE SATURDAYS DRESS CODE
Kapri Ultra Lounge
VIBE Saturdays Ladies Night
5718 Fairdale


---

STORY ULTRA LOUNGE
DO YOU SATURDAYS

HAPPY HOUR & NIGHT PARTY
FOR THE GROWN & SEXY/25+
@ STORY ULTRA LOUNGE
3302 MERCER ST.
HAPPY HOUR / 6pm-10pm
LATE PARTY/ 10pm-2am
—————————————————
Free Entry | Free Parking | Flavored Hookah | Great Drink Prices | Happy Hour SPECIALS
FOOD FIEND on the patio & Food truck  by: Kado
$125 (happy hour)
$150 (after 10pm)
$5 Hennessy & CIROC ( happy hour)
$5 CROWN APPLE ( happy hour)
$2 SHOTS(PURPLE STUFF)happy hour
$10 HOOKAH ( $15 after 10pm)
FOR TABLE RESERVATION/BOTTLE SRVS
EMAIL PREMIERPROMOINC@GMAIL.COM
Or call 281-733-4525 | 832-660-2111
SOUNDS POWERED BY @mcticket &
@djstarskywalka @djdnice SPINNING THE LATEST IN HIP HOP AND R&B


---

Click Here


SUITE 2300 SATURDAYS
at GROOVES
$5 Premiums All Night Long
UH vs PVAMU Alumni After Party
No Cover All Night w/RSVP 
Book Your Free Party Section


---

Click Here


Old School and Rare hip-hop/soul 
with DJ Burb, DJ Nimbus and MC MistaGoodBar. 
Expect all of the underground gems 
from the Golden Era of Hip Hop!
No dress code.... no cover
November 9th
3pm-11pm at Martini 
Martini Bar and Cigar
(5104 Almeda Rd, Houston, Texas)


---

Click Here For Info


GHOSTSATURDAYS.EVENTBRITE.COM
ARISTOCRAT LIFE + BGE + GOODFELLAS presents
GHOSTBAR SATURDAYS
3105 Main St | Houston Texas | 77002
Houstons Newest Nightlife Destination
RSVP for Free Entry
Dresscode: FLY SH*T ONLY
Bottle Service Is Highly Recommended
For Tables & Info Call/Text 713.459.9019
RSVP FOR FREE ENTRY
GHOSTSATURDAYS.EVENTBRITE.COM


---

Click Here For Info

---
---