THURSDAY EVENTS
| SUN | | MON | TUE | WED | THUR | FRI | SAT | Coming Attractions |

Click Here for more info


THURSDAYS at 5th
Some parties need hosts. Some need gimmicks. 
The only thing this party needs is you.
Sounds by DJ Streetz & DJ Mr Rogers
5th Amendment
No cover.  Admission is based on attire and attitude.  
Preference is shown to bottle service patrons, 
guest list, and beautiful people.  
To get on the gust list RSVP at http://713vip.com/5th.
2900 Travis Midtown Houston | 281.515.1550 | 5thamendmentbar.com


TheBlackAristocrats Host 5th Amendment from HENRY ADEGBITE on Vimeo.
---

#TakeovaThursdays at Uptown Hookah Bar  
5706 Richmond Ave
For the grown and sexy crowd. 
Come out and enjoy good music, food, Hookah, and drinks all nite long.
FULL FOOD MENU ALL NITE LONG.
OVER 50 DIFFERENT FLAVORED HOOKAHS WITH ALCOHOL BASED.
$5 MARGARITAS ON THE ROCKS ALL NITE.
FREE PARKING
Birthday bash for @missciara25 hosted by @vanitytharealist and @model_kiki 
$5 Grey Goose L'melon martinis and melonballs 
$99 bottles of bellaire Rose $12 steaks from 8-10 
sounds by @mrrichlife and @thebestdjinhouston 
for info and sections Call 832.286.2098



---

Click Here

---

EACH AND EVERY THURSDAY
$2 Tequilla | $2 Tacos
SOCIAL JUNKIE SPORTSBAR AND GRILL
YOUR NFL
FOOTBALL
HEADQUARTERS
2412 Washington Ave | www.socialjunkiesportsbar.com | 281.826.9244


---

Click Here

---

Click Here


.:: The Monsters Ball ::.
THE ULTIMATE HALLOWEEN COSTUME PARTY!
FRIDAY - OCTOBER 31
@ Social Junkie - 2412 WASHINGTON AVE
Sounds by DJ YoungStreetz 
Costumes are NOT Mandatory, But HIGHLY SUGGESTED!
EVERYONE FREE TILL 11PM W/ RSVP!
www.monstersballsocial.eventbrite.com
$500 Best Costume Contest! $500 Best Costume Contest!
FOR MORE INFORMATION: 832.752.2196


---

Click Here


97.9 THE BOX | LIL KEITH | BAR GUARANTEE | URBAN NITES
present
BAMBOU FRIDAYS
at BAMBOU (2540 UNIVERSITY)
THIS FRIDAY OCTOBER 31ST
$1200 COSTUME CONTEST
EVERYONE NO COVER TIL 11:00 WITH RSVP
www.BambouFridays.com
DOORS OPEN AT 9PM
97 CENT DRINKS TIL 11PM
HIC & MC KANE IN THE MIX
DRESS CODE: WILL BE ENFORCED
FOOD & HOOKAHS ON THE PATIO
CALL NOW AND BOOK YOUR VIP SECTIONS
832.330.6800 or 832.722.5482



Click Here

---
---

Click Here


FORGE FRIDAYS
at FISH & THE KNIFE
10-2a! 
NO COVER b4 11 w/RSVP!
(7801 Westheimer Rd) 
For Sections/Reservations Call 713.259.5725


---

Click Here For Info


D.h! | Shades Simplicated Mktg | Nkem of Emagine That Ent | Mr. TC
Present
++THE INT'L AFFAIR++
EACH & EVERY FRIDAY NIGHT!
10PM-2AM
BELVEDERE PREMIUM LOUNGE
1131-01 UPTOWN PARK BLVD
UPSCALE EVENT FOR HOUSTON'S CULTURAL ELITE!
DJ SHINSKI + DJ OCEAN ON THE PATIO + MC MIKOLO on the mic
SPINNING THE BEST IN AN INTERNATIONAL ARRANGEMENT OF ELECTRIFYING SOUNDS
RSVP HERE FOR COMPLIMENTARY ADMISSION TILL 11PM
http://intlbelve.eventbrite.com/
OR TEXT "BELVE" TO 281.804.2597 
WINGS & FRIES ON THE PATIO!
STRICT DRESS CODE
NO SHORTS . NO BALL CAPS . NO TENNIS SHOES
ENTRY PROVIDED AT DOORMANíS discretion
FREE PARKING + VALET PARKING AVAILABLE
FOR MORE INFO / TABLE RESERVATION / BOTTLE SERVICES PLEASE CALL
281.804.2597 OR 281.312.9175


INT'L Affair at Belvedere aka #BelveFridays the movie! from Dh Muoneke on Vimeo.
---

Free Fridays & Houston Best HH
Free All Night
4-9pm
$5 U Call Its
75 cents drink special
1/2 off appetizers
DJ Skywalker, DJ GT, MC Ticket inDmix


---

Click Here


Diplomatz Marketing Group presents
The Sanitarium 
"Haunted Rooftop Costume Party"
Friday October 31st 
2707 MILAM ST | HOUSTON, TX 77006
Costumes Are Mandatory 
$500 COSTUME CONTEST
Dj Streetz & Go Mc Major Indmix
Free Entry w/ RSVP
www.HOUSTONSANITARIUM.COM
FOR SECTION/INFO 832-715-0192 OR 832-289-4312


---

Click Here


The All New Sugarhill Social Hour: 
Each & Every Friday
Sophisticated Vibe. Decadent Decor. Temptous Libations.
Sugarhill Lounge
2533 Southmoore
Houston, TX 77004
Houston's Premier Upscale Bar & Lounge nestled in the heart 
of the newly renovated 3rd Ward Area. 
Its alluring style and captivating ambiance will provide 
and ideal haven for socializing with specially curated 
live music and DJs



Click Here

---

ALL NEW FRIDAYS AT "THE MANSION" Nightclub 
Book your Party  Now!!! 
Grand Opening #FRIDAY  #OCTOBER31 #HALLOWEENNIGHT 
It's The #THEHAUNTEDMANSION 
#HalloweenParty The #Sexiest  #Party in #Houston 
CA$H PRIZE #CostumeContest  
#DrinkSpecials All Night! 
Hosted by some the Sexiest Ladies in the City... 
COSTUMES PREFERD BUT NOT MANDATORY!!! 
Must Be 21~ 
Dress Code Strictly Enforced 
EVERYONE FREE BEFORE 10pm
2901 Fannin 77002
#MansionFridays #TheMansionFridays Fwd:#GoodLifeEnt 
#GoodLifeEntertainment #PowerPlaysEnt #HoustonTX 
#Htown #HoustonMidtown 
For more info: 2819434405


---
---
---

Click Here


FRIDAYS @ GHOST BAR 
9p-2am
NO COVER ALL NIGHT
REVERSE HAPPY HOUR 9-11pm w/ $5 you call its
$100 Rose bottles
$150 Ciroc and other premium bottles
DJ HEFNA live
Hookah + Food on the patio
Dress Code Enforced
Valet Parking available
FOR TABLES/BOTTLE SERVICE TEXT/CALL: 832.372.2664 or 832.758.1567
 

---
---
---

Mr_Janice & The Family | 3rd Ward Party District 
Present
Faces On Fridays
Free All Night
5104 Almeda Road, 
Happy Hour $1 Drinks & $5 Hen, Grey G. , Crown & ALL CIROC's from 7pm-10pm
DJ DeBanair  InDmix
832-291-8915 or 713-999-9098


---

Salsa St. Station & Alex Brazil Present: 
Kareoke Night 
at Prospect Park 
3100 Fountainview | Houston TX 77057
Kareoke Night 
Sing the Night Away 
Happy Hour 4pm - 8pm
$4 Fireballs All Night
Brazil vs Colombia 
6:30pm
LD Dance Comp Samba Show
DJ Ill-Set 
Colombian DJ Queen 
Mais Batucada e Sambistas Alem Da Caipirinha e Margarita 
Aguardiente
Colombian Drummers 
No Cover | Hookah Bar | Delicious Food 


---


BIG CHAD CHIZZLE | C.A.F | THE ENTIRE SOUTHWEST 
presents:
CHEERS Fridays
**WHERE EVERYBODY KNOWS YOUR NAME** 
EVERYONE FREE TIL 8pm
WITH DJ GOOD GRIEF 


---

Click Here

---

Click Here

---

Click Here

---

Click Here

---

Click here


Venue Reloaded  
The New Saturday Night Experience at Venue
(719 Main @ Rusk)
Dj Mr Rogers inDmix  
For Bottle Service/Info: 832.512.6515 
 

---

Click here


Saturdays @ Elan Lounge at New Location 
at Club Dekan
(4500 washington ave)
rsvp for No Cover 
www.elansaturdays.com
reverse happy hour
Five Dollar U call its Before 11pm
All Flavor Hookah Available
Go DJ Hi-C indmix
rsvp for No Cover 
www.elansaturdays.com
Please consider Bottle Service and Early Arrival as a Means
to Guarantee a Great Experience
For Bottle Service, Call or Text:
832.379.9194


---

The Mosaic Bar & Lounge Presents:
Saturday Night Live
at Mosaic Bar and Lounge
5927 Almeda Road, Ste 190K | Houston TX 77004
Live Band at 8pm - T-Ray the Violinist
DJ Dame Hype & DJ B Love InDmix
Boss Life Cigars ~ Selling All Flavors
No Cover All Night 

The Official TSU Alumni After Party   
The Polo Club Reunion 
"School Daze Edition"
CALLING OUT ALL GREEKS & NON GREEKS
The Mosaic Bar & Lounge 
For Comfort Seating Or Bottle Service
Contact 832-533-1117


---

Click Here


Live House | Project Zero Ent Present:
Hudson Saturdays  
at Hudson Lounge
2506 RobinHood
A New Era in Upscale Nightlife
Music by 
DJ Aggravated | DJ Def Jam Blaster
Dress Code Enforced
Doors Open 9pm - 2am
Rsvp for No Cover b4 11pm:
www.HudsonSaturdays.com
For Info & Reservations, Call 713.259.5725


---

Click Here


NOV 1ST | DMG SATURDAYS
@
CLUB EMPIRE PRESENTS:
THE PINEY WOOD CLASSIC AFTERPARTY 
NIGHTLIFE SOCIALIST MOLLY FAREWELL PARTY  
HOSTED BY SHSU & SFA ALUMNI |
FOR SECTIONS & INFO 832-715-0192 |
COME EXPERIENCE AN EXPERIENCE!


---

Each and Every Saturday
SOHO Saturday @ Libra Lounge  
9880 buffalo speedway 
No Cover
Free Parking 
Great drinks
$100 bottle Specials & FOOD By SUTTONS BBQ
Hookahs  and Cigars On The Patio
Bday Party and All your Events 
call for Section  832 259 9988 or 832-6066-4592 
Hosted by Andre Stelly, Jay Lang and Jankyjoe 


---

Mr. Starr Struck | T-City | Richboy Romello Present:
Saturday Night @ Nick's 
at Nick's Lounge 
324 FM 1960 East - North Houston
Houston's Ultimate Saturday Night Experience
Sounds By GO DJ T.A.Z
Dress Code Enforced
Doors Open 9PM-2AM
For Info & Reservations, call 832.368.8043
Erick V. Whitaker Sr.
Starr Struck Entertainment
832.368.8043
Email: starrstuckentertainment@yahoo.com
Twitter/Instagram: @MrStarrStruck


---

Click Here


CELEBRATION SATURDAYS at GROOVES
(2300 PIERCE)
EVERYONE FREE TIL 11 with RSVP
WWW.GROOVESONSATURDAYS.COM
DOORS OPEN AT 8PM
FREE DINNER PARTIES, BIRTHDAYS, ANNIVERSARIES, CELEBRATIONS
75 CENT DRINKS FROM 8-11PM
W/ KARAOKE 
GREAT FOOD WITH FULL KITCHEN OPEN
LATE NIGHT PARTY
WITH GO DJ HI-C IN THE MIX
FROM 11-2AM
SECTIONS ARE $250 COMES WITH BOTTLE, 10 PEOPLE FREE
CALL NOW AND BOOK YOUR FREE PARTIES
DINNER PARTY, BIRTHDAY, ANNIVERSARY, CELEBRATIONS FREE TABLES
713-235-0156


---

THE VOID HAS BEEN FILLED ON SATURDAY NIGHTS 
EPIC 22 LOUNGE &97.9 Present 
PATCH SATURDAYS 
@ EPIC 22 LOUNGE 3000 BLODGETT 
WE'RE PATCHING THE GAP IN YOUR SATURDAY NIGHT LIFE! 
here you'll find An ADULT ATMOSPHERE ENJOY THE LIVE REMOTE 
W/ 97.9 THE BOX HOSTED BY 97.9 THE BOX'S OWN JJ WITH DJ D-NICE 
Authentic CAJUN FOOD OFFERINGS ON THE PATIO


---
---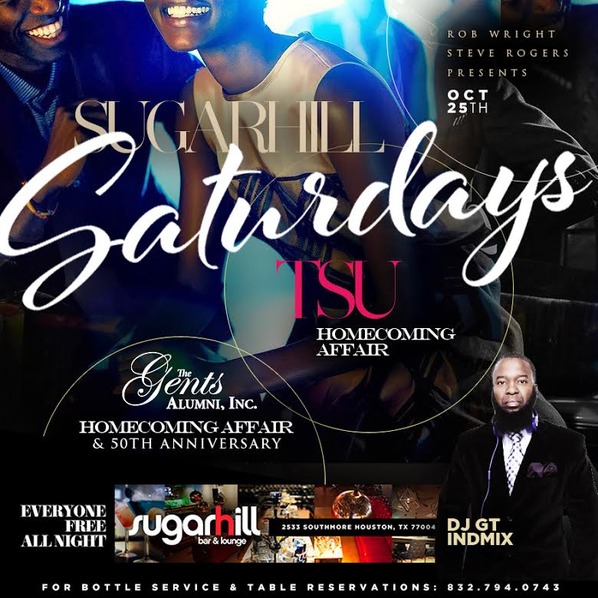 SugarHill Saturdays
Doors Open 9pm - 2am
Ladies No Cover All Night 
Featuring GT InDmix
Dress Code In Force:
No Caps, Shorts, Sneakers Etc.


---
---

SATURDAYS @ #SocialJunkie
COLLEGE FOOTBALL
:: BEERS N' BURGERS:: 
SOCIAL JUNKIE SPORTS BAR & GRILL
2412 Washington Ave | www.socialjunkiesportsbar.com | For Tables and Cabanas 281.826.9244
#SocialJunkie 


---

Click Here

---