WEDNESDAY EVENTS
| SUN | | MON | TUE | WED | THUR | FRI | SAT | Coming Attractions |

Click Here For Info


**ALL LADIES FREE UNTIL 10PM WITH RSVP** 
Men Free Until 9pm With Rsvp Click Link Below 
> https://soulwednesdaysatthebeverly.eventbrite.com
I Feel Good Wednesdays @Super The Beverly Lounge 
2401 San Jacinto St.  
DEF JAM BLASTER "Giving You That Music Soul Flavor"
Doors Open At 8pm-2am
Food On The Patio
We Are Bringing Class & Real Music Back To Night Life!
For Comfort Seating Or Birthday Bookings Contact 832.533.1117
#GoodVibes #GoodMusic #GoodPeople #BeverlyWednesdays


---

Click Here For Info


Join us for our product launch party 
at The Alley Kat Bar & Lounge 
on Wednesday, April 18, 2018. 
Food and drinks specials ae available.
5p-10p
3718 Main St.



---

#AddressWednesdays at @theaddresshtx 
3333 Raleigh St | Doors Open 4pm til 12pm 
@979thebox & @hardbodykiotti Broadcasting Live 
Everybody FREE ALL NIGHT 
#Crablegs + #CrawFish 🍸$5 #Margaritas 
+ $45 #MargaritaPitchers • #Hookahs
FREE Valet Parking Available
#Karaoke w/ @ladybgproductions + @moneymakinboom
Late Night Party w/ @djgoldlight 
+ #979Thebox @djyoungstreetz #PartyOnThePatio
@eric_spivey @moneymakinboom @kwandadon @barlow1000 
Call Now 832 258.7851


---
---

Wing Night Wednesdays
$0.50 Cent Wings Till 10p
No Cover All Night
3100 Fountain View


---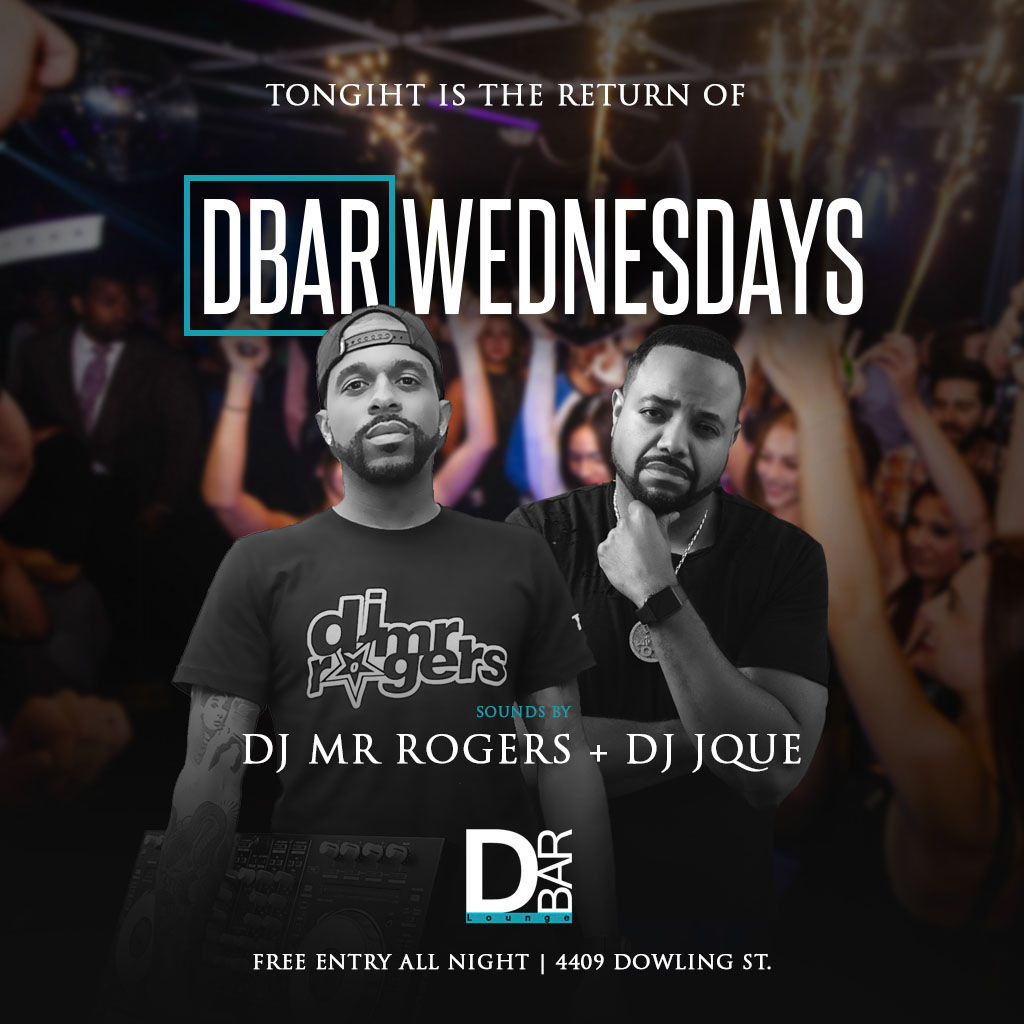 DBAR WEDNESDAYS 
RELOADED
@
DBAR
(4409 Dowling)
W/ DJ MR. ROGERS & J-QUE INDMIX
Happy Hour 9-10p
Late Night Party 9p-2a
$10 Hookahs
Doors Open at 7p


---
---
---
THURSDAY EVENTS
| SUN | | MON | TUE | WED | THUR | FRI | SAT | Coming Attractions |

Click Here For Info


TASTE BITES FROM THE BEST HOUSTON CATERERS & CHEFS
Black Restaurant Week cordially invites you to NOSH, 
our third annual culinary showcase featuring 
Houston's premiere Black chefs, caterers and bartenders! 
Dive into the African diaspora and tantalize 
your taste buds with flavors 
of African, African-American, and Caribbean cuisine.

From spicy and savory, to sweet and subtle, 
we will have an array of options suited for every taste. 
Vegetarian or Vegan? No problem! 
Take the guess work out of finding your next event caterer, 
wedding-cake vendor, or meal-prep service. 
All we need you to do is have a great time! 
Oh, and don't forget to vote 
your favorite for the People's Choice Award. 
We can't wait to see you there!

FEATURES:
Savory, Sweet, and Vegan Sampling Stations
Martell Cognac Sampling
Live Cooking Demonstrations
People's Choice Best Bite Competition presented by Verizon
Power of the Palate Bartender Competition presented by Martell
Complimentary Valet
Must be 21+ over to attend.


---

Thursdays at JET
JET LOUNGE
(1515 PEASE ST.)
W/ DJ MR. ROGERS + DJ J QUE INDMIX 
Best of 90's & 2000's hip hop R&B
Complimentary Chef Greg Buffet 
and $2 Drinks 10-11pm 


---

No BaD ViBeS THURSDAYS 
FREE ENTRY ALL NIGHT w/ RSVP!!!
The Boulevardier(upstairs)
410 Main Street
HOUSTONTHURSDAYS.COM
VIBE TIME : 9PM-2AM
For Reservation / Bottle Service
TEXT/CALL (713)-306-5799


---

Click Here For Info


No cover for ladies all night
Men no cover until 10pm with Eventbrite ticket 
from diablothursdays.com - $10 cover for men after 10pm

Crawfish specials
Wing specials
$3.50 DRINKS 7-11pm
diablothursdays.com


---
---

Waxaholic THURSDAYS
at Alley Kat
No Cover
3718 Main St


---
---
---

Click Here For Info


MERCY NIGHTCLUB 
1505 Saint Emmanuel St 
Houston Texas | 77002
Houstons #1 Nightlife Destination
RSVP for Free Entry
Dresscode Strictly Enforced This Is Not Your 
Typically Friday Night Dress Up or Miss Out
Bottle Service Is Highly Recommended
832.512.6515
mercyfriday.eventbrite.com
@AristocratLife


---

Click Here For Info


Join us as we embrace the The Next Step 
in Houston's Elite Nightlife Experience 
where Refined Art meets elegant technology 
in a hi-energy space ignited by state-of-the-art 
sound and lighting systems, secluded alcoves, 
Large Turn-Up Sectionals, Stage, Glitz, Glamour and More.... 
Its LIT...Aura Friday Nights! 
High Def Audio By resident DJ Mr Rogers, Mc Beezy & More 
Dress To Impress. 
NO REFUNDS ON PAID TABLES For VIP/Table Reservations, 
Bottle Service, Groups or Large Parties... 
Call/Text 713.259.5725 

AURA NIGHTCLUB 
4701 NETT ST 
Houston, TX 77007


---

Click Here For Info


ROSE GOLD FRIDAYS
at ROSE GOLD COCKTAIL DEN
2301 Main St
RSVP For No Cover All Night
DJ J Que & DJ Q Holic
9pm-2am
www.ROSEGOLDFRIDAYS.com


---

Click Here For Info


Friday, April 13th
10PM - 2AM
PLAE Houston Nightclub
3704 Fannin St
Houston, TX 77004
Houston's newest Plaeground…

FREE ENTRY TIL 11:30 W/RSVP 
at https://www.eventbrite.com/e/finesse-fridays-at-plae-tickets-44964657501
$5 FOREPLAE DRINKS TIL MIDNIGHT!!
Sounds by DJ Tat Tat & MC County Cowboyy!
Birthday Celebration #2 for Tammie The Tiger!!
Afterparty at Harlem Knights!!
Section & Bottle Service Highly Recommended
Reserve Online at www.plaehouston.com or Call/Text 281.638.8199


---

Today the Ultimate Destination is @theaddresshtx 
...Come out and enjoy $5 Frozen's, 
Premiums and  @dussecognac
3333 Raleigh St
Sounds by @djaggravatedhh
#cognac #happyhour #fridays #theaddresshtx 
#adultplayground #oldschool #90s #hiphop #rnb


---

Friday April 20th
Grand Opening
1014 Hookah Lounge
1014 St Emmanuel
5pm-3am
DJ Alo inDmix


---

Click Here For Info


D.h! | Shades Simplicated Mktg | Nkem of Emagine That Ent | Mr. TC
Present
++THE INT'L AFFAIR++
EACH & EVERY FRIDAY NIGHT!
10PM-2AM
BELVEDERE PREMIUM LOUNGE
1131-01 UPTOWN PARK BLVD
UPSCALE EVENT FOR HOUSTON'S CULTURAL ELITE!
DJ SHINSKI + DJ OCEAN ON THE PATIO + MC MIKOLO on the mic
SPINNING THE BEST IN AN INTERNATIONAL ARRANGEMENT OF ELECTRIFYING SOUNDS
RSVP HERE FOR COMPLIMENTARY ADMISSION TILL 11PM
http://intlbelve.eventbrite.com/
OR TEXT "BELVE" TO 281.804.2597 
WINGS & FRIES ON THE PATIO!
STRICT DRESS CODE
NO SHORTS . NO BALL CAPS . NO TENNIS SHOES
ENTRY PROVIDED AT DOORMANíS discretion
FREE PARKING + VALET PARKING AVAILABLE
FOR MORE INFO / TABLE RESERVATION / BOTTLE SERVICES PLEASE CALL
281.804.2597 OR 281.312.9175


---
---

Click Here For Info


THE PREMIERE OF THE ALL NEW MYNT FRIDAYS 
"WHERE CLASS MEETS SEXY"
MyntFridays @ Mynt (202 Tuam St)
BRINGING SEXY BACK TO FRIDAY NIGHTS
UPSCALE ATTIRE REQUIRED
Complimentary Admission @ MyntFridays.Com
Food And Hookah Service On The Patio
Sounds Provided By 97.9 The Box GO DJ Hi-C
Dress Code Strictly Enforced
Bottle Service & Celebration Info: 832-265-8192


---

Click Here For Info


The NEW Friday Night Experience In Midtown 
"PROOFTOP FRIDAYS @ PROOF" 
ENERGY.STYLE.ENTHUSIASM | $5 DRINKS HAPPY HOUR 9-11:30P
COME MIX.MINGLE.DRINK.EAT.PLAY
COMPLIMENTARY PASTA & WINGS 9-11P
DJ MCDANIELS & GO MC MAJOR & DJ DEBONAIR 
EVERYBODY FREE ALL NIGHT WITH RSVP!!!
INDOOR/OUTDOOR ROOFTOP PARTY
HEATERS & FIRE PITS ON THE PATIO
Hookah & Cuisine On The Patio
Dress Code Enforced


---

Click Here For Info


FRIDAY AFTER HOURS @ HABIBI HOOKAH LOUNGE
FRIDAY AFTER DARK (AFTER HOURS) 
OPEN TILL 4:30AM
$15 HOOKAHS ALL NIGHTS | FOOD SERVED ON PATIO 
2727 Fondren (Fondren & Westheimer)
FOR INFO TEXT 832.338.3829


---

FRIDAY NIGHT LIVE
@
LIVE OAK
(2533 SOUTHMORE BLVD)
$1 DRINKS
$4 WELLS
$6 U-CALLITS
TILL 8:30
W/ DJ D NICE INDMIX
FOR MORE INFO 832.577.7501


---

Click Here For Info

---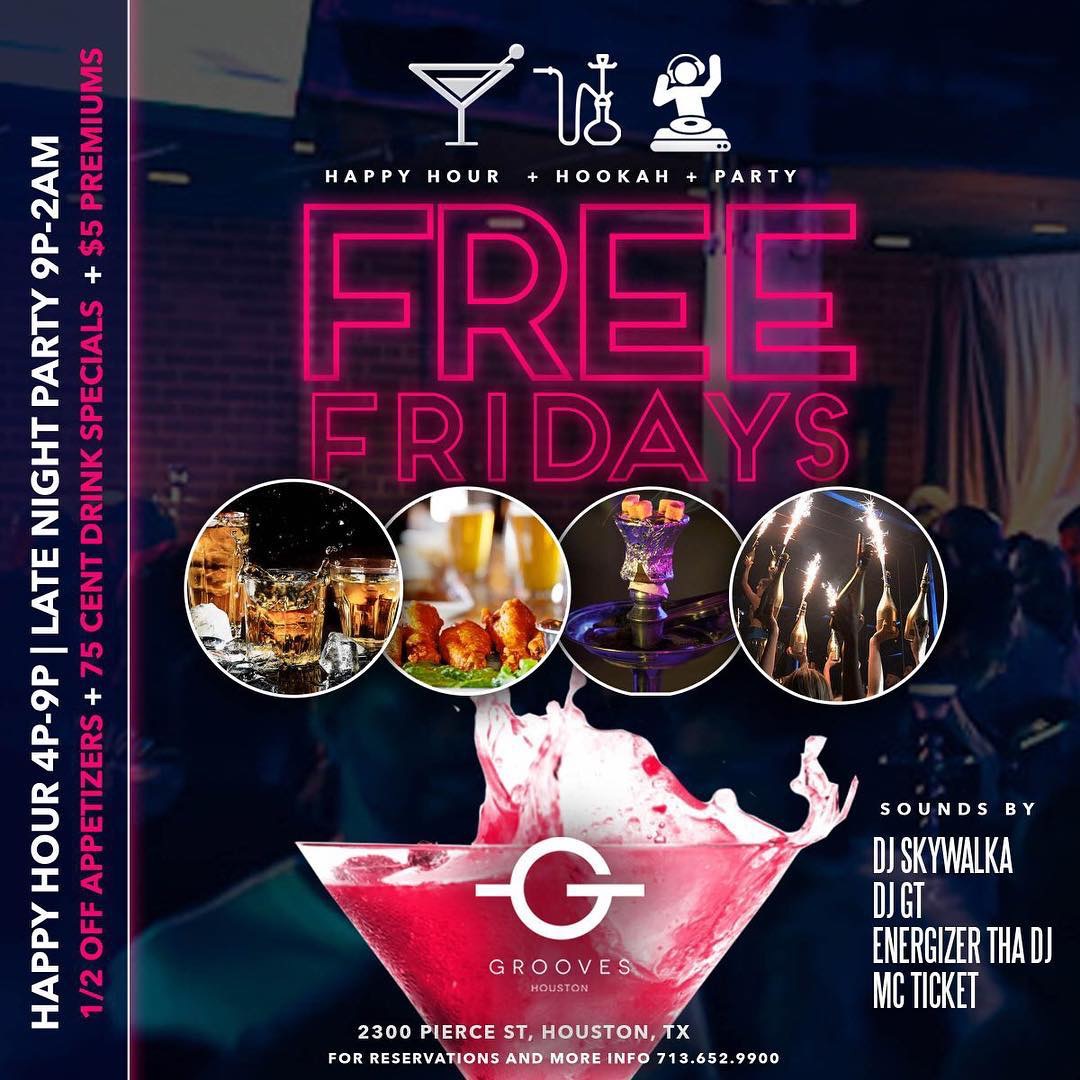 FREE FRIDAYS at GROOVES 
(2300 PIERCE ST.)
EVERYONE FREE ALL NIGHT
HOUSTON'S BEST HAPPY HOUR
.75c DRINK SPECIALS
$5 PREMIUMS
1/2 OFF APPETIZERS
W/ DJ GT, ENERGIZER THA DJ, 
STARR SKYWALKA & MORE INDMIX
FOR TABLES/INFO 713.652.9900


---

Click Here For Info


GILT FRIDAYS
@
ENGINE ROOM
(1515 PEASE ST.)
DJ KIOTTI | MC HOLLYWOOD
& BLACK CARD STEVE O INDMIX
EVERYONE FREE ALL NIGHT W/ RSVP
giltfridays.com


---


CHEERS Fridays 
@CARROS713 (Carringtons)
**WHERE EVERYBODY KNOWS YOUR NAME** 
EVERYONE FREE TIL 8pm. 
Ladies $5 all night long
WITH DJ B LOVE/DJ KYLE LEE (6p-10p)
DJ CHROME and OAKCLIFF (10p-2a)


---
---
---

Click Here For Info


4.21 | 3-10P
DAYTOX SATURDAYS PRESENTS
THE 2nd ANNUAL "I DO COOL SHIT" DAY PARTY @ THE ADDRESS 
FREE ENTRY EVENT ALL DAY & NIGHT
HAPPY HOUR 3-6P
$4 WELLS | $5 FROZENS | $7 PREMIUMS 
$175 HENNESSY & CIROC BOTTLES (bottle service highly suggested) 
4 POUNDS OF CRAWFISH $20 AVAILABLE ALL DAY
DJ BOBBY BANDZ | DR MCDANIELS | GO MC MAJOR
HOOKAH ON THE PATIO 
VIP TABLES & INFO:
Text or Call - 832.379.9194 or 832.520.8225


---

Click Here For Info


Join us as we embrace the 
*NEW crown jewel of Upscale Saturday Nights 
at the beautiful Lumen and Crimson Lounge 
in Upper Kirby/RiverOaks High Def 
Audio By DJ Mr Rogers! 
2 Upscale Lounges - LUMEN and CRIMSON 
connected side by side. 
Dress To Impress. Bottle Service Encouraged 
Call 713.259.5725. 
LUMEN & CRIMSON LOUNGE
5020 KIRBY Houston, TX 77098



Click Here For Info

---

Click Here For Info


Saturday Nights at Privacy Houston
at ROSE GOLD Cocktail Den
2301 Main St. #200 Houston, TX 77002
Ciroc Open Bar & No Cover til 11:30P w/RSVP
10P-2A Dress Code
Sections & Info Call 832.713.8404
www.INFLUENCERSHOUSTON.com


---

Click Here For Info


THE RETURN OF SNL AT STORY
NO COVER ALL NIGHT 
+$150 BOTTLES TIL MIDNIGHT! 
3302 MERCER ST.(GREENWAY PLAZA AREA) 
NEED A SECTION? TEXT 281.995.3311
Come experience STORY ULTRALOUNGE and make your own STORY



SATURDAY 04.21:
"YOU THINK YOU GOT DOMINO GAME? LET'S SETTLE THE SCORE!"
H-TOWN CLASSIC DOMINO TOURNAMENT(SPRING KING CHAMPIONSHIP)
12PM - 8PM ■ $25 ENTRY FEE ■ $1,000-1ST PLACE ■ $500-2ND PLACE 
$250-3RD PLACE ■TROPHIES ■ DRINK SPECIALS ■ BBQ ■ MUSIC 
SIGN-UP AT www.HTownDomino.eventbrite.com 
CONTACT INFO. 832-724-5605 ■ LIMITED SEATS 
STORY ULTRA LOUNGE ■ 3302 MERCER ST. ■ HOUSTON, TX ■ 77027 


---

Click Here For Info


ALL NEW DAY PARTY SERIES 
"DAY DREAMZ" 
EVERY SATURDAY @ CAPITOL BAR
FREE CRAWFISH, SNOW CONES, GOOD FOOD, 
TOP DJS HOOKAHS & MORE
FOR INFO CALL 832-577-7501
Sat, April 21, 2018
2:00 PM – 10:00 PM
Capitol Bar Midtown
2415 Main street
Houston, TX 77002


---

Click Here For Info


Come out and kick it at the all new Desires Houston 
for our "Anything But Clothes Party" (ABC) 
April 21, 2018. 
Live Dj along with a FREE Lavish Buffett. 
Prizes and giveaways all night! 
There is an amazing 2 levels of pure seduction 
& IT'S B.Y.O.B  Hookahs Available all night. 
("Dress to Impress")
Sexy for the Ladies
Classy for the Gentlemen. 
Theme Optional DOORS OPEN @ 9PM 
Create a Free Profile and purchase Presale tickets and membership at:
www.desireshouston.com
832-845-7194

Desires Houston
2800 Antoine Dr
Suite #2884
Houston, Tx 77092 
"YOUR LIFESTYLE PARADISE FOR THE ELITE"


---

Saturday April 21st
@jankyjoe @mcqua 
Presents 
#Rockets vs #Timberwolves Watch & Day Party 
At #socialsaturdays @ Dreams Bar & Lounge 
3321 Dixie Dr. 
Starts at 5pm - 2am 
w/ Crawfish On Patio 
Mc Qua  Indmix 
Section 832/259/9988 713-235-0156


---

Join Us Each & Every Saturday 
@Post Lounge Of Houston  9003 Westheimer 
Doors Open 8pm-2am. 
A Night Only For The Mature Upscale Classy Professionals.
Live Music Featuring Tha UNYT Band
The Best Dj In The City DJ DEF JAM BLASTER In The Mix.
To Book Your Aries Free Section Contact 832.533.1117
Follow Us On Facebook @Houston's Upscale Party Social
Follow Us On Instagram @KetoGentry


---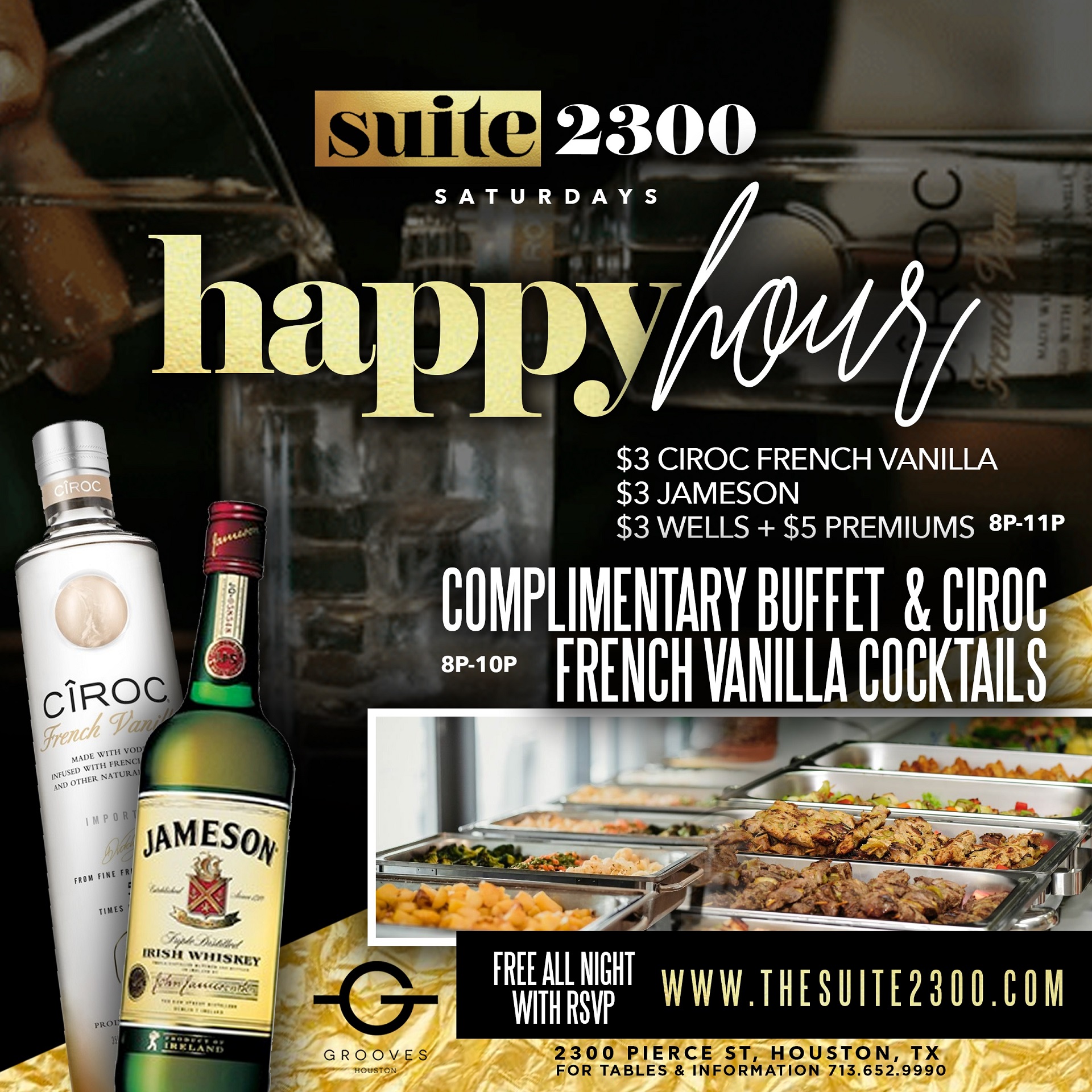 Click Here For Info


All New Suite 2300 Saturdays 
No Cover All Night w/RSVP 
Happy Hr 8-11pm 
832.722.5482
Suite 2300 
2300 Pierce Street 
Houston, TX 77003



Click Here For Info

---
---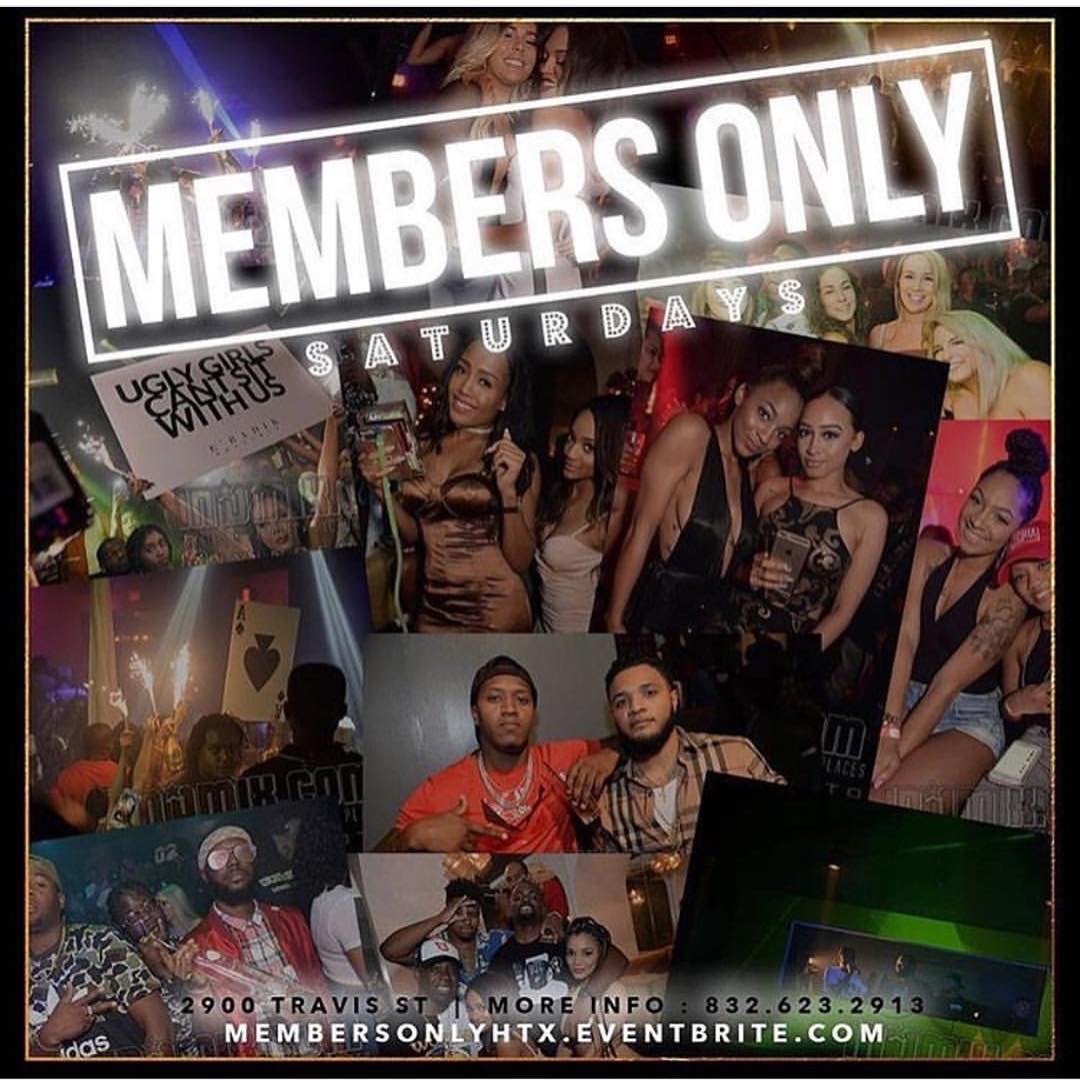 Click Here For Info


MEMBERS ONLY SATURDAYS + HTX
EVERY SATURDAY
10pm-2am
Hapy hour till 11pm
MembersOnlyHTX presents
MembersONLY
SATURDAYS+
#1 Saturday night in HTX
DJ YoungStreetz + MC Major
FREE W/RSVP till 11pm
SET Lounge
2900 Travis St
Houston | Midtown
For Table Reservations Call 713.894.0401


---

Click Here For Info


#TherapyOnTheAve Anti-Club Saturdays
Therapy On The Ave
A Place To Create Your Own Vibes 
A Break Away From The Night Club
Drinks With Friends (Happy Hour Party) 
7pm-10pm
$20 Hoohak Happy Hour From 7-10pm
LIT Karaoke Party (1st Floor) 8-11pm 
Rooftop Party 11pm-2am
Trap Brunch (Chicken & Waffles) 
10pm-Until
A Night Of Social Fun!
7:00 PM - 02:00 AM
Therapy Hookah Lounge
4105 Washington Ave


---

Click Here For Info

---
---

Click Here For Info


JOIN US EVERY WEEKEND FOR THE 
#1 SATURDAY NIGHT BIRTHDAY CELEBRATION EXPERIENCE
Suede Saturdays @ EngineRoom
1515 Pease St | Houston Texas | 77002
Houstons #1 Nightlife Destination
CLICK FOR FREE ENTRY
Dresscode Strictly Enforced
Bottle Service Is Highly Recommended
Section & Celebration Info: 832-265-8192


---

Click Here For Info


HIP HOP & HOOKAH SATURDAY after hours 
@ HABIBI HOOKAH LOUNGE 
(formerly pharaoh hookah lounge)
OPEN TIL 4:30 AM | BYOB (BRING YOUR OWN BOTTLE)
$15 HOOKAHS ALL NIGHT | FOOD ON PATIO 
DJ MR.ROGERS & DJ ALO INDMIX
INFO TEXT 832.338.3829OR Dsam09 on IG


---
---
---
COMING ATTRACTIONS
| SUN | | MON | TUE | WED | THUR | FRI | SAT | Coming Attractions |

Click Here For Info


Thurs April 26th | The Luxe Presents ::"Draft Night" 
 
Draft Night
{The Luxe Series}

Where: Altitude {aka Ghostbar} 
33rd Floor
2440 Victory Park Ln. | Dallas, TX 75219
When: Thurs | April 26th
Time: 9:30pm - 2am

Draft Night 
2018  Draft After Party
The Stars. The Players. The Paparazzi.
 
You are cordially invited to this star studded event 
33 floors up overlooking the Dallas skyline. 
Come mix and mingle with taste makers, entertainment 
and music moguls and the newest stars of the NFL.
 
Dress code: Your best is required.

:: For your enjoyment::
*RSVP for complimentary admission before 10:30PM
*Presale Guaranteed admission tickets 
*VIP Bottle service
*Garage & Valet Parking.

RSVP & Tickets available at www.draftnight18.eventbrite.com
For booth reservations:
Chris Stribling - 972.365.1364

Brought to you by:
DFW Upscale | iLyke2parti | The Luxe |



Click Here For Info


Keto Gentry The Consultant 
Presents 
April 28th
I Love Spring Day Party Edition 
@The Davenport 2pm-8pm 
2115 Richmond 
DJ Def Jam Blaster In The Mix
Rich Boy Po Boy Food Truck On The Patio
Houston's #1 Day Party Social For The Mature Upscale Professionals
Book Your Birthday Section Or Comfort Seating At 832.533.1117 



Click Here For Info


Keto Gentry The Consultant + City Of Houston + Bikes On The Bayou 
& The Davenport Lounge
Presents 
Sunday April 29th 
A Day In The Park With Keto Gentry The Consultant 
We Will Have Live Music, Vendors, Food 
& Beer Booths, Bull Bar, Dedicated Motorcycle Promenade
DJ DEF JAM BLASTER  & DJ GOOD GRIEF IN THE MIX
Host Of Other Two-Wheeled Entertainment. April 29, 2018
@Eleanor Tinsley Park 4pm - 11pm 
A Family & Friends Environment For Everyone Join Me 
ALL BIKERS WHO WOULD LIKE TO PARTAKE CONTACT 832.533.1117



Click Here For Info


Join the WAICV on Sunday, April 29, 2018, 
at TopGolf (Katy Location) from 3pm-6pm. 
This special event will include, 3 hours of play, 
raffle prizes, and unlimited food and soft drinks for $60. 

This event is open to EVERYONE who wants to 
join us for fellowship and fun! 
Purchase your tickets today as space is limited, 
and no tickets will be available at the door. 
All proceeds from this event will support 
the life changing work of Madge Bush, 
a transitional living center in the Greater Third Ward Community. 
Purchase your ticket now ---->  https://waicvtopgolf.eventbrite.com



Click Here For Info


Jalene Mack Book Signing 
"The Business of Stage, Screen & in Between" 
Fri. May 4 @ 7PM



Click Here For Info


JMBLYA 2018
Sunday May 6th

J Cole | Migos | Cardi B | Kevin Gates
Playboi Carti | Trae The Truth | DJ Mr ROGERS
www.jmblya.com
1pm-10pm
Sam Houston Race Park
7575 North Sam Houston Pkwy W. 
Houston, TX



Click Here For Info


H-Town Festival of Laughs 
feat. Sommore, Bruce Bruce, Don DC Curry, 
George Wallace, Arnez J & Earthquake 
Saturday, May 12
NRG Arena



Click Here For Info


OLAMIDE LIVE IN HOUSTON 
PRESENTS
AFRICA'S HOTTEST ACT OLAMIDE (Baddo) 
Live In CONCERT #OLICHTOWN
On Saturday MAY 19TH
Olamide brings the #CultureTour to Houston 
Concert Venue:
Ayva Center 
9371 RICHMOND AVE, HOUSTON TX 77063
Time:
8:00pm – 12:30am
AFTER PARTY FOLLOWS
TICKETS & table bookings ☎ 713-269-1259, 832-276-3779



Click Here For Info


THE BIGGEST ALL WHITE PARTY OF TEXAS
MONDAY MAY 28TH 2018
@ CAPITOL BAR
2415 MAIN ST
2PM-10PM
EVERYONE FREE ALL DAY W/RSVP IN ALL WHITE