WEDNESDAY EVENTS
| SUN | | MON | TUE | WED | THUR | FRI | SAT | Coming Attractions |

Click here for more info


Fabolous
Wednesday March 27th, 2019
Laybo Birthday Bash
10pm-2am


---

#ChemistryWednesdays 
at @o2loungehtx (3003 Fondren) 
$5 You Call Its 8-11PM 
FREE ENTRY ALL NIGHT
FOOD ON THE PATIO | $200 Bottles All Night 
Book Your Section 713.459.9019


---

Towii Entertainment Presents 
The redefined Wednesday Night Play 
@ The All New H2O Sports Bar & Lounge!! 
Join the wave & Catch the midweek fun 
each & every Wednesday 
Happy hour From 6pm | $150 Hennessy Bottles Till Midnight 
$5 U CALL ITS | Games On All Tv Screens both inside the lounge & Patio 
Live Dj (@DjTowii x @djmekzy & @mc_mikolo )
For Info/Reservations: 832-276-3779


---

Oasis Wednesdays at Uptown Hookah Lounge
$4 Domestics
$5 Vodkas
$6 Jose Cuervo
$7 Cirocs
Live DJ
5706 Richmond Ave Houston Tx 77057


---
---

The Return of Wing Night!
$2 Hurricanes b4 7
$2 Appetizers 
$3 Any Drinks 7-11pm
50 Cent Wings 7-11 & No Cover All Night!


---

#FINALLYWEDNESDAYZ
FREE ALL DAY & NIGHT • 4PM-2AM
WEDNESDAY @Spiveys_uptown
Hookahs + $3 Drinks Till 9pm + Food On The Patio
Vibes BY @DjDwells + @DjDBaby + @Kingkillaquin 
For Tables Or Info Call 832-258.7851
#Houston #Drinks #CuratorMg #Texas #Txsu #UofH #Pvamu 
#HoustonTexas #HoustonNightlife #HoustonMua 
#HoustonPhotographer #DowntownHouston #AKAS


---

@powerhouseenterprise + @bossladyjaye713 
presents 
#HumpWednesdays #DBarOnWednesdays 
@dbarhouston 4409 Emancipation 
@djjque Live InDmix 
No Cover Sections 832.371.4753


---

Wing Night Wednesdays
$0.50 Cent Wings Till 10p
No Cover All Night
3100 Fountain View


---
THURSDAY EVENTS
| SUN | | MON | TUE | WED | THUR | FRI | SAT | Coming Attractions |

Click Here For Info


The hottest Thursday Night Party PERIOD!!!
THERAPY AT ROSE GOLD GUEST LIST
THIS WEEKS FEATURES
MIAMI DOLPHINS HOST THE ALL NEW THERAPY THURSDAYS
AT ROSE GOLD
JOIN THE CITYS TOP INFLUENCERS + MOVERS & SHAKERS 
AT THE ALL NEW #THERAPYTHURSDAYS 
@ ROSE GOLD BIGGER VIBES BETTER EXPERIENCE
BOOK YOUR TABLES WITH US NOW 832 236 1800
ALL NEW BOTTLE PACKAGES & BIGGER SECTIONS FOR OUR VIP GUEST
CALL US NOW TO RESERVE YOUR SPOT!!!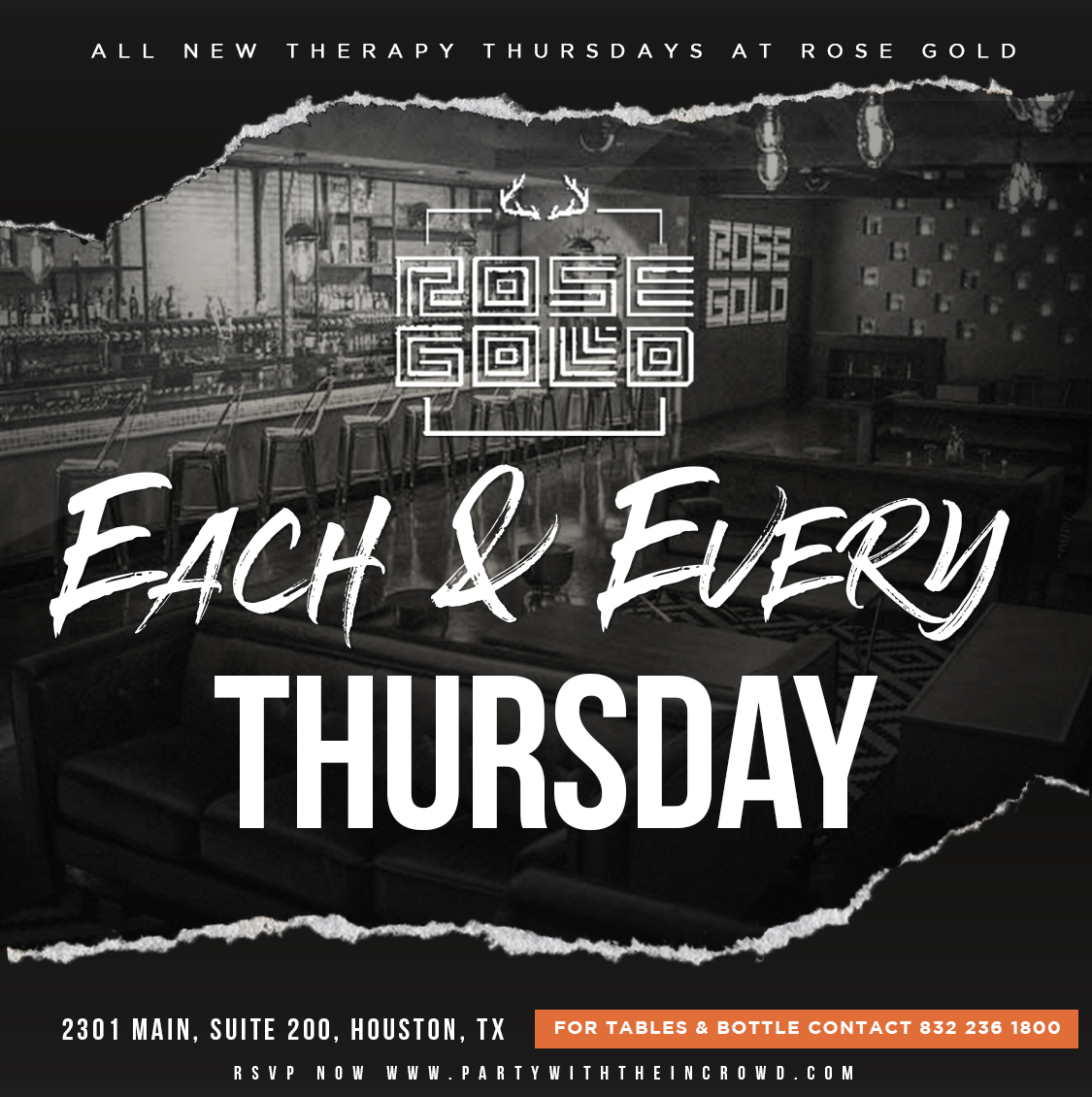 Click Here For Info

---

Click Here For Info


Thursdays at JET LOUNGE 
1515 Pease Street, Houston, TX, 77002
DOORS OPEN @ 10PM - DOORS CLOSE @ 2AM
No Cover + 1 FREE Complementary Cocktail til 11PM w/RSVP
LIVE Mix By DJ MR.Rogers Sections & Info Call 281.753.1498


---

Click Here For Info


Diablo Thursdays - Tonight
$3.50 drinks from 7-11PM
$4 Hennessy and $4 Frozens from 12AM-Close
DJ A-Plus and 'Radio Boss' Kiotti in the mix & MC Cut on the mic
Ladies no cover all night
For party reservations, call/text Joey at 713-471-1896 
or email reservations@diablolocotexas.com


---
---

U P T O W N    E N T E R T A I N M E N T  
CROWN Royal Thursdays 
@
UPTOWN LOUNGE
5706 Richmond Ave Houston, TX 77057
$5 CROWN PEACH
$5 CROWN ROYAL
$5 CROWN APPLE
$5 CROWN VANILLA
HAPPY HOUR HOOKAH FROM 6-8PM $11
HAPPY HOUR DRINKS FROM 6-9PM
::SOUNDS BY:: DJ WRECK @djwreck713


---

Introducing Ladies Night Thursdays 
at @Spiveys_Uptown (3000 Blodgett St) 
Doors Open 4pm-2am For Happy Hour FREE Entry All Night
$5 Premium Drink Specials til 10PM 
$15 #MargaritaPitchers $3 #Wine 
$5 #Patron $3 #FrozenMargaritas All Night
Party Ain't Over til 2AM 
$12 Steak & Patato |  Cigars Patio Vibes in Full effect 
Section Reservations (832)258.7851


---

Waxaholic THURSDAYS
at Alley Kat
No Cover
3718 Main St


---

Everyone FREE No Cover
Houstons #1 Friday Happy Hour 
at THE ADDRESS
50 Cent Wings & $7 Henn From 4-9pm
Everyone FREE All Night
832.330.6800 To Reserve Your Table


---

Click Here For Info


ROSE GOLD FRIDAYS
at ROSE GOLD COCKTAIL DEN
1005 Hadley St. Houston, TX 77002
No Cover ALL NIGHT
DJ Q Holic inDmix
10pm-2am
www.ROSEGOLDFRIDAYS.com



Click Here For Info

---

Click Here For Info


BGE Empire x Live House x Aristocratlife
It's LIT...Aura Friday Nights!
Houstons #1 Friday Nightlife Destination
DJ Mr Rogers
Mc Beezy, JBoss, A-Plus indmix
For VIP/Table Reservations, Bottle Service, 
Groups or Large Parties...
Call/Text 713.259.5725
AURA NIGHTCLUB
Bottle Service Recommended: Call 713.259.5725


---

Click Here For Info


SEXY is BACK!!!!
STYLE.ENERGY.DECADENCE
$5 DRINK SPECIALS 9-11:30P
COMPLIMENTARY PASTA & WINGS WITH THE PURCHASE OF A DRINK TIL 11;30P
EVERYBODY FREE ALL NIGHT WITH RSVP!!!
HOOKAH AVALIABLE
GO DJ BOBBY BANDZ + DJ D WELLS & GO MC MAJOR PROVIDING THE SOUNDS
DRESSCODE ENFORCED
GENTS
NO HATS
NO PLAIN TEES
NO SHORTS
LADIES
SEXY
COCKTAIL DRESSES PREFERRED
NO BACKLESS SANDALS
VIP TABLES & INFO : 713.530.7264


---

Edens world 
presents 
Runway Fridays at Forum Lounge. 
This week's hosts:
DJ Eric from 97.9, Model Vida and Texans player Vyncint Smith. 
Special DJ guest JQ from 97.9 will be inDmix from 12-2am.
$10 entry free, Ladies free all night! 
Compete in the bikini show
win $250 and your chance to win $1,000 
in the ULTIMATE BIKINI SHOWDOWN APRIL 19th!
For sections and info call/text 713-997-2302


---

Click Here For Info


Premier Fridays 
Revolver Houston 
6502 Washington Ave
Each & Every Friday!!
Free Entry l Free Parking l Full Food menu
Flavored Hookah l Great Drink Prices
Happy Hour 4-8 , Late Night Party 9pm-2am With 
DJ Wreck - @theycallmewreck Indmix
@revolverreloaded @revolverreloaded 
THE NEW FRIDAY NIGHT PARTY ON WASHINGTON!!!
$200 Ciroc | $200 Hennessy | Moët Rose' $175
Table Reservations: 832.247.6563 | 281.733.4525
https://www.eventbrite.com/e/premier-fridays-at-revolver-tickets-57033176767
Powered By Premier Promotions | Wreck Promo


---

Click Here For Info


Hottest Party Of The Weekend
Rsvp Now For Free Entry | Sections 832-289-4312
MERCY NIGHTCLUB 
1505 Saint Emmanuel St | Houston Texas | 77002
Houstons #1 Friday Nightlife Destination
RSVP for Free Entry
Dresscode Strictly Enforced
Bottle Service Is Highly Recommended


---

This Friday #PackedOutFridays 
at @Spiveys_Uptown 
3000 Blodgett St 
@dj_samp x @eric_spivey Indmix 
No Cover All Night || Tasteful Bites 
Flavored Hookahs || Great Drinks 
#SpiveysUpTown #SpiveysUptownLounge 
Book Your Party Now Or Section Now (832)258.7851 
#Bars #HTown #3rdWard #OnlyForTheSexy 
#GrownAndSexy #SpiveysUpTown


---
---

Click Here For Info


D.h! | Shades Simplicated Mktg | Nkem of Emagine That Ent | Mr. TC
Present
++THE INT'L AFFAIR++
EACH & EVERY FRIDAY NIGHT!
10PM-2AM
BELVEDERE PREMIUM LOUNGE
1131-01 UPTOWN PARK BLVD
UPSCALE EVENT FOR HOUSTON'S CULTURAL ELITE!
DJ SHINSKI + DJ OCEAN ON THE PATIO + MC MIKOLO on the mic
SPINNING THE BEST IN AN INTERNATIONAL ARRANGEMENT OF ELECTRIFYING SOUNDS
RSVP HERE FOR COMPLIMENTARY ADMISSION TILL 11PM
http://intlbelve.eventbrite.com/
OR TEXT "BELVE" TO 281.804.2597 
WINGS & FRIES ON THE PATIO!
STRICT DRESS CODE
NO SHORTS . NO BALL CAPS . NO TENNIS SHOES
ENTRY PROVIDED AT DOORMANíS discretion
FREE PARKING + VALET PARKING AVAILABLE
FOR MORE INFO / TABLE RESERVATION / BOTTLE SERVICES PLEASE CALL
281.804.2597 OR 281.312.9175


---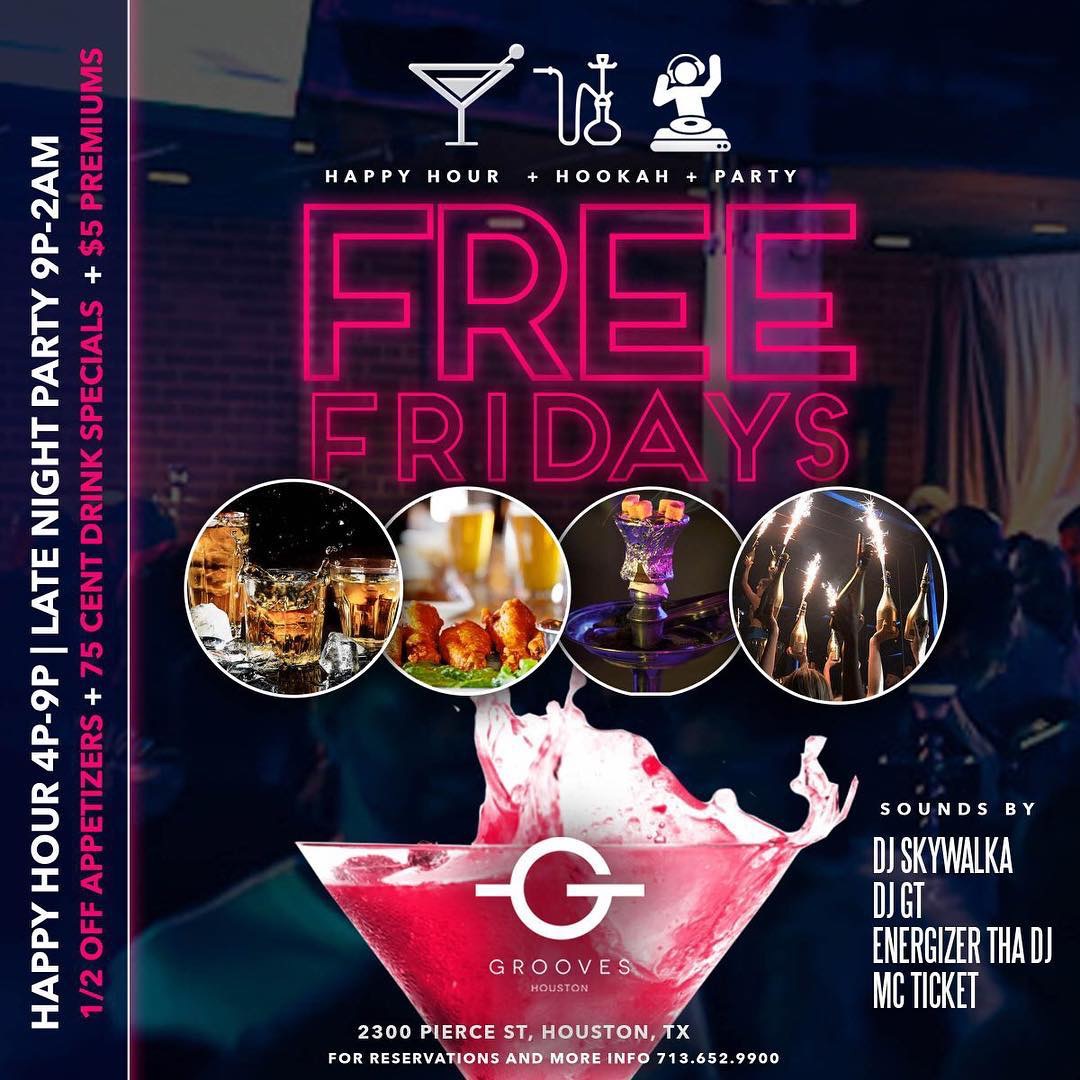 FREE FRIDAYS at GROOVES 
(2300 PIERCE ST.)
EVERYONE FREE ALL NIGHT
HOUSTON'S BEST HAPPY HOUR
.75c DRINK SPECIALS
$5 PREMIUMS
1/2 OFF APPETIZERS
W/ DJ GT, ENERGIZER THA DJ, 
STARR SKYWALKA & MORE INDMIX
FOR TABLES/INFO 713.652.9900


---

Click Here For Info


GILT FRIDAYS
@
ENGINE ROOM
(1515 PEASE ST.)
DJ KIOTTI | MC HOLLYWOOD
& BLACK CARD STEVE O INDMIX
EVERYONE FREE ALL NIGHT W/ RSVP
giltfridays.com


---
---
COMING ATTRACTIONS
| SUN | | MON | TUE | WED | THUR | FRI | SAT | Coming Attractions |

Click Here For Info


J PRINCE JR | ARISTOCRAT LIFE |
present
J PRINCE JR BIRTHDAY BASH
MONEYBAGG YO LIVE IN CONCERT
THURSDAY MARCH 28TH
ENGINE ROOM NIGHTCLUB
1515 Pease St | Houston Texas | 77002
Houstons #1 Nightlife Destination
GET YOUR TICKETS & VIP TABLES TODAY
Bottle Service Is Highly Recommended
832.512.6515



Click Here For Info


LARRY MORROW presents
THE OFFICIAL BRONNER BROTHERS WEEKEND KICKOFF
HOSTED BY TOYA WRIGHT & FRIENDS
at APRES LOUNGE
DOORS OPEN at 10PM
608 Fulton Street
New Orleans, LA 70130



Click Here For Info


Austin Aristocrats + Rob Wright + inDmix.com + Steve Rogers + DFW Upscale
present
March 30th
26th Annual SPRINGFEST Texas Relays Day Party
at RIO
601 Rio Grande
Austin, TX
2p-8p
Austin - DJ Hella Yella
Dallas/Austin - DJ Phife
Biggest Day Party in Austin for Texas Relays
Infoline 713.459.9019
https://springfestrelays19.eventbrite.com




Click Here For Info


"WELCOME 2 NEW ORLEANS" 
HOSTED BY @DAREALBBJUDY BRONNER BROTHERS WEEKEND
SAT MAR 30
THE OFFICIAL BRONNER BROTHERS AFTERPARTY
HOSTED BY @DaRealBBJudy & FRIENDS
at MASQUERADE NIGHTCLUB
8 Canal Street
New Orleans, LA 70130



Click Here For Info


The Sade Experience: Live Music! 
Comp Drinks! $1K giveaways! 
Social Mixer!
Thu, April 4, 2019
6:00 PM – 10:00 PM CDT
Henke & Pillot
809 Congress Avenue
Houston, TX 77002



Click Here For Info


Houston's biggest crawfish festival is back
Saturday April 6th, at Grooves of Houston.
Come enjoy succulent boiled crawfish and other foods
including boudin, turkey legs, sausage on a stick,
funnel cakes & more.
Texas & Louisiana's hottest DJs,
along with J Paul & The Zydeco Nubreeds,
are sure to keep you dancing the day and night away.
Expect a plethora of food options, good entertainment,
and of course, LOTs of crawfish.
Complimentary admission tickets are available at a limited quantity
so be sure to RSVP!
$10 all day admission passes are also available for purchase
(expedited entry). See you in April!  



Click Here For Info


Click Here For Info


#LoveMeetsHipHopCruise
Time to get onboard
Book your cabin w/ a $75 deposit
Cabins are going fast book now!!!!!

Thursday Sept 26th - Monday Sept 30th
4 day round trip cruise out of 
Galveston, Tx to Cozumel, Mexico
(((( No Passport Required ))))

Music by: @GoDjHiC | @GTMyane 
Silent HeadPhone Party 
Game Party 
the "Love Meets Hip Hop" All White Beach Party & Concert 
starring: @Mr.CarltonThomas & @slimthug 
(1 hour of open bar & free hors d'oeuvres at both events)

BOOK TODAY BY CALL: 832-491-5382
or visit www.travelbyld.com
Powered by: @gtmayne | @GoDjHiC | @eric_spivey | Travelbyld.com