Click Here For Info


ARISTOCRAT LIFE presents
FRIDAYS at The All New
ENGINE ROOM 
1515 Pease St | Houston Texas | 77002
Houstons Newest Friday Night Destination
Dresscode Strictly Enforced
DJ MR ROGERS and DJ JQUE in the mix
Bottle Service Is Highly Recommended
832.512.6515
www.ENGINEROOMHTX.com
@EngineRoomHTX


---

Click Here For Info


Live House
Live Music Happy Hour w/ Full Kitchen 
+ Late Night Party! 
Arrive Early, Stay Late 
#TheCollective 
GAGE Lounge
2600 Travis Street Houston, TX 77006


---

Click Here For Info


MARK MARTIN / STEPHEN MARTIN / INDIGO MIDTOWN
PRESENT
FRIDAYS AT INDIGO
WHERE LIVE MUSIC LIVES
INDIGO @ MIDTOWN
2117 CHENEVERT STREET
HOUSTON, TX 77003
DOORS OPEN AT 8PM
FREE BEFORE 10:30 WITH RSVP - FRIDAYSATINDIGO.EVENTBRITE.COM
LIVE ENTERTAINMENT BY ALTER EGO AND GROOVE THE FUNKY DRUMMA
LATE NIGHT SOUNDS BY DJ STASO
HOOKAH AVAILABLE AND SUTTONS BBQ ON THE PATIO
CALL 713.256.2793 FOR VIP SECTIONS, BOTTLE SERVICE OR BIRTHDAY PARTIES


---

Click Here For Info


PURE Fridays | Houston's #1 Party Destination
.97 Cent Drinks + Free Hookah til 11pm
No Cover All Night W/ RSVP | $100 Bottles
$5 You Call Its Til 11
INFO 832.330.6800 or 832.722.5482



Click Here For Info

---

JANICE EVENTS PRESENTS
FRIDAYS AT EPIC
DJ DEBANAIR & MC KUT LIve & N D MIX
HAPPY HOUR 4-8P $5 U CALL IT'S $3 DOMESTIC
FREE FRIED FISH 5-UNTIL
REVERSE HAPPY HOUR 10-11P
$3 APPLE MARTINIS $6 CIROC/CROWN
Free Birthday Parties w Complimentary BOTTLE OF CHAMPAGNE BOOK YOURS NOW!!!!!
BIRTHDAYS | BOTTLES | INFO 713.522.EPIC
EPIC TWENTY-TWO LOUNGE
3000 BLODGETT
FOLLOW ON IG @EPIC22LOUNGE


---
---

Click Here For Info


D.h! | Shades Simplicated Mktg | Nkem of Emagine That Ent | Mr. TC
Present
++THE INT'L AFFAIR++
EACH & EVERY FRIDAY NIGHT!
10PM-2AM
BELVEDERE PREMIUM LOUNGE
1131-01 UPTOWN PARK BLVD
UPSCALE EVENT FOR HOUSTON'S CULTURAL ELITE!
DJ SHINSKI + DJ OCEAN ON THE PATIO + MC MIKOLO on the mic
SPINNING THE BEST IN AN INTERNATIONAL ARRANGEMENT OF ELECTRIFYING SOUNDS
RSVP HERE FOR COMPLIMENTARY ADMISSION TILL 11PM
http://intlbelve.eventbrite.com/
OR TEXT "BELVE" TO 281.804.2597 
WINGS & FRIES ON THE PATIO!
STRICT DRESS CODE
NO SHORTS . NO BALL CAPS . NO TENNIS SHOES
ENTRY PROVIDED AT DOORMANíS discretion
FREE PARKING + VALET PARKING AVAILABLE
FOR MORE INFO / TABLE RESERVATION / BOTTLE SERVICES PLEASE CALL
281.804.2597 OR 281.312.9175


---
---
---
---
---


BIG CHAD CHIZZLE | C.A.F | THE ENTIRE SOUTHWEST 
presents:
CHEERS Fridays
**WHERE EVERYBODY KNOWS YOUR NAME** 
EVERYONE FREE TIL 8pm
WITH DJ GOOD GRIEF 


---

Not ready to go home? GOOD, Now you don't have to. 
Coming this Weekend something new, something different. 
KickBack Lounge After Hours #SoftOpening Full KITCHEN, 
Hookahs and Dj in the mix 
(PSA: Not a club) 
1am/5am 
1809 Washington Ave 
#KickBackAfterDark #ThankUsLater


---

Your Weekly Lineup At Club Wonderland 
5614 Hillcroft Ave | Houston TX 77036
7 Nights / Doors Open 6pm - 6am 
Ballers | Exotic Girls | Sexy Crowd 
Full Kitchen & Hookah Bar
Party Until 6am Every Night!
Call to Reserve Your Section at 832.815.0036
Follow Us on IG @ClubWonderland
See Our Videos Below to Experience Club Wonderland: 


---
---
---
---

Click Here For Info


Join us as we embrace the *NEW crown jewel 
of Upscale Saturday Nights at the beautiful 
Lumen and Crimson Lounge in Upper Kirby/RiverOaks
High Def Audio By DJ Aggravated, A-Plus & GQ Mike!
2 Upscale Lounges - LUMEN and CRIMSON connected side by side.
Dress To Impress. 
Collar Shirts for Men, Blazers Preferred. No sneakers or hats.
Bottle Service Encouraged  Call 713.259.5725.
LUMEN & CRIMSON LOUNGE - 5020 KIRBY Houston, TX 77098


---

Click Here


Hudson Saturdays  
at Hudson Lounge
2506 RobinHood
A New Era in Upscale Nightlife
Dress Code Enforced
Doors Open 9pm - 2am
Rsvp for No Cover b4 11pm:
For Info & Reservations, Call or Text 281.605.0002
info@projectzeroent.com


---

Click Here


The Valentine's Love Affair Show
Hobby Center, Houston, TX
Sat, Feb 13, 2016 08:00 PM


---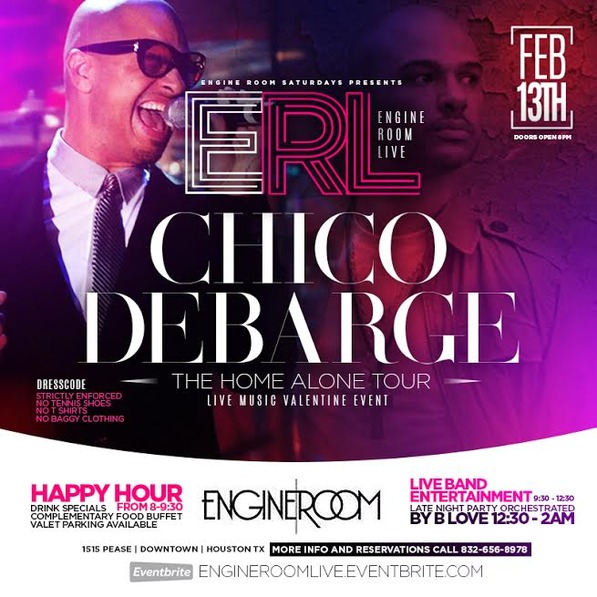 Click Here For Info


Saturday night is about to be Live again!
#ERL... Engine Room Live: Hosted by Scott Gertner & Friends
It's the return of Skybar Saturday's to Downtown Houston... 
Each and every Saturday @ The Engine Room
A weekly live music showcase featuring both local and national acts, 
tabletop bottle service, dancing, and of course performances 
by the legend, @scottgertner

Presented by Houston's classiest tastemakers... 
It all starts one week from Saturday, 2/6/16!
#ERL #livemusic #datenight
@spicytexan @i10media @rayodom33 @houstonsocialcircle 
@vonnb @therealsteveerae
FOR TABLE RESERVATIONS: 832.512.6515


---

Click Here


Saturday February 13th
"Me, Hennessy, & You"
An Exclusive Valentines Day Weekend Event
Complimentary Hennessy Cocktails While Supplies Last
Complimentary Hennessy Infused Chocolate Covered Strawberries
Grooves (2300 Pierce St.)
Ladies Free All Night & Men Free Til Midnight w/ RSVP
Sounds By DJ HI-C + D Wells + FlyGuyHouston
HOUSTON'S MOST NOTORIOUS SATURDAY HAPPY HR
Happy Hr 8-11pm feat. .75 Cent Drinks Specials & $5 You Call Its
GroovesOnSaturdays.com
For Sections or More Info 832.722.5482 832.741.5149 504.657.7386


---

Click Here For Info


The Battle of the Sexes!!!
COMEDY SHOW
Starring THEA VIDALE LIVE
AS SEEN ON GABRIEL IGLESIAS'S, STANDUP REVOLUTION," 
NBC,SHOWTIME, NBC,HBO, COMEDY CENTRAL, BET...AND l!!!
PURCHASE TICKETS HERE
theavalentinebattle.eventbrite.com
CHECK OUT THEA ON  STANDUP  REVOLUTION HERE:
http://www.cc.com/video-clips/3moy01/stand-up-thea-vidale--herbage-experience
SATURDAY, FEBRUARY 13TH
7 PM-Doors Open
7:30 PM-Showtime
HOSTED BY: RICH WILLIAMS
FEATURING: JENNIFER JERMANY, KELLY STONE, ROBERT RAU, TOMMY BERRETZ
ADMISSION: $20 GENERAL SEATING
$45 VIP TABLE SEATING


---

Book your section 281-881-4039.  #EpicSaturdays #Epic22Lounge #EPIC 
@epic22lounge every Saturday @kane713 #ladiesfreeallnight #hookah 
#freeparking #noshadeent #nopressure #salon180 #salon180houston 
#vickersboi #djjbone #moevickers #djvickers @moe_vickers @djjaybone503 
@lilbro_djvickers #dreamswingstruck 
#DREAMSHOUSTON tha official after party @dreamshouston


---

LIL KEITH 
present
LIVE MUSIC SATURDAYS
at FACES LOUNGE (5104 ALMEDA RD)
DOORS OPEN AT 8PM
LIVE BAND MUSIC & PERFORMANCES 
FROM 9-11PM
STEAK NIGHT
EACH & EVERY SATURDAY NIGHT
ENJOY STEAK AND DINNER WHILE THE LIVE BAND PERFORMS 
FROM 9-11PM
AFTER THE SHOW, ITS THE PARTYYYYYYY
DJ YOUNG STREETZ & BIG THO
IN THE MIX FROM 11-2AM
THE BEST SECTION DEALS ON SATURDAY NIGHTS
FREE SECTION COME WITH $175 BOTTLE OF BELAIRE & CIROC
832.330.6800


---

Click Here For Info


Today at 8:02 AM
HOUSTON'S LADIES NIGHT OUT / KETO GENTRY / FLIP THE LIFESTYLIST PRESENTS
NEO-SOUL NIGHTS
FT. NOEL GOURDIN  (The River)
SATURDAY FEBRUARY 13TH
Pre-Valentine Concert & AFTERPARTY
@ UROPA 3302 Mercer ( Upper Kirby District )
Will be performing live with band  Up close and personal
"A Night For Live Music Lovers"
For Tickets and a more information call281.451.4611or832.717.1566
Log on to https://neosoulnights.eventbrite.com
Official Afterparty @ Uropa 3302 Mercer
"IT'S YOUR BIRTHDAY SATURDAY'S "
https://youtu.be/EOMgnyISKGQ


---
---

SugarHill Saturdays
Doors Open 9pm - 2am
Ladies No Cover All Night 
Featuring GT InDmix
Dress Code In Force:
No Caps, Shorts, Sneakers Etc.


---
---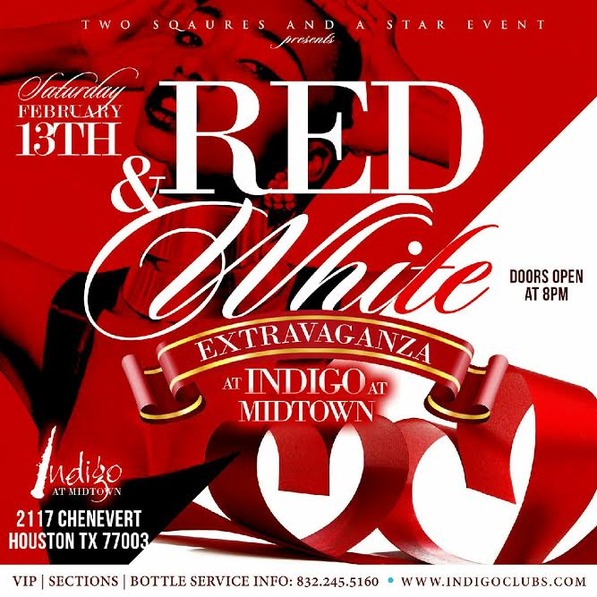 ---
---
---
---