Click Here For Info


Proof Wednesdays
Steak and Whiskey Night
Doors Open at 7
No Cover b4 10, Free All Night w/ RSVP
7p-9p Reverese Happy Hour 
9p-11a Late Night Mix
$5 Fireball, Jameson before 9pm
$15 Angus Ribeye, Fully Loaded Baked Potato 
& a Beer/Wine
*Suya & Vegan Platters Available
*Food Served All Night til 2am
Sounds by:
DJ MR ROGERS
DJ AGGRAVATED
DJ A-PLUS w/ The Late Night Mix
Parties, Reservations or bottle service Call 713.259.5725
RSVP www.proofwednesdays.eventbrite.com


---

Click Here For Info

---

Come To Tailored Wednesdays At Leon's Lounge!
NO COVER + FREE PARKING + RELAXED DRESS CODE
COMPLIMENTARY BUFFET 8PM-10Pm 
With A Alcoholic Mixed Drink Purchase!
Resident DJ Sly Foxx Spinning 
Neo Soul/Alt R&B/Soul/Alt Hip Hop
To Book Your Free Section Or Table 
Including Birthdays 
Contact 832-533-1117


---
---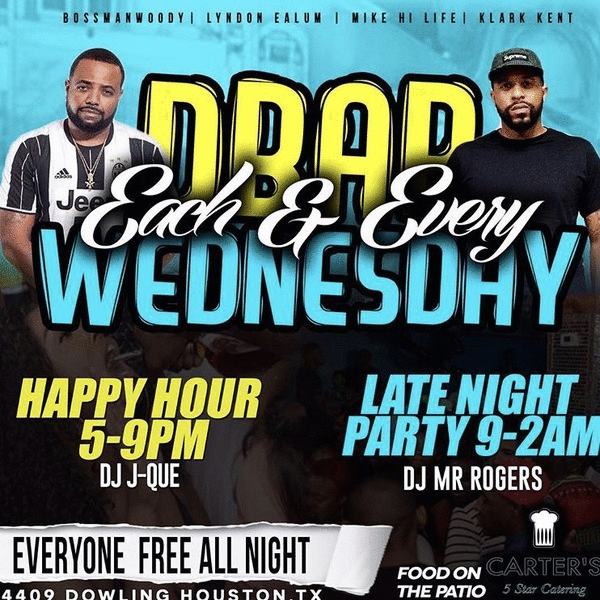 BOSSMAN WOODY | LYNDON EALUM | MIKE HI LIFE | KLARK KENT
WEDNESDAYS
@
DBAR
(4409 Dowling)
w/ DJ Mr. Rogers & J-Que ndmix
Happy Hour till 5p-9p
Late Night Party 9p-2a
$10 Hookahs
Doors Open at 7p
Early Arrival Is A Must
For More Info 713.295.9526


---

ONYX Wednesday's Each And Every Wednesday
3113 BERING DR.
DOORS OPEN at 6pm
1$ DRINK 7-9PM
20 WINGS FOR 11$ | 8$ BURGER BASKET'S
3$ CIROC & FIREBALL ALL NIGHT
5$ MARGARITAS
BOOK YOUR FREE Table NOW: 832-265-8192


---
THURSDAY EVENTS
| SUN | | MON | TUE | WED | THUR | FRI | SAT | Coming Attractions |

Click Here For Info


Harry Belafonte
Wortham Center/Cullen Theater
Thursday, February 23, 2017 
7:00PM


---

Click Here For Info


5th Annual Top 50 Professionals and Entrepreneurs Awards
The Ultimate Networking Event – Where Deals Are Made!
Thursday, February 23, 2017
Hess Club – 5430 Westheimer Rd, Houston, TX 77056
6p-10p


---

Live House Media Presents: 
Diablo Thursdays at Diablo Loco
6025 Richmond Ave @ Fountain View
No Cover Before 9pm | Open Until 2am
Full Kitchen 
$3 Drink Specials: 
4-7pm Wings, Ritas & Beer | 7-11pm Any Drink 
11pm-2am Margaritas for Ladies
Over 50 Hookah Flavors | Games on the Big Screens
Sounds by 
DJ A-Plus | DJ Hi-C | MC Kane


---
---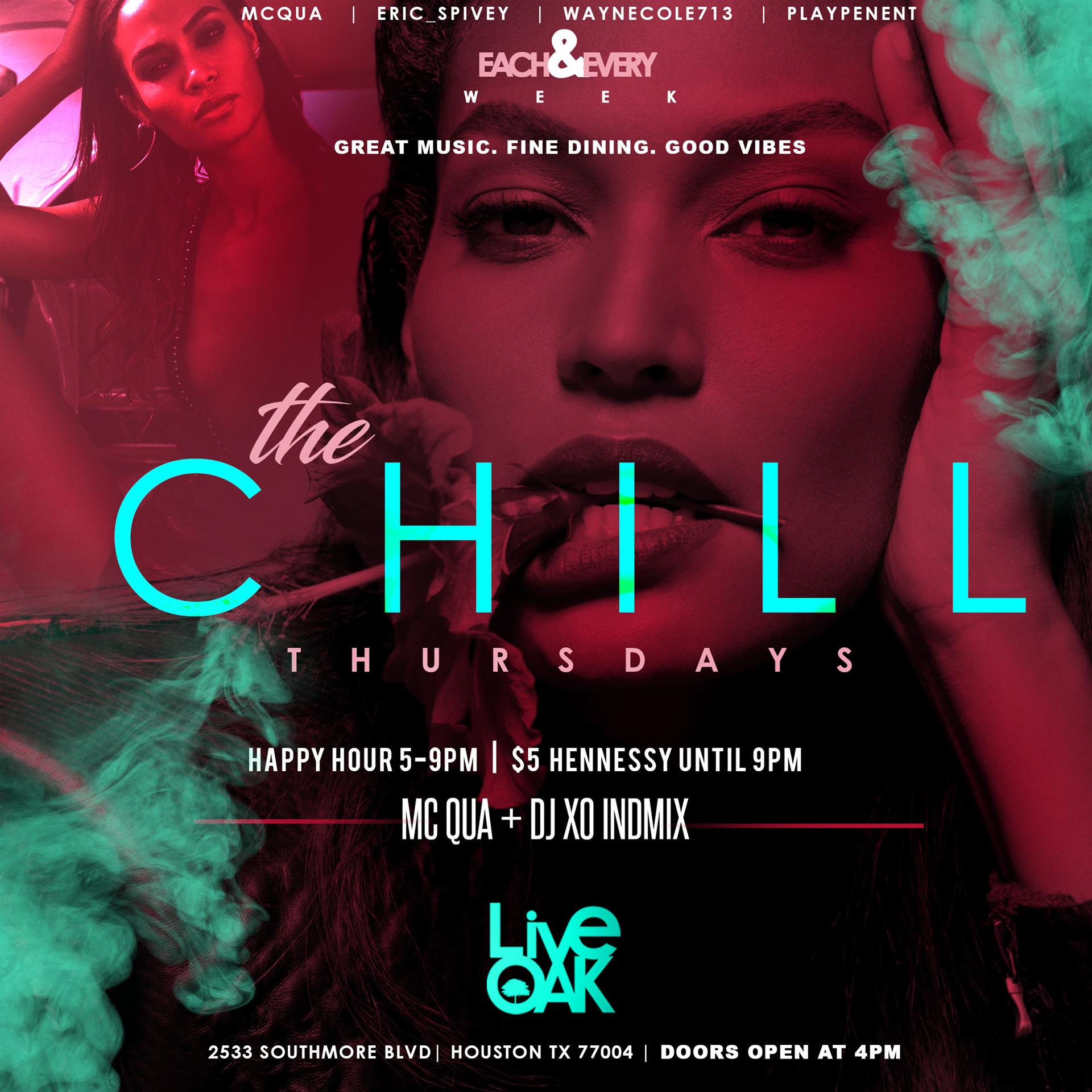 Come Meet Us Right Now!
Soft Opening
Thursday Feb 16th
HOUSTON'S Influencers
mcqua|  eric_spivey | waynecole713 | playpenent
Presents
THECHILL
@
LIVE OAK
(2533 Southmore)
Doors Open 5pm
Everyone Free All Night
$5 #Hennesy Til 9pm
Food + Hookahs
Sounds BY @djxo_ & @mcqua Indmix
For Info 713-235-0156


---

Primetime Presents 
The Best Damn Hotels Period!! 
Five Star Hotels in New Orleans.
Hotels are located in heart of downtown 
#primetime location. 
Rooms are available from Feb. 17th-20th 
For info call 281 226-3540


---

Click Here For Info


–QMEVENTS PRESENTS –
LIVE @ FOX THURSDAYS
LIVE MUSIC SHOWCASE FEATURING
FLATLINE MUSIC AND AMAZING VOCALISTS
ALONGSIDE DJ STARRSKYWALKA IN THE MIX
ALL NIGHT HAPPY HOUR
WINGS, PIZZA AND SPECIAL PLAT DU JOUR
DOORS OPEN AT 8PM – 'TIL
FREE ENTRY ALL NIGHT
FOX HOLLOW 4617 NETT STREET
FOR MORE INFO OR TABLE RESERVATIONS 
CALL/TEXT: 832.377.1548


---
---

Click Here For Info


DRINK HOUSTON 
Friday Night Lights 
feat. DJ Hi-C, Aggravated, A-Plus & More! 
$5 Any Drink b4 11, 5 Rooms of Entertainment, 
Food, Hookah + More! (RSVP NOW)
http://drinkfridays.eventbrite.com


---

Click Here For Info


AURA FRIDAYS
(LOCATED ON 4701 NETT STREET, CORNER OF SHEPARD DRIVE)
NEW ENERGY NEW VIBE NEW LOOK!!!
DRESS CODE IS STRICTLY ENFORCED!
NO TYPE OF BALL CAPS NO SHORTS NO PLAIN TSHIRTS, 
NO EFFORT NO ENTRY!!
SOUNDS BY GO DJ JBOSS x 97.9's DJ YOUNG STREETZ!!!
FREE TIL 11:30 w/RSVP
$4 YOU CALL ITS til 11
713.366.1560 TO RESERVE A SECTION/ BOTTLE SERVICE!!!



Click Here For Info

---

Click Here For Info

---

Click Here For Info


ENGINE ROOM
1515 Pease St | Houston Texas | 77002
Houstons #1 Nightlife Destination
RSVP for Free Entry
Dresscode Strictly Enforced
Bottle Service Is Highly Recommended
832.512.6515
www.ENGINEROOMHOUSTON.com
@EngineRoomHouston


---

Click Here For Info


Friday Feburary 10th "A Jazz Night In New Orleans
With Band Featuring> Stephen Richard Quartet.
Rsvp Now For Free Entry Till 7pm Doors Open At 5pm
https://livejazzatleonslounge.eventbrite.com
Leon's Lounge 1006 McGowen.
#HappyHour & #FreeBuffet 5pm-7pm
8pm-Until Food Provided By: NEW ORLEANS CAJUN CAFE
BOOK YOUR FREE TABLE OR SECTION AT 832.533.1117
LIMITED SEATING AVAILABLE*
Ladies & Gentlemen "CUBAN CIGARS" Sold On The Patio!


---

No Cover ALL NIGHT!!! 
$5 UCI'S & $3 Fireball shots till 11pm!!!! 
Capricorns Book now 
713.522.EPIC Birthdays
Free section & bottle of champagne


---
---
---

Click Here For Info


D.h! | Shades Simplicated Mktg | Nkem of Emagine That Ent | Mr. TC
Present
++THE INT'L AFFAIR++
EACH & EVERY FRIDAY NIGHT!
10PM-2AM
BELVEDERE PREMIUM LOUNGE
1131-01 UPTOWN PARK BLVD
UPSCALE EVENT FOR HOUSTON'S CULTURAL ELITE!
DJ SHINSKI + DJ OCEAN ON THE PATIO + MC MIKOLO on the mic
SPINNING THE BEST IN AN INTERNATIONAL ARRANGEMENT OF ELECTRIFYING SOUNDS
RSVP HERE FOR COMPLIMENTARY ADMISSION TILL 11PM
http://intlbelve.eventbrite.com/
OR TEXT "BELVE" TO 281.804.2597 
WINGS & FRIES ON THE PATIO!
STRICT DRESS CODE
NO SHORTS . NO BALL CAPS . NO TENNIS SHOES
ENTRY PROVIDED AT DOORMANíS discretion
FREE PARKING + VALET PARKING AVAILABLE
FOR MORE INFO / TABLE RESERVATION / BOTTLE SERVICES PLEASE CALL
281.804.2597 OR 281.312.9175


---

Click Here For Info


HOUSTON JAZZ NIGHT 
with LOGAN
Every Fridays 
at Alley Kat Bar & Lounge
3718 Main St


---


CHAD CHIZZLE
presents:
CHEERS Fridays @CARROS713 (Carringtons)
**WHERE EVERYBODY KNOWS YOUR NAME** 
EVERYONE FREE TIL 8pm. Ladies $5 all night long
WITH DJ KYLE LEE (6p-10p)
DJ CHROME and OAKCLIFF (10p-2a)


---

Click Here For Info


Join us as we embrace the *NEW crown jewel 
of Upscale Saturday Nights at the beautiful 
Lumen and Crimson Lounge in Upper Kirby/RiverOaks
High Def Audio By DJ Aggravated, A-Plus & GQ Mike!
2 Upscale Lounges - LUMEN and CRIMSON connected side by side.
Dress To Impress. 
Collar Shirts for Men, Blazers Preferred. No sneakers or hats.
Bottle Service Encouraged  Call 713.259.5725.
LUMEN & CRIMSON LOUNGE - 5020 KIRBY Houston, TX 77098


---

Click Here For Info


1ST ANNUAL HOUSTON ALUMNI GREEKSHOW
Saturday, FEBRUARY 25, 2017
SAWYER AUDITORIUM- (Texas Southern University)
3100 CLEBURNE STREET
HOUSTON, TEXAS 77004
DOORS OPEN AT 6PM!
SHOW STARTS AT 7PM!
HOSTED BY: DIVINE 9 EDUCATIONAL CHARITABLE FOUNDATION
**OVER $4000.00 CASH & PRIZES WILL BE AWARDED 
TO THE ALUMNI D9 GREEK WINNING STEP TEAMS!
**DONT MISS THIS HIGHLY ANTICIPATED EVENT!!!
OVER 1800+ SPECTATORS WILL ATTEND THIS EVENT


---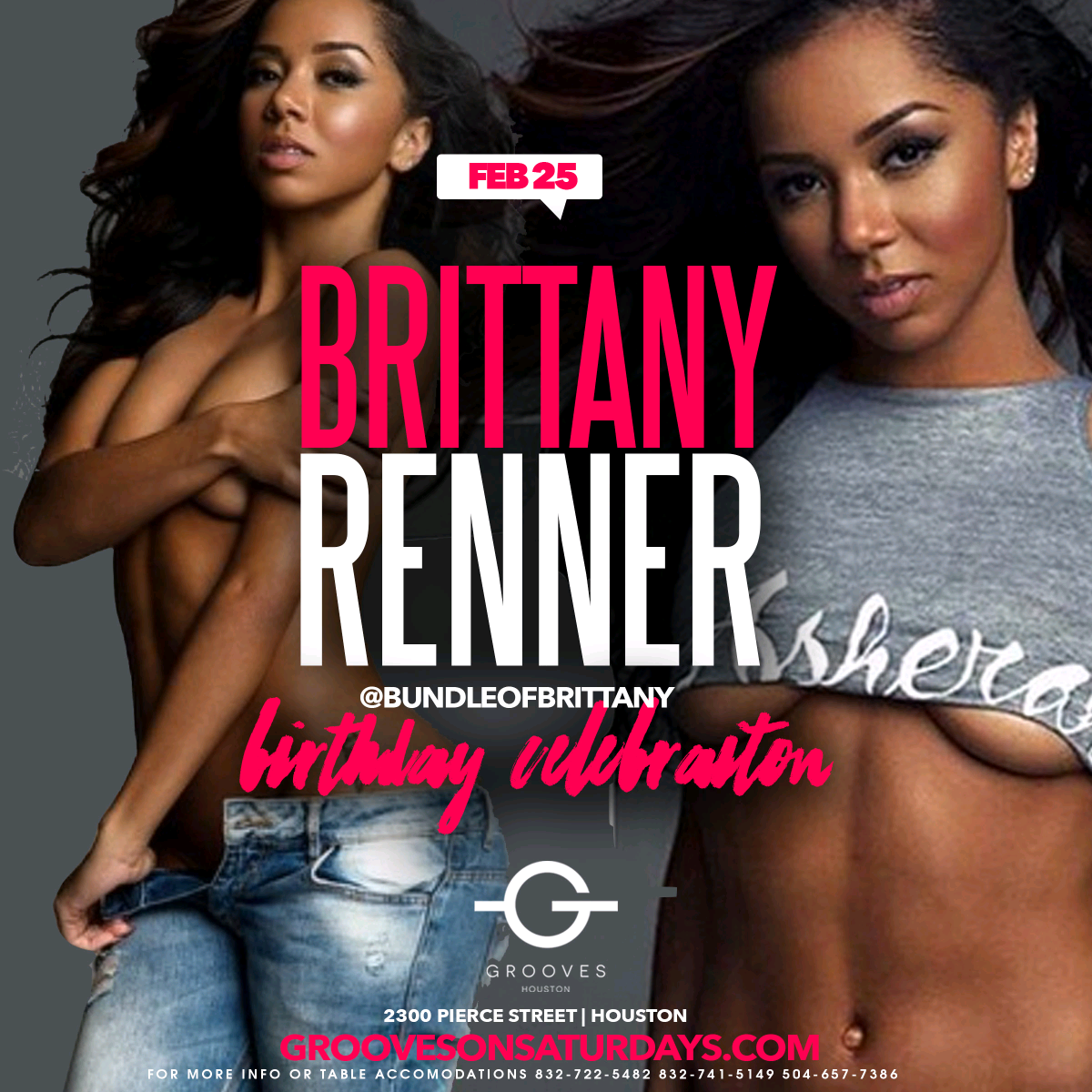 Click Here For Info


Live Scene Saturdays at Grooves
Happy Hr 8-11pm 
( Call For A Complimentary Bottle of Champagne)
Live Music 9-11pm
Late Night Party w/ Houston's Hottest DJs 
11pm-2am | RSVP Now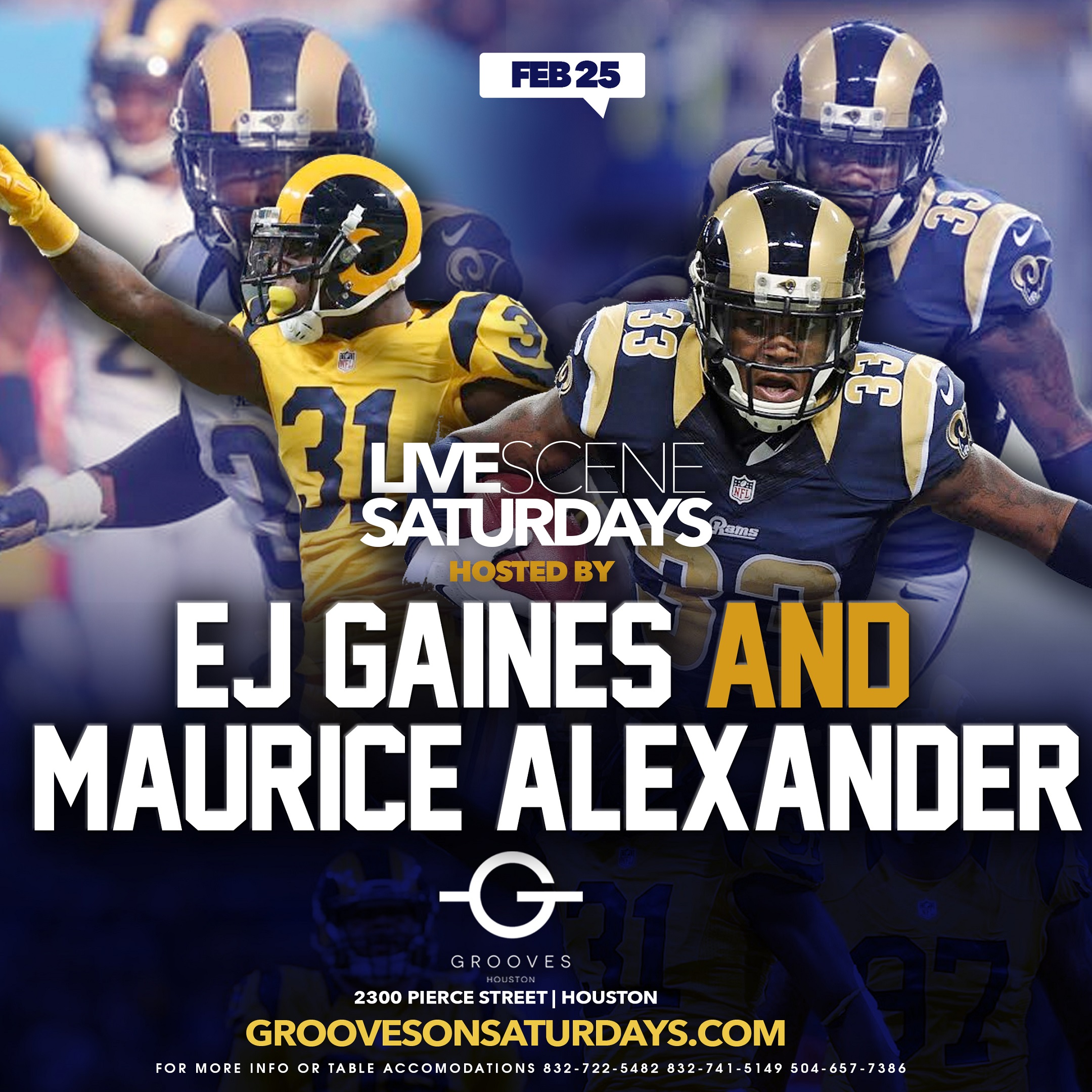 Click Here For Info

---

Click Here For Info


The Premiere of 
KOUTURE SATURDAYS
Date: Feb. 25th
Time: 9p-2am
Sounds by.Dj JQue of "The Morning Show"
venue: Set (2900 Travis St.) MIDTOWN HOUSTON, Tx.
Dress Code: Fashion Foward Attire
RSVP FOR NO COVER 
Table Info: Call or Text 281.605.0002


---

Click Here For Info


CIROC
PRESENTS
PRE-GAME SATURDAYS
@
SOCIAL JUNKIE
(2412 WASHINGTON AVE.)
KD VS RUSS
OFFICIAL WATCH PARTY 7:30P
+
CUSTOMER APPRECIATION WEEKEND
FREE ENTRY EVENT!!
W/ DJ YOUNG STREETZ NDMIX
.50 CENT WINGS ALL DAY
$20 HOOKAHS ALL NIGHT
$5 CHICKEN TENDER OR WING BASKET OR BURGER BASKET
FULL KITCHEN & MORE
FOR MORE INFO 832.379.9194 OR 713.530.7264
WWW.SOCIALPREGAME.COM


---
---

EPIC SATURDAYS RELOADED w @lifeofluxury560
& @badassbarber  NO COVER ALL NIGHT 
HAPPY HOUR  8-11P $5.00 UCI's
Book your BIRTHDAY PARTY today !!! 
Free section w Bottle Purchase  
713.522.EPIC
3000 BLODGETT


---

Click Here For Info


KETO GENTRY + HOUSTON'S UPSCALE PARTY SOCIAL 
PRESENTS 
"SATURDAYS AT LEON'S LOUNGE" 
AT LEON'S LOUNGE 1006 McGowen (In Midtown)
"IT'S WHERE QUALITY OVER RULES QUANTITY "  
LIVE MUSIC 9:30PM-11:30PM
*FREE PARKING 
*CHEF ON THE PATIO
*HOOKAHS AVAILABLE 
DJ Konfusion IN THE MIX 11:30PM-2AM
FOR INFO CONTACT 832-533-1117
#KetoGentryExclusive #ADayAtDavenport #Every4thSaturday 
#DavenportAmbassador #HoustonsUpscalePartySocial 
#ExperienceLeonsLounge #LeonsLoungeSaturdays  
https://youtu.be/F6lkqqjn-ks


---

Click Here For Info


Saviore Faire Saturdays at Lucy's
Sick of the same old same old in Houston nightlife? 
We are too. If you're looking for a sexy place to eat, 
lounge, and enjoy dope music with progressive people, 
look no further. 
Every Saturday night the low key turn up can be found 
at Lucy's Restaurant & Ultra Lounge. 
Ranked one of Houston's Top Ten Restaurants by Yelp, 
indulge in exquisite Ethiopian cuisine, while rocking 
to the sounds of Go DJ Meek Tha Freak. Fans of The Internet, 
Neo-Soul, 90s Music, Afrobeat, Soca, and of course - 
the freshest Hip Hop available, are invited to experience 
this unique, adult atmosphere. Pull Up!


#thelowkeyturnup from Meek Tha Freak on Vimeo.
---

Click Here


AQUARIUS SEASON
It's Your Birthday Saturday's
presents
"AQUARIUS SEASON"
February 11th
Door Open 9pm
at
MOSAIC BAR & LOUNGE
5927 Almeda Rd. #140, Houston, TX 77004
RSVP for FREE admission at: 
https://itsyourbirthdaysaturday.eventbrite.com/
NO COVER CHARGE ALL NIGHT!



Click Here

---
---